Ireland Baldwin has poked fun at her father, Alec Baldwin, calling her a "thoughtless little pig" 15 years ago in a new video shared on Instagram.
Back in 2007, actor Alec Baldwin, 63, drew ire when an angry voicemail he left his then-11-year-old daughter after she missed a scheduled phone call was leaked by TMZ.
And while the father and daughter have since patched up their differences, Ireland Baldwin, 26, hit back at the hurtful names she has been called over the years as she took part in the viral TikTok trend of dancing to The Ting Tings' hit "That's Not My Name."
As she struck a series of different poses, an overlaying caption read: "My name is Ireland... but the media likes to call me...," before listing the insults.
Such terms as "fat," "attention seeking, voluptuous, promiscuous," and "well off, silver spoon fed brat w/ no real job" were flashed up on the screen, as well as "thoughtless little pig."
Concluding the 13-second clip, which can be viewed here, she stated: "My name is Ireland. I'm a writer. And I think pigs are cute so [joke's] on you."
In a lengthy accompanying caption, Ireland Baldwin, whose mother is actress Kim Basinger, opened up about how she has overcome misconceptions about her.
"I can't even tell you how much time I've wasted worrying about headlines and comments," she wrote. "Can you believe that? Can you believe how much control we give others and how much power we give their narratives.
"Maybe you don't experience this on the scale that I do, but the majority of us have been called names and have had assumptions made about us."
"I hardly read articles that come out about me in general but often times when I do, I'm always sexualized in someway or compared to my parents in another," she went on. "Unfortunately, positivity and good news hardly sells.
"The media is one giant garbage dump and I could give less of a s*** what they call me... I know who I am for the first time in a long time and I'm excited to show you what I've been working on.
"I know that my decision to work in the entertainment industry will of course bring on the constant comparison to the achievements of both my parents, and I continue to embrace the parts of myself that are indeed like them... but I am very excited to show you the individual that I am and the person I've grown to very proud of.
She concluded: "I don't give a f*** what you think about how I look, what I wear, what I think and say, and damn does it feel good to get to this point."
Alec Baldwin, who was in a custody battle with his ex-wife Basinger in 2007, said in a voicemail directed at his daughter at the time, per Sky News: "You are a rude, thoughtless little pig. You don't have the brains or the decency as a human being.
"I don't give a damn that you're 12 years old, or 11 years old, or that you're a child, or that your mother is a thoughtless pain in the a** who doesn't care about what you do as far as I'm concerned. Once again I have made an a** of myself trying to get to a phone. You have humiliated me for the last time with this phone."
The 30 Rock star apologized for his comments during an April 2007 appearance on The View in 2007, telling then-hosts Barbara Walters and Rosie O'Donnell: "Obviously, calling your child a pig or anything else is improper and inappropriate, and I apologize to my daughter for that. Everyone in my life who knows me, knows that I have a great relationship with my daughter."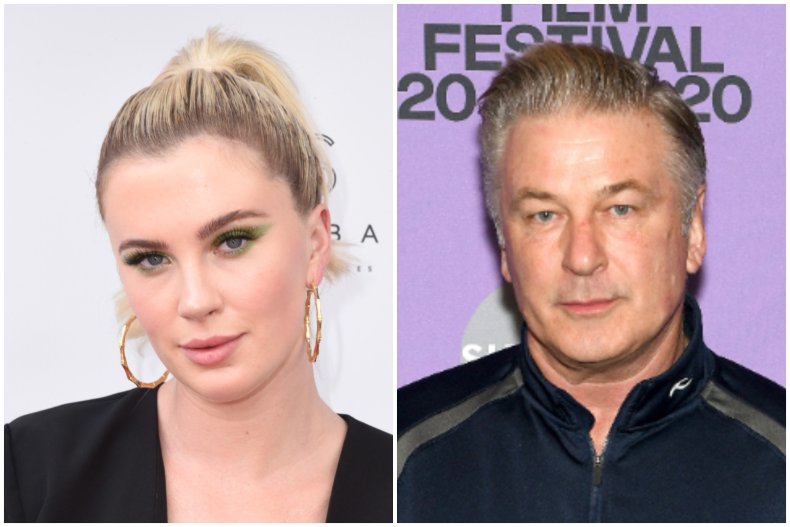 Ireland Baldwin got the last laugh when she made an appearance at her father's Comedy Central Roast in 2019, taking swipes at him before a star-studded audience.
"Hi Dad, I'm Ireland," she said, per the BBC. "It's good to be here. I almost didn't even know about it because I haven't checked my voicemails from my dad from the last 12 years or something?"
Continuing to draw laughs, she went on: "It hasn't been easy being the daughter of an iconic movie star, but I'm not here to talk about my mother... or her Oscar. A lot of people only know my dad as an angry guy, but he's more than some lunatic that loses his temper. He also loses Emmys and Oscars and custody of his first-born child."
She concluded: "After all the years of giving verbal abuse, it's finally time you received some. So before I leave, I'd just like to say something you've never said to me—goodnight."
Ireland Baldwin's parents divorced in 2002 after nine years of marriage. Alec Baldwin has been married to Hilaria Baldwin since 2012. They share six children.