Ireland Votes on 'Historic' Referendum to Allow Gay Marriage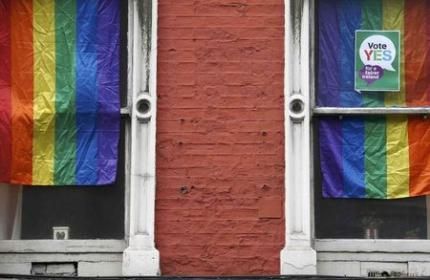 Ireland on Friday appeared to move closer to legalizing gay marriage, as millions of residents voted in what the prime minister called a "historic" referendum in the Catholic country.
Irish citizens cast their votes on a proposal to include a clause in the Constitution that would allow for same-sex marriage. If approved, Ireland would become the first country to legalize gay marriage through a referendum of the people, instead of through the courts or lawmakers.
Most polling stations in the European country opened at 7 a.m. and were expected to remain open until 10 p.m. Friday. By lunchtime, turnout in the capital of Dublin was high, according to The Irish Times. Officials expected voting to increase significantly in the evening.
It's "about removing inequality. It is about opening the doors to people to say 'yes in the area of civil marriage all our citizens deserve to be treated equally and to have the opportunity that if they love each other to contract that under the civil law.' So in that sense, it's historic...and I hope that it's passed very strongly, and that's why I'll be voting yes," said Irish Prime Minister Enda Kenny.
About 84 percent of Ireland's population is Roman Catholic, according to the most recent census. An Irish Times/Ipsos MRBI poll published in March found that 74 percent of Irish citizens supported same-sex marriage.
Turnout reportedly was higher than for previous referendums, according to the Times.
Ireland, which didn't legalize divorce until 1995, currently offers many rights to gay couples. But those rights exclude marriage, according to Freedom to Marry. Worldwide, 18 countries have approved the freedom to marry for same-sex couples.
All Irish citizens ages 18 and older are allowed to vote in the referendum, as long as their names are on the electoral register. The referendum also included a question on reducing the minimum age of presidential candidates to 21 from 35.
Official results are expected on Saturday.