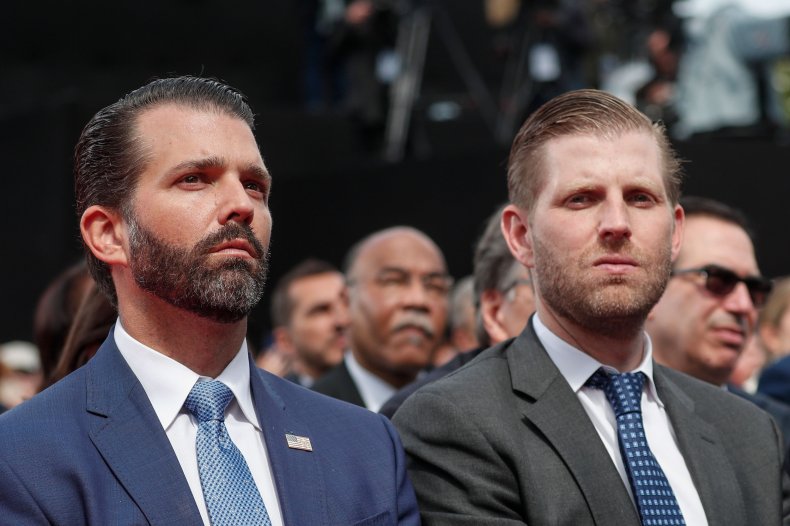 The owners of the Igoe Inn Bar & Restaurant in Ireland shot back at media reports that Donald Trump Jr. and Eric Trump skipped out on a hefty bar tab after offering free rounds for a house full of patrons, clarifying that the Irish pub received payment after all.
"We have just had the most fantastic week in Doonbeg with the visit of the Trump family," the bar's owner posted on the Igoe's Facebook page Saturday. "I would like to clarify that The Igoe Inn was paid in full for the round of drinks that Eric & Don bought for our customers. We appreciate their business."
The owner continued: "We Do Not appreciate being misquoted."
The situation started last week, when the president's sons seemingly enjoyed a bar crawl in Doonbeg, an Irish village on the western coast that's also home to Trump International Golf Links & Hotel. Shortly afterward, reports began circulating in Irish and U.S. media stating that the pair's hefty bill had yet to be paid. The news item quickly went viral on social media.
"We'll get the money later we were told there'd be no fear of it," bar owner Caroline Kennedy told The Irish Mirror in a Friday report. "I don't think we've to worry about getting paid for that. I don't think they carry cash. We were told it'd be all sorted later so there's no problem."
The tab was apparently forwarded to the Trump golf resort, which paid it in full, although it wasn't immediately clear when that transaction took place.
Newsweek has reached out to the Trump Organization for comment.
President Donald Trump also spent time in Doonbeg last week, meeting briefly with Irish Prime Minister Leo Varadkar on Wednesday. After the meeting, Varadkar briefed the press and said the pair talked about Britain's embattled efforts to leave the E.U, and Trump's state visit to the U.K.
"We talked Brexit," Varadkar said, after a reportedly tense joint press conference with the U.S. president. "President Trump shares our objective to keep the border open."
Trump later stayed at the Doonbeg resort.
In since-deleted tweets, the Trump hotel posted photos of the president arriving at the hotel and playing golf—breaking a previous pledge that said Trump's properties would refrain from using its owner's official position to promote the property.
"No communications of the Organization, including social media accounts, will reference or otherwise be tied to President-Elect Trump's role as President of the United States or the Office of the Presidency," the 2017 pledge stated.