You Could Get Paid $2,000 to Try Irish Coffee at Bars in New York City This December
A travel website will pay someone $2,000 to test Irish Coffee at bars in New York City. Reservations.com is hiring somebody to try Irish Coffee at the city's best bars and then write up reviews of their experiences.
The website will give the reviewer $500 to purchase the Irish Coffees and food, and will then pay them $1,500 for travel, accommodation, and eight written reviews of 300 words each.
The chosen applicant will review Irish Coffee at eight bars over a five to seven day period between December 10 and December 17, 2019. They will write a 300-word review of each of the experiences and then rank each of the Irish Coffees according to their favorite, and will submit the reviews by December 31. The reviews will be uploaded to Reservations.com's Runaway Suitcase blog, where they post travel guides for international cities and vacation ideas.
Applications opened on November 20 and will remain open until December 1, and the chosen applicant will be notified on December 2. To apply, Irish Coffee fans must write a 150-200 word review of their favorite holiday beverage and setting. Additionally, applicants must be 21 or older and a citizen of the U.S.
Irish Coffee is made from coffee, Irish whiskey, sugar, and topped with cream. Joe Sheridan, a bartender and chef, invented the Irish Coffee in 1943 at Foynes Port, near Limerick, Ireland.
A flying boat trip was canceled due to bad weather, so to warm up the stranded travelers, Sheridan added Irish whiskey to their coffee. Apparently, the travelers asked if it was Brazilian coffee, to which Sheridan replied, "No, it's Irish coffee."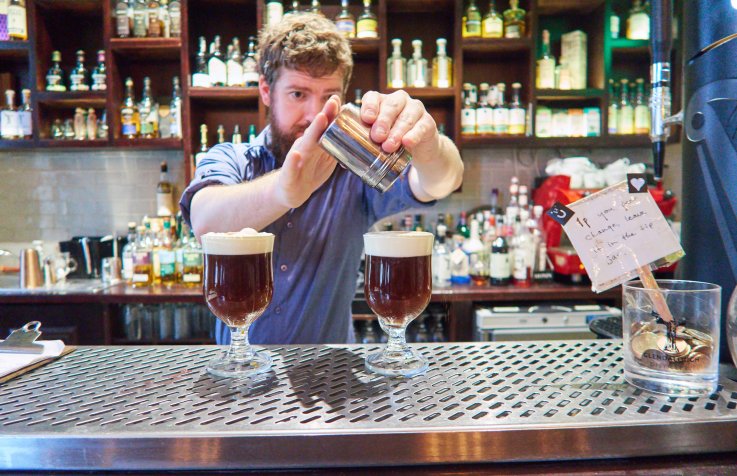 This unusual job opportunity comes just after American Marijuana announced it was hiring somebody to test and review cannabis products. The chosen applicant will receive a box of products to try each month and will write and film reviews for the American Marijuana website, for which they will be paid $36,000 a year.
While the job for Reservations.com isn't permanent like the American Marijuana position, it could be a fun and unusual way to make some extra money (and try lots of Irish Coffee) before the holiday period.
If you're unlucky in your application to become an Irish Coffee reviewer, you could take a trip to NYC this holiday season of your own accord to tour the cocktail bars. New York City is known for its bars, and Newsweek has rounded up the best nine cocktail bars New York has to offer. From speakeasies to rooftop bars, New York has something for everyone.
You Could Get Paid $2,000 to Try Irish Coffee at Bars in New York City This December | U.S.