Irish Election 2016: Everything You Need To Know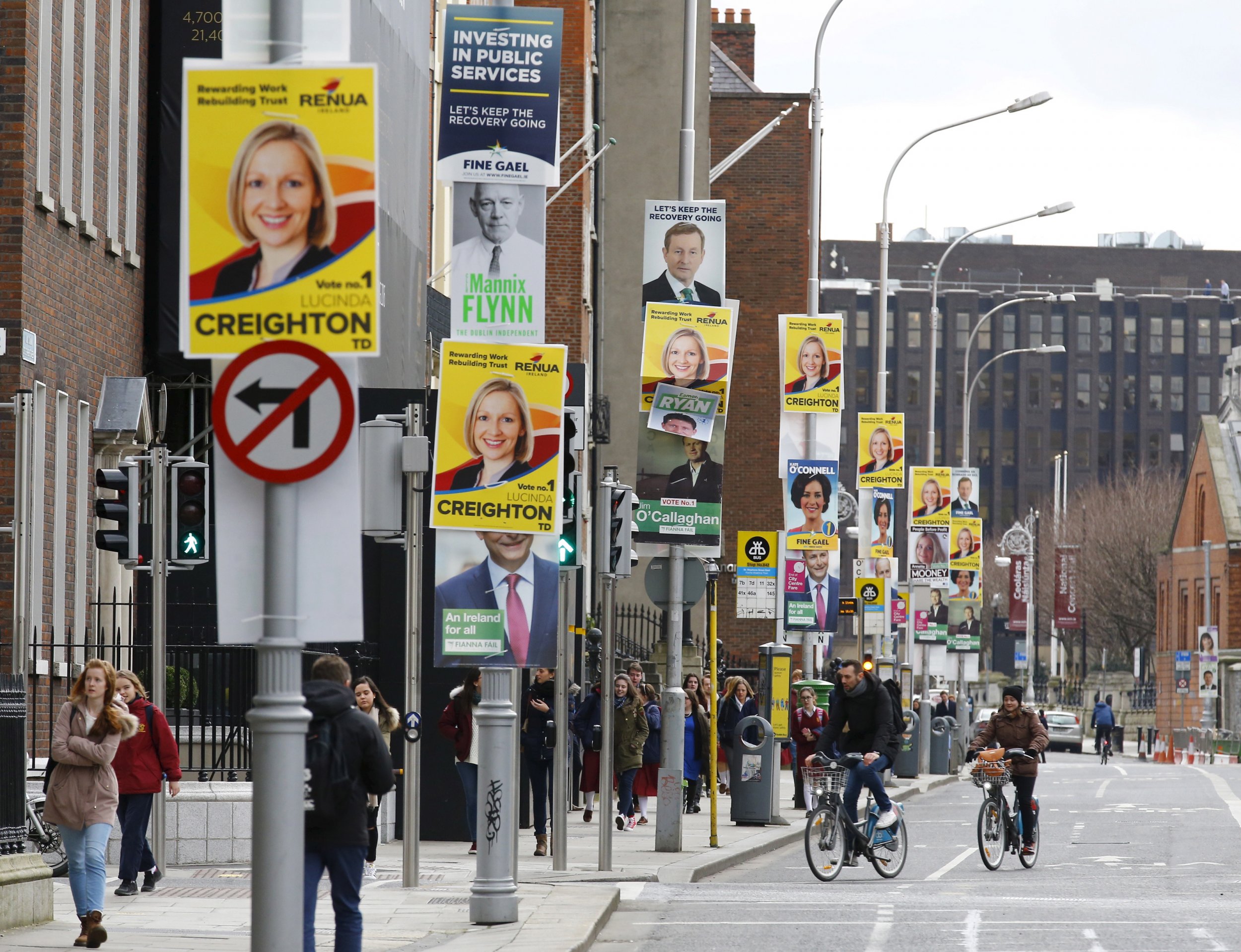 Ireland goes to the polls on Friday, for an election that will likely either deliver more of the same —or an historic result.
The campaign has already featured the country's political leader Enda Kenny apparently referring to some voters as "whingers" and the publication of a book of Sinn Fein leader Gerry Adams's best tweets.
But here's what you need to know about tomorrow's vote, and its aftermath.
Ireland has turned around...
Or so the headline figures show. Taoiseach Enda Kenny has led the ruling coalition between the center-left Labour Party and his center-right Fine Gael for the past five years. Now, after a crash in 2008, unemployment has fallen below 9 percent, down from 15 percent, and in 2015 the economy grew at 6.9 percent, the fastest in the EU.
Kenny and Fine Gael's blend of market liberalism and fiscal tightness are straight out of the Brussels and Berlin-approved economic playbook, and Kenny has in the past been tipped as a potential candidate for the presidencies of the EU Commission and Council. Ireland was used as an example for Greece when its left-wing Syriza government tried to resist EU austerity conditions in 2015.
...but not everyone is happy
Austerity economics —whether you think it's necessary or not— always creates losers. Ireland, which underwent three years of an EU/IMF-imposed bailout programme from 2010-2013, is no exception.
An analysis published in the Irish Examiner in 2015 found that deep cuts in social housing ( funding for local authority housing was cut from 1.3 billion euros in 2007 to 83 million euros in 2013), welfare, and the introduction of charges for prescriptions, water, chemotherapy and other services, and other measures had contributed to problems including a rise in homelessness and increased mental health problems.
Sinn Fein, the leftist republican party led by Gerry Adams and once linked to the Provisional IRA, has sought to capitalize on anti-austerity feeling, and enjoys the support of the hard left Anti-Austerity Alliance and People Before Profit. It could double the 9.9 percent of the vote it took in 2011.
Kenny has had to apologize for a recent speech during which he referred to critics of his recovery as "the whingers that I hear every week saying there's nothing happening."
Crime has been front and center
In the wake of two "gangland" shootings in early February, thought to be the result of a bitter rivalry between two drug gangs, crime has been catapulted into the heart of the election debate. Kenny has been accused of over-zealous cuts to policing. But Adams and Sinn Fein have taken flak too.
The first shooting, where David Byrne was killed at a boxing weigh-in in Dublin, was initially claimed by a supposed representative of the Continuity IRA. Adams is committed to scrapping Ireland's Special Criminal Court, which focuses on both republican terrorism and gang violence. In the light of the shootings, that isn't such a good look.
It'll be close
Historically, the Republic of Ireland has mostly been led by Fine Gael or its rival Fianna Fail, also a center-right party, headed by Michael Martin. Both have governed in coalition with Labour, although this time Labour is specifically looking to be re-elected with Fine Gael. Most polls predict a hung parliament.
If that happens, there are a few potential outcomes from any coalition horse-trading. A grand coalition between Fine Gael and Fianna Fail would be one possibility, although both parties have supposedly ruled it out. Another, albeit distant, option would be a leftist government led by Sinn Fein and backed up by left-wing independents and smaller parties. Both would be unprecedented outcomes.
Fine Gael is still first in the polls, though a lackluster campaign has been compounded by several "gaffes" from Kenny, including an accidental, and subsequently denied, apparent admission to appointing a supporter to the governing body of a public art gallery. "I'm human," Kenny has said of his campaigning mistakes.
Labour could get hammered
In common with other junior coalition partners like Britain's Liberal Democrats, Ireland's Labour Party, led by Joan Burton, could have a tough time of it. It took almost 20 percent of the vote in 2011, but one poll of polls puts it on 6.5 percent for Friday's vote. The party, which has joined Fine Gael in implementing the bailout programme and other austerity measures, has hemorrhaged left-wing supporters to Sinn Fein.
Irish Election 2016: Everything You Need To Know | World