Irish Gay Rights Activists Protest First LGBT Group in St. Patrick's Day Parade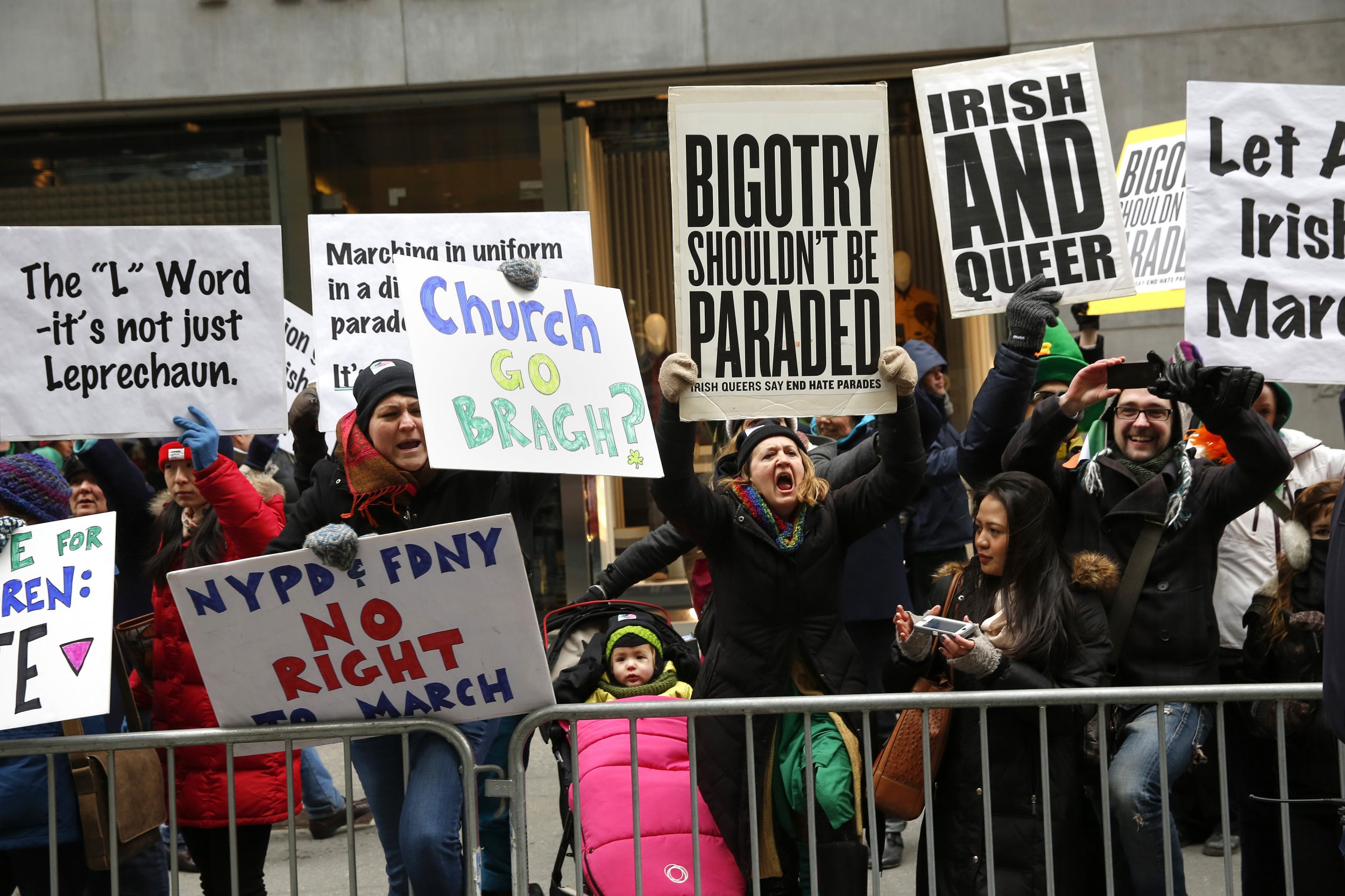 A month after organizers of New York City's St. Patrick's Day Parade made the historic announcement that it would let an LGBT group march openly, activists are ramping up demands that the organization withdraw from the event because, they claim, the procession still excludes Irish gays.
Parade organizers confirmed to Newsweek in September that OUT@NBCUniversal, the company's Lesbian, Gay, Bisexual, Transgender & Straight Ally Employee Alliance, will be the first LGBT group to participate in the parade. Out@NBCUniversal's participation reversed a long-standing ban on LGBT organizations marching under their banner.
Billed by organizers as "our country's oldest and proudest Irish tradition," the parade has been rife with controversy in recent years, largely due to its policies toward LGBT persons. This year, Bill de Blasio became the first New York City mayor in more than two decades to boycott the parade, because of its LGBT policy at the time. The City Council and many Irish politicians followed suit. Even Irish beer icon Guinness opted out of the procession because of the parade's stance then.
Out@NBCUniversal's participation has yet to quell controversy, however.
In a new letter to de Blasio and City Council Speaker Melissa Mark-Viverito obtained by Newsweek, activists from groups such as Irish Queers charge that "instead of that pressure leading to Irish LGBTQ groups taking their rightful place in the community's parade, OUT@NBCUniversal has jumped into the space it created. OUT@NBCUniversal is the gay employee/marketing group of the parade's sponsor. The Irish LGBTQ community is still excluded from the parade. The 'lifting of the ban' is a sham."
The letter, sent to de Blasio and Mark-Viverito late last week, reiterates activists' recent demands that OUT@NBCUniversal "withdraw from the parade until Irish LGBTQ groups are part of the parade." The activists also want de Blasio and Mark-Viverito to boycott the 2015 event.
Debate over Out@NBCUniversal's participation has raged since September 3. Leaders of the Irish LGBT community have told Newsweek they are dismayed that a corporate organization was chosen rather than a grassroots group. Activists also worry that the group doesn't adequately represent Irish LGBTQs. And when Irish Queers applied to march in the parade, organizers denied their request, saying the procession was full. Sources tell Newsweek that two other Irish LGBT groups' applications were also denied.
De Blasio did not respond to Newsweek's request for comment. The mayor recently said, however, that he hasn't committed to the 2015 parade. A spokesman for Mark-Viverito said in an e-mail that "no decision has been made on marching." Neither NBCUniversal nor the parade's spokesman responded to requests for comment.
Here's the full text of the letter:
Open letter to Mayor deBlasio and NYC Council Speaker Mark-Viverito:

Keep up the boycott of the NYC St. Patrick's Day parade until Irish LGBTQ groups can march under their own banner.

Oct. 10, 2014

Dear Mayor de Blasio and Speaker Mark-Viverito,

Last year, your public boycott of the anti-gay NYC St. Patrick's Day parade finally paved the way for corporate sponsors to drop the parade. Their departure created pressure on NBC, one of the last remaining sponsors and the broadcaster of the parade, who put pressure on the parade organizers to finally end their ban on Irish LGBTQ groups.

Instead of that pressure leading to Irish LGBTQ groups taking their rightful place in the community's parade, OUT@NBCUniversal has jumped into the space it created. OUT@NBCUniversal is the gay employee/marketing group of the parade's sponsor. The Irish LGBTQ community is still excluded from the parade. The "lifting of the ban" is a sham.

Parade organizers have said that Irish LGBTQ groups may "apply" to march in future St. Patrick's Day Parades from 2016 on, claiming that there is no room for another group in 2015. This is the same ruse they used in 1991 when they wanted to exclude the Irish Lesbian and Gay Organization. When Mayor Dinkins called their bluff and offered to expand the march to allow ILGO in, the organizers came out in the open with their anti-gay reasons for excluding them. This year, when Irish LGBTQ groups applied, parade organizers quickly declared that applications were closed. In the fallout from this gay-panic response, the Catholic League also dropped out of the 2015 march, leaving the parade short of one large contingent. As before, parade organizers simply refuse to let Irish LGBTQ groups march in the newly-opened space.

State and national LGBTQ advocacy groups, as well as groups in Ireland, are supporting the demand for Irish LGBTQ groups to march openly and freely, rather than seeking to march themselves or supporting OUT@NBCUniversal's participation.

Irish LGBTQ groups have also asked OUT@NBCUniversal to withdraw from the parade until Irish LGBTQ groups are part of the parade.

We write to ask that you continue to publicly boycott the parade until Irish LGBTQ groups are accepted into the line of march, and march openly, as full and respected members of the Irish American community.

Because the parade organizers have made misleading claims like "gays are welcome to march, just not to be identified" and now "the ban is lifted, but only for NBC employees", it's important to be clear about what constitutes inclusion. Irish LGBTQ groups must be able to march just like other contingents: with the group name on a banner identifying the contingent as Irish LGBTQ people. Last year in Boston, parade organizers tried to negotiate with an LGBTQ contingent to march under the word "equality." But the organizers refused to allow a banner to say "LGBT" or "gay", as if those were dirty words. So the LGBTQ group rightly declared that parade organizers were not actually willing to lift the ban, and they refused to march. New York City also cannot accept such pretenses at inclusion.

We deeply appreciate your support. Please be in touch with your response, or if we can answer any questions.

Sincerely,

Gaby Cryan, Emmaia Gelman, & J.F. Mulligan

Irish Queers

Kate Barnhart, Executive Director

New Alternatives for LGBT Homeless Youth

Mary E. Bartholomew, Esq.

Sandy Boyer

Rev. Pat Bumgardner

Metropolitan Community Church - NY

Suzy Byrne

Leslie Cagan

Kailin Callaghan, Lead Organizer

Rockaway Wildfire

Fidelma Carolan, Regional Officer (N. Ireland)

UNISON

Kelly Cogswell, Author of Eating Fire: My Life as a Lesbian Avenger

Michael Czaczkes, President

Lambda Independent Democrats of Brooklyn

Kara Davis, Queer Activist

Bill Dobbs, Gay Civil Libertarian

Erin M. Drinkwater, Executive Director

Brooklyn Community Pride Center

Ronnie Eldridge, Former New York City Councilmember

Jennifer Flynn, Executive Director

VOCAL-NY

Kathleen Gaul

Community Leader at TUSLA, Ireland

Emily Jane Goodman, New York State Supreme Court Justice, Ret.

Marie Honan

Tony Hoffmann, President, Village Independent Democrats*

Stephanie Hsu, Secretary

New York Association for Gender Rights Advocacy (NYAGRA)

Andy Humm and Ann Northrop, Co-Hosts

Gay USA

Esther Kaplan

Melanie Kaye/Kantrowitz

Marjorie Dove Kent, Executive Director

Jews for Racial and Economic Justice

SL Korn, Queer Activist

Gareth Lee,

Queer Space Collective Belfast

Bertha Lewis, Executive Director

Black Institute

Mark Libkuman, Open Flows Community Technology Cooperative

Scott Long, Human Rights Activist

Amanda Lugg, Director of Advocacy

African Services Committee

Alan Levine, Civil Rights Attorney

Father Bernárd Lynch, London, Chair of Camden LGBT Forum

Anne Maguire, ILGO

Eileen Markey, Writer

Malachy McCourt

Lucy McDiarmid

Matthew McMorrow, Manager of Government Affairs

Empire State Pride Agenda

Zenaida Mendez, President

National Organization for Women-NYS

Megan Mulholland

QUEEROCRACY

Dr Tina O'Toole, Founder member of LINC Cork

University of Limerick, Ireland

Pauline Park, Executive Director

Queens Pride House

Edward Pass

Allen Roskoff, President

Jim Owles Liberal Democratic Club

Sarah Schulman, Distinguished Professor of the Humanities, City University of New York-College of Staten Island

Arthur Z. Schwartz, President of Advocates for Justice and Democratic District Leader for Greenwich Village

Tom Shanahan, Civil Rights Attorney

Brad Taylor

Zephyr Teachout, former candidate for Governor, Professor Fordham Law School, and author of Corruption in America

Jay Toole

Jay's House

Andy Velez

John Voelcker

Urvashi Vaid, Senior Fellow, Center for Gender & Sexuality Law, Columbia Law School*

Maxine Wolfe, Professor Emerita, City University Graduate School

Joan Wile, Author, and Founder, Grandmothers Against the War

Tim Wu, Candidate for Lieutenant Governor/Professor Columbia Law School

Adalah-NY: The New York Campaign for the Boycott of Israel

Lesbian Herstory Archive

MIX NYC: Queer Experimental Film Festival

Queer Nation NY

*Asterisk indicates organization listed for identification purposes only.