Melissa Errico Brightens 'On a Clear Day You Can See Forever' at New York's Irish Rep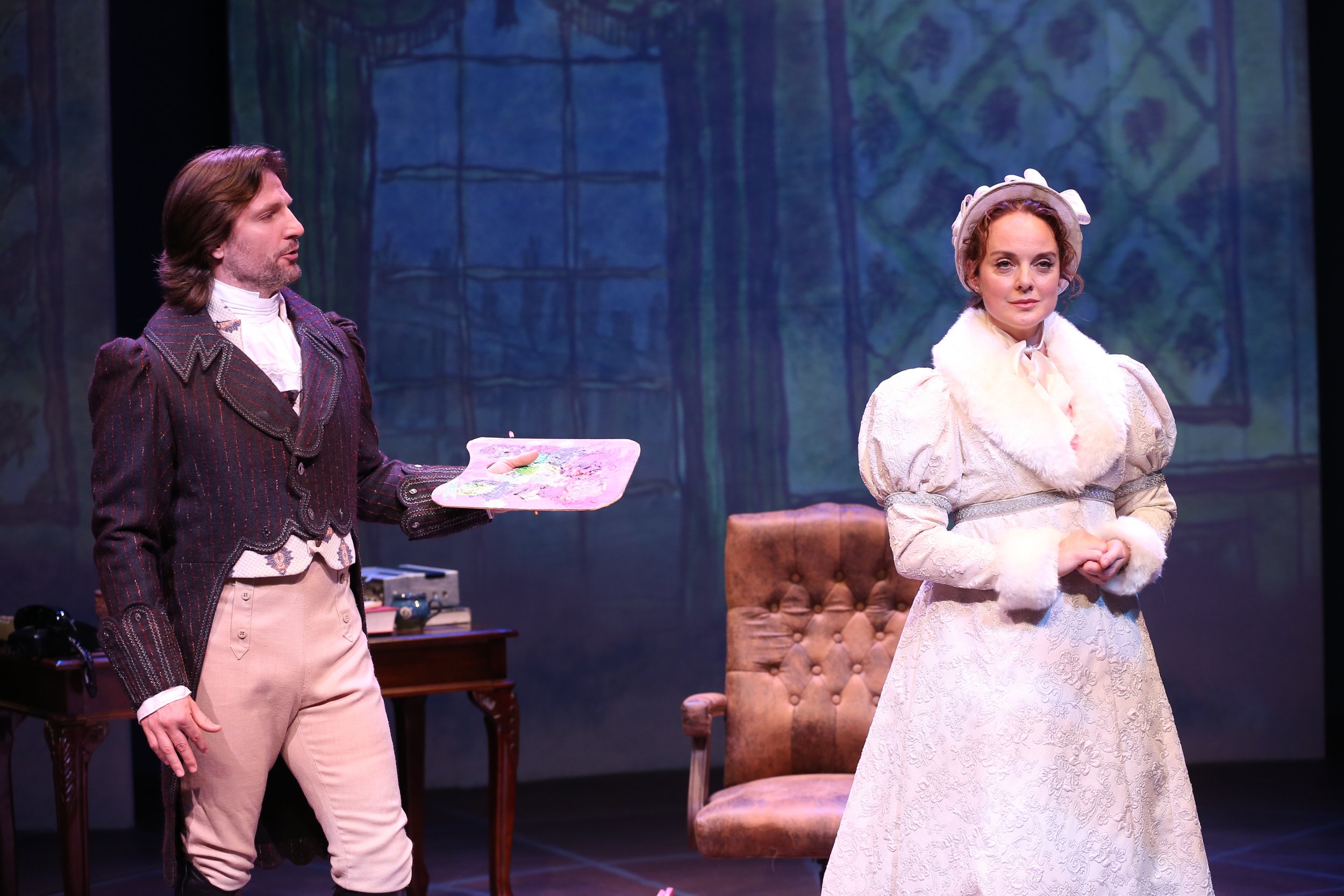 One interesting development in New York theater in recent years has been the attempt to revive Golden Age musicals that have problematic librettos. Some people try to minimize the book as much as possible and do concert versions (City Center Encores!, Musicals in Mufti), while others do revisals, that is writing virtually new books while retaining the original score (Flower Drum Song, Gigi). This season's project is On a Clear Day You Can See Forever,which some of the most talented people on Broadway have tried (and failed) to bring successfully to the stage. Now Irish Repertory Theatre has pretty much gotten it right by staying as close to the original text as possible.
The limitations of the company's space are obvious: a small stage, no room for rear projections—which this production has in spades—and very limited space for musicians. Perhaps, though, these limitations are what's needed for what is essentially a small musical. This fast-moving, intimate production loses none of the plot's essential elements and sets up some of the best music of Alan Lerner and Burton Lane.
Preview: Irish Repertory Theatre restores luster to musical 'On a Clear Day You Can See Forever'
On a Clear Day tells the story Daisy Gamble (Melissa Errico), a woman who has extrasensory abilities: She can read minds; when she talks to flowers they listen and they grow, and she seems to have had one very interesting past life as an English aristocrat. She goes to Mark Bruckner, a psychiatrist (Stephen Bogardus), to help her quit smoking. When Bruckner puts her under hypnosis, he unlocks what appears to be Daisy's past life as Melinda Welles. At first, he is skeptical. But as she relives a love affair with the rakish Edward Moncrief (John Cudia), he falls in love with Melinda, though not Daisy.
To be clear, the book does show some signs of being dated. While reincarnation is still popularly held belief (especially in some religions and the Shirley MacLaine household), ESP is not the hot topic it was in 1965 when the play was written. And these days, few people really believe that talking to their plants is a reasonable substitute for Miracle-Gro. All those things were hip—or mod—in the mid-1960s.
But in character development, the play holds up surprisingly well. Daisy and Melinda, both played by expertly by Errico, are strong, well-developed and very different characters. Bruckner—a character who could easily come off as a cold and manipulative as Henry Higgins—as played by Bogardus is sympathetic, someone who comes around to believe Daisy's strange life story/stories.
But as is the case with most, if not all musicals, On a Clear Day's plot does what it must do: serve as a coatrack on which to hang some of the loveliest songs Lerner and Lane ever wrote. In the pre–rock 'n' roll era, the title song, "What Did I Have That I Don't Have?" and "Come Back to Me" would have risen high on Billboard charts. And "S.S. Bernard Coen," "It's Lovely Up Here" and "Melinda" would have been right behind them.
It doesn't hurt that here those songs are sung by three of the best performers in theater today. In song, Errico manages to convey Daisy's loopiness and Melinda's sophistication, and she gives a rendition of "What Did I Have That I Don't Have?" that is at once touching and rousing. Cudia, especially in "She Wasn't You," has a powerful voice that need never be amplified. And Bogardus nails the show's two signature songs, "On a Clear Day You Can See Forever" and "Come Back to Me."
The production is typical of the best of director Charlotte Moore's musical adaptations for Irish Rep: It is a moving and fun excuse to hear some of the best tunes of old Broadway.
On a Clear Day You Can See Forever is playing now through August 12 at the Irish Repertory Theatre, 132 West 22nd Street. For more information, go to IrishRep.org.