No one in theater does more with less than Irish playwrights. Give them a few actors, a few pints and some nice long monologues, and you're set for a great evening of theater. And no one produces Irish playwrights better than the Irish Repertory Theatre. And that has set them both up perfectly for the Zoom age. Irish Rep's first online entry, Molly Sweeney, seemed to have anticipated the Zoom play: As producing director Ciarán O'Reilly says, "Molly Sweeney was the ideal play to do on Zoom because it was three people in three different locations just talking directly to the audience. And that's what's on the stage."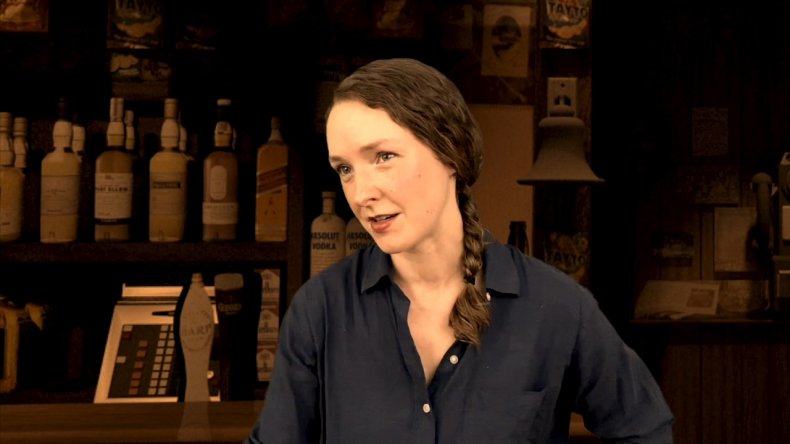 With its latest online entry, Conor McPherson's 1997 play The Weir, directed by O'Reilly, the company makes a big leap in Zoom production. The play was shot with five actors in separate states performing in front of green screens—presumably emerald green. The result is as close to a theatrical experience as one can hope for these days. It doesn't hurt that the play is one of the best that Irish theater—and by extension world theater—has produced in past 25 years.
The Weir starts off in a pub with some regulars, Jack (Dan Butler), Jim (John Keating) Brendan (Tim Ruddy) just talking about their days. After Finbar (Sean Gormley) brings Valerie (Amanda Quaid), a young woman, their talk turns to folklore, fairy stories and maybe a ghost or two. Those stories are the meat of the play, and they make for very savory meal. "The Weir is vintage McPherson," says O'Reilly. "He gives each character a story to tell, and then basically it's a monologue. McPherson's monologue form was there almost from when he began with Rum and Vodka, and he got inspired by Brian Friel's Faith Healer and Molly Sweeney."
And he keeps returning to it. O'Reilly recalls Matthew Broderick describing a scene his character has with a therapist McPherson's Shining City, which was performed at Irish Rep in 2018: "'Yeah, well, you know,' [the therapist] says. 'So when did you start having these feelings?' and I speak for the next hour and a half. Sometimes he nods his head; otherwise I'm just talking."
Give the primitive state of play production on Zoom, Irish Rep's values for The Weir are very sophisticated. It makes sense that the Irish would handle green screen as well as anyone. "We had five actors in five different boxes in five different states," says O'Reilly. "I directed in via Zoom, but we're not showing it via Zoom. And we used green screens, which would allow us give us the backdrop of the pub. So, if you are watching it, you'll think they're all together in the same room.
"The wonderful person who put all this together—her name is Sarah Nichols, who's also our house manager. She also has the skills, and she did an amazing job."
O'Reilly also credits the cast, who are all veterans of the Irish Rep. "Thank God they had all done it before, so everybody knew it, and they held on to their characters." So in directing them, O'Reilly says, "our challenges were mostly to make sure they're all looking the right way, more than the nuance of the characters."
Zoom also extends the reach of Irish Rep to its audience. O'Reilly says, "It's expanded in a huge way. A lot of people are tuning in for it. [Our previous online production,] The Irish and How They Got That Way, was on, and there was like 1,100 people watching. More people saw Molly Sweeney online than in our 12-week run, and it's from all over the world.
"When you go on the YouTube thing at the beginning, people say 'Hello from Kansas,' 'Hello from San Francisco,' '…from Dublin.' So there is something wonderful about that. And those people have become supporters. So, if you're looking for silver linings [in this shutdown], this is it. Hopefully, when they do come to New York, they'll come to see the place that did this stuff."
Since Zoom frees a theater from the limitations imposed by the size of its stage, plays with large casts are now possible. O'Reilly was asked if he could imagine producing such plays. "No, no, no!" he says quickly. "Even to do The Weir, with only five characters. People live in very different worlds. [For instance,] Dan Butler lives on a farm and to get footage he had to drive 10 miles to the local town to get decent Wi-Fi. This was difficult enough. So I wouldn't be looking to large casts. I want small casts with the most technical proficiency."
So unless a two-character play about Irish millennials or Gen-Zs becomes available, we are more likely to see Stones in His Pocket (Marie Jones' two character play) than Ulysses in Nighttown (Marjorie Barkentin's 1958 play with over a hundred characters). In the meantime, theater fans will want to savor the virtues of Irish Rep's virtual summer season and see the company's wonderful new production of The Weir. This video should be saved; it is one of the best advertisements for Irish Rep's work and for theater in general.
For more information on viewing The Weir and Irish Rep's next virtual production Love, Noel go to IrishRep.org.