'The Irishman' 'A New Peak' for Martin Scorsese, Premieres September
The Irishman will premiere on September 27, 2019, opening the 57th New York Film Festival in advance of its theatrical and Netflix release. While most of those eager to see Martin Scorsese's highly anticipated crime epic won't have the opportunity to catch the screening at Lincoln Center, the festival premiere announcement doubles as one of the first public reactions to the completed film, with NYFF Director and Selection Committee Chair Kent Jones sharing his thoughts on The Irishman.
"The Irishman is so many things: rich, funny, troubling, entertaining and, like all great movies, absolutely singular," Jones said in the announcement. "It's the work of masters, made with a command of the art of cinema that I've seen very rarely in my lifetime, and it plays out at a level of subtlety and human intimacy that truly stunned me. All I can say is that the minute it was over my immediate reaction was that I wanted to watch it all over again."
His description of The Irishman is glowing, as might be expected from film festival promotions, but it also positions the movie as a materially different narrative than previous Scorsese crime movies like Casino and Goodfellas. The Irishman's editor, longtime Scorsese collaborator Thelma Schoonmaker, confirmed.
"The Irishman is not Goodfellas," Schoonmaker told Yahoo Movies. "It is not Goodfellas. It's completely different. It's wonderful. They're going to love it. But please don't think it's gonna be Goodfellas, because it isn't."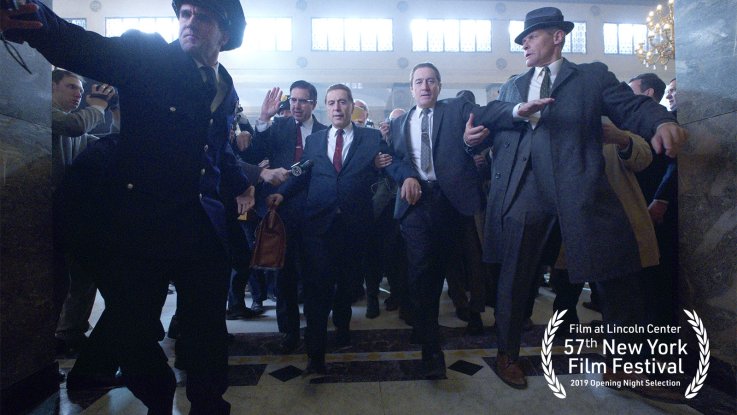 Schoonmaker also described how de-aging digital effects will be used in the movie to create younger versions of the cast. "We're youthifying the actors in the first half of the movie. And then the second half of the movie they play their own age," Schoonmaker said. "So that's a big risk."
The NYFF announcement doesn't describe the outcome of Netflix's "big risk," but calls The Irishman "a richly textured epic of American crime, a dense, complex story told with astonishing fluidity."
The Irishman, based on the book I Heard You Paint Houses by Charles Brandt, follows Frank "The Irishman" Sheeran (Robert De Niro), who claimed to have killed labor union leader Jimmy Hoffa (Al Pacino) as a member of the Bufalino crime family. The Irishman also stars Joe Pesci as Russell Bufalino, Bobby Cannavale, Harvey Keitel, Kathrine Narducci, Anna Paquin, Ray Romano and Jesse Plemons.
"It is a film about friendship and loyalty between men who commit unspeakable acts and turn on a dime against each other, and the possibility of redemption in a world where it seems as distant as the moon," the NYFF announcement says.
The Irishman does not yet have a theatrical or Netflix release date, but is expected to premiere in 2019.
'The Irishman' 'A New Peak' for Martin Scorsese, Premieres September | Culture