'The Irishman' on Netflix Cast: Who Stars in the Martin Scorsese Movie?
The Irishman is the long-awaited reunion between director Martin Scorsese and actor Robert De Niro, but the Taxi Driver star is not the only person to have previously appeared in the director's offerings who shows up in the Netflix movie.
Joe Pesci and Hervey Keitel are also reunited with the Goodfellas director, while actors like Al Pacino, Bobby Cannavale and Anna Paquin make their Scorsese debut.
Who stars in The Irishman on Netflix?
Frank Sheeran - Robert De Niro
The Irishman is De Niro's ninth collaboration with Scorsese, with whom he has previously made Mean Streets, Taxi Driver, New York New York, Raging Bull, The King of Comedy, Goodfellas, Cape Fear and Casino. In this new movie, he plays title character Frank 'The Irishman' Sheeran, a driver and small-time conman turned mob hitman.
Jimmy Hoffa - Al Pacino
Although this is Pacino's first time working with Scorsese, he has previously worked with De Niro on The Godfather Part II, Heat and Righteous Kill. In their fourth collaboration, he is Jimmy Hoffa, the one-time boss of the Teamsters whose 1975 murder is one of the most famous unsolved true crime cases of all time.
Russell Bufalino - Joe Pesci
In his first on-screen role in nearly a decade, Joe Pesci (who starred in Goodfellas, Casino and Raging Bull) takes on the role of Russell Bufalino, the head of the Bufalino crime family who takes a young Sheeran under his wing after he works as his driver.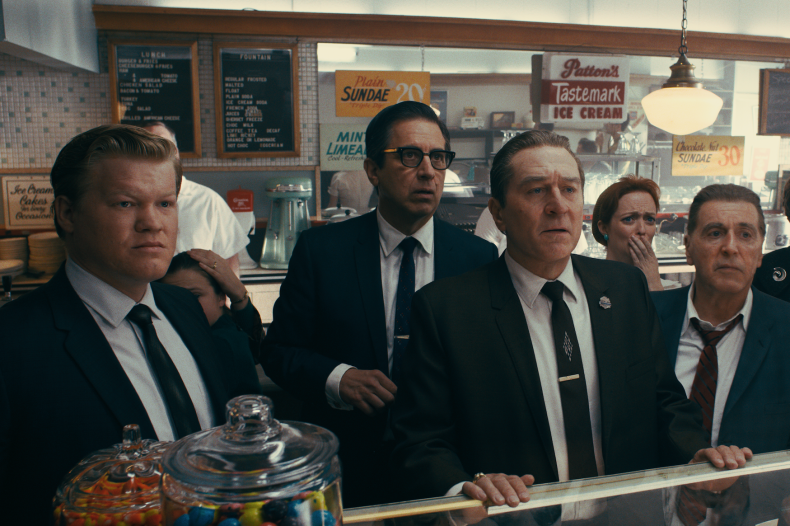 Angelo Bruno - Harvey Keitel
Another Scorsese regular, Keitel appeared in the director's first ever film Who's That Knocking on My Door and has since appeared in Alice Doesn't Live Here Anymore, Mean Streets, The Last Temptation of Christ and Taxi Driver. The Irishman sees him play head of the Bruno crime family Angelo, known as "the Gentle don for his preference for conciliation."
Felix DiTullio - Bobby Cannavale
After appearing in the Scorsese-produced TV series Boardwalk Empire and Vinyl, Cannavale portrays Felix DuTullio, a hitman with ties to the Bruno Crime family who gained himself the nickname 'Skinny Razor.'
Anthony Provenzano - Stephen Graham
Graham, who also starred in Gangs of New York and Boardwalk Empire appears in The Irishman as Anthony 'Tony Pro' Provenzano, a captain of the Genovese crime family.
Bill Bufalino - Ray Romano
Scorsese newbie Ray Romano, known for his role in Everybody Loves Raymond here plays Bill Bufalino, the cousin of Russell and the lawyer of Hoffa's International Brotherhood of Teamsters.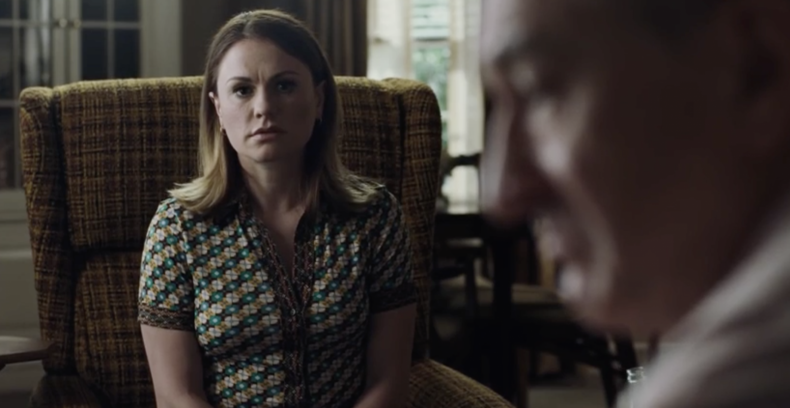 The Sheeran family
Frank's family are a crucial part of the movie, with the Sheeran women acting as a moral compass that Frank tries—and fails—to follow, leading to the film's downbeat ending.
Frank's first wife is Mary (played by Aleksa Palladino of Boardwalk Empire), who mothered his first three children Peggy (Lucy Gallina as a child, Anna Paquin as an adult), Dolores (Marin Ireland) and Maryanne (Tess Price as a child, Jennifer Mudge as an adult).
After divorcing his first wife, Frank marries Irene (Stephanie Kurtzuba of The Wolf of Wall Street), with whom he has a fourth child, Connie (Jordyn DiNatale as a teen, Kate Arrington as an adult).
Also starring in crucial roles are Breaking Bad's Jesse Plemons as close Hoffa associate Chuckie O'Brien, Power's Kathrine Narducci as Russell's wife Carrie, plus Fargo star Jack Huston as senator Robert Kennedy.
The Irishman is released on Netflix on November 27