'The Irishman' on Netflix: The Story of the Real Frank Sheeran
The Irishman, released on Netflix on November 27, sees director Martin Scorsese branching into true crime to tell his version of the story of Frank Sheeran (played by Robert De Niro), a former organised crime hitman whose story is told in Charles Brandt's book I Heard You Paint Houses.
The Irishman, which takes its name from Sheeran's nickname, mostly tells the story of Sheeran's links to the Bufalino crime family, led by Russell Bufalino (Joe Pesce) and his involvement with the death of labor union boss Jimmy Hoffa (Al Pacino), who died under mysterious circumstances in 1975.
However, prior to these events, the real Sheeran had a bloody war record across 400 days of combat duty, during which time he told Brandt that he was responsible for war crimes such as the deaths of German prisoners of war, according to iNews.
After leaving the military in 1945, Sheeran became a truck driver who, according to The Irishman, started conning the people he was making deliveries for⁠—criminal activity that eventually introduced him Bufalino.
At this time, Sheeran started getting into violent crime, becoming a hitman for hire. According to a "confession" made to Brandt in the final years of his life, Sheeran admitted to being the person who had murdered Hoffa, and it is Sheeran's account of the events which is recounted in The Irishman.
According to Sheeran, Chuckie O'Brien (Jesse Plemons) drove Sheeran, Hoffa and a gangster named Salvatore 'Sally Bugs' Briguglio (Louis Cancelmi) to a house in Detroit. He told Brandt that while O'Brien and Briguglio drove off, Sheeran and Hoffa went into the house, with the former shooting Hoffa twice in the back of the head.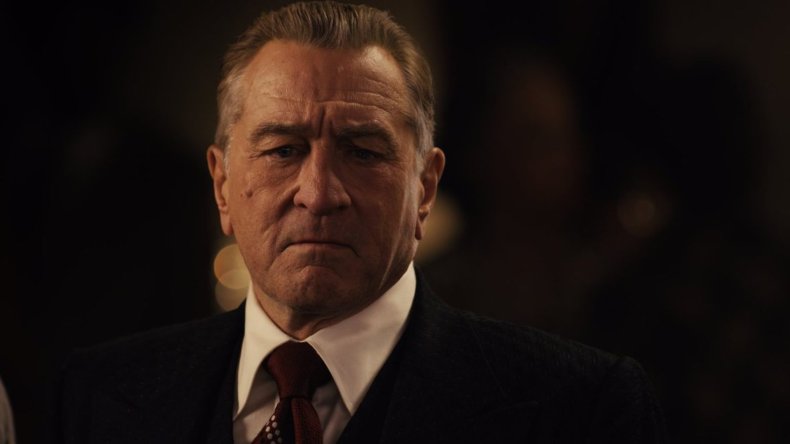 I Heard You Paint Houses quotes Sheeran as saying: "He took a quick step to go around me and get to the door. He reached for the knob and Jimmy Hoffa got shot twice at a decent range—not too close or the paint splatters back at you—in the back of the head behind his right ear."
However, this confession has been disputed by many, with Vanity Fair describing it as: "A 'laughable' story that found zero merit with a number of FBI agents, prosecutors, reporters and criminals who knew Sheeran."
One of his contemporaries told Slate: "I'm telling you, he's full of shit! The only things he ever killed were countless jugs of red wine. You could tell how drunk he was by the color of his teeth: pink, just started; dark purple, stiff."
This seems to chime with Sheeran's description of days spent AWOL during World War Two, "mostly spent drinking red wine and chasing Italian, French, and German women."
This article implies that Sheeran's claims were the actions of a man trying to create a legend around himself before he died rather than a man confessing on his death bed, with the piece saying that: "Sheeran was Irish, which limited any Cosa Nostra career ambitions he might have had, and so he seemed to be just a 6-foot-4, 250-pound gorilla with a dream."
The Irishman is released on November 27 on Netflix.