'The Irishman' on Netflix: How Did the Real Jimmy Hoffa Die?
The death of Jimmy Hoffa (played by Al Pacino in The Irishman) is one of America's most iconic true crime mysteries, but The Irishman (which is released on November 27 on Netflix) presents a potential answer to who killed the one-time leader of the International Brotherhood of Teamsters in the form of Frank Sheeran (Robert De Niro).
In the movie, we see mob hitman Sheeran murder his former friend. This was something that the real Sheeran confessed to author Charles Brandt in I Heard You Paint Houses, the non-fiction book the Netflix movie is based on. Some, however, have questioned how truthful this confession really was.
Many think that Sheeran had something to do with the death. As a Slate article, provocatively titled 'The Lies of The Irishman,' details, one theory has it that Sheeran was hired to ride along in the car that took Hoffa to the place of his murder in a Detroit house due to Hoffa trusting his fellow official in the Teamsters.
In Sheeran's disputed version of the story, it was him who then took Hoffa into that house and murdered him. Those who do not believe this claim think that it was actually mob enforcer Salvatore 'Sally Bugs' Briguglio (Louis Cancelmi) who fired those shots or any number of other possible suspects.
How truthful Sheeran's confession is has been disputed. On the one side are those who think that he was too small-time to be given such a major role in the murder of such a high-profile person, while on the other there are those convinced by his confession or the people that I Heard You Paint Houses author Charles Brandt said called him after the book was published. He told Slate: "It was like stuff was coming out of nowhere to corroborate Frank's confession."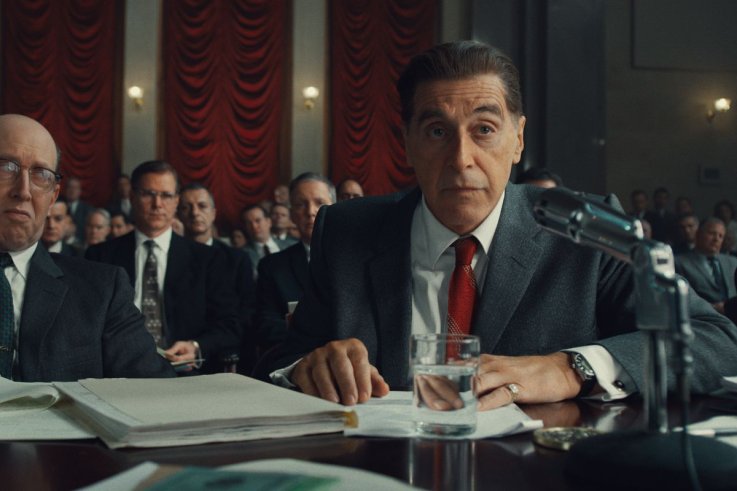 The two sides of the article met in a letter from I Heard You Paint Houses publisher Chip Fleischer published by Slate in response to "The Lies of The Irishman." Fleischer begins by mentioning that since the claim in the book that Sheeran killed Hoffa, "we [Steerforth Press] have received substantial independent third party corroboration of its revelations and conclusions, so much in fact that we added a 57-page Conclusion to the current edition to go along with a 14-page Epilogue that was added to the first paperback edition in 2005 detailing much of that corroboration."
The author of the original article Bill Tonelli responds by saying: "The author of I Heard You Paint Houses, Charles Brandt, hasn't shown any proof that Frank Sheeran did kill those men or anyone else. This is the premise of the entire article, which I made clear from the very first sentence—that because no one has ever been proved guilty, anyone can claim to have killed them."
A Fox News investigation of Sheeran's claims in 2004 found blood in locations that matched Sheeran's story, though these proved too old to be tested. However, Sheeran stuck to his story to the end, reportedly saying from his deathbed: "I stand by what's written in the book."
The Irishman is released on Netflix on November 27
'The Irishman' on Netflix: How Did the Real Jimmy Hoffa Die? | Culture