'The Irishman' on Netflix: The True Story Behind the Crazy Joe Gallo Murder
Martin Scorsese's latest movie The Irishman, streaming now on Netflix, is based upon the book I Heard You Paint Houses, which features the real Frank Sheeran (played by Robert De Niro) confessing to a few unsolved murders, including those of Jimmy Hoffa (Al Pacino) and Crazy Joe Gallo (Sebastian Maniscalco), who we see De Niro taking out in a clam restaurant in 1972.
In the book, written by Charles Brandt, Sheeran tells him: "John Francis (Sean Collins) dropped me at Umberto's Clam House on the corner of Mulberry Street and Hester Street in Little Italy...I walked in the Mulberry Street door. I went straight ahead toward the bar... A split second after I turned to face the table, Crazy Joey Gallo's driver got shot from behind...
"Crazy Joey swung around out of his chair and headed down toward the corner door to the shooter's right. Could be he was trying to draw fire away from the table, or could be he was just trying to save himself, but most likely he was trying to do both. It was easy to cut him off by going straight down the bar to the door and getting right behind him. He made it through Umberto's corner door to the outside. Crazy Joey got shot about three times outside of the restaurant not far from the corner door. Could be he had his piece in his car and he was going for the car. He had no chance of making it. Crazy Joey Gallo went to Australia on his birthday on a bloody city sidewalk."
Despite this confession, the case officially remains unsolved, and some have questioned Sheeran's account of things. For example, a Slate article looking at some of Sheeran's claims in I Heard You Paint Houses features contemporary newspaper accounts calling Gallo's killer, "about 5-foot-8, stocky, about 40 years old and with receding dark hair," while other accounts write that the hit was carried out by "little, short, fat Italians". Sheeran, in contract, was a 6 foot 3 Irishman. This has led many to pin fellow mobster Carmine "Sonny Pinto" Di Biase as the killer.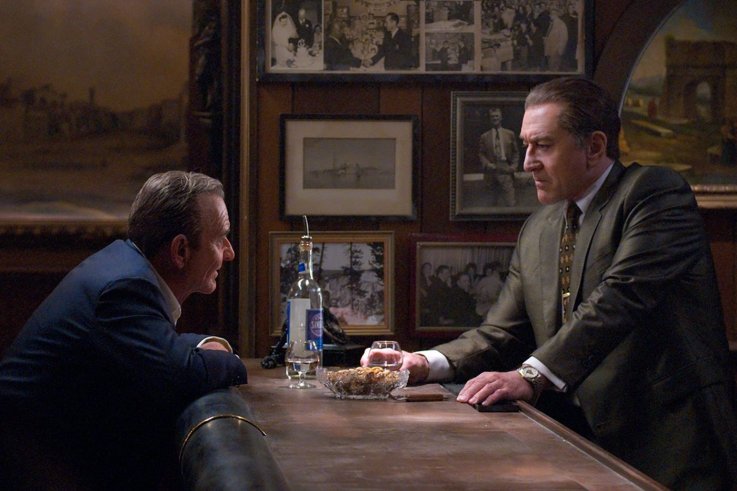 Sheeran is not the only person to have confessed to the crime. In 1972, The New York Times reported that a man named Joseph Luparelli had confessed to the crime under the orders of the head of the Colombo crime family, Joseph Yacovelli—a different account from that of The Irishman, which sees Russell Bufalino (Joe Pesci) order Sheeran to do the hit. However, a lack of evidence means that no one has ever been convicted of the death.
Speaking of some of the theories out there over who killed Gallo, Sheeran said in the book: "The stories that are out there say that there were three shooters, but I'm not saying that. Maybe the bodyguard added two shooters to make himself look better. Maybe there were a lot of stray shots being fired from the two guns that made it seem like there was more than one shooter. I'm not putting anybody else in the thing but me."
However, with nearly all the key people who could tell us what happened that night dead, it is unlikely we will ever know exactly who killed Crazy Joe.
The Irishman is streaming now on Netflix
'The Irishman' on Netflix: The True Story Behind the Crazy Joe Gallo Murder | Culture