'Iron Chef' Cast: Meet the Iron Chefs in the Netflix Reboot
Iron Chef: Quest for an Iron Legend is Netflix's new reboot of the classic Food Network show, which will see some of America's best chefs face off in the Kitchen Stadium.
Alton Brown will be returning from Iron Chef America to host the Netflix show, while Mark Dacascos returns as the Chairman. Alongside will be a cast of five familiar food faces who will be the season's Iron Chefs.
The Netflix reboot will see these Iron Chefs faced by a group of Challenger Chefs, who will battle the culinary greats for the title of Iron Legend.
The new Iron Chef has announced both its new Iron and Challenger Chefs. Here's who the challengers will be trying to defeat when the show comes to Netflix this Wednesday.
All the Iron Chefs from Netflix reboot Quest for an Iron Legend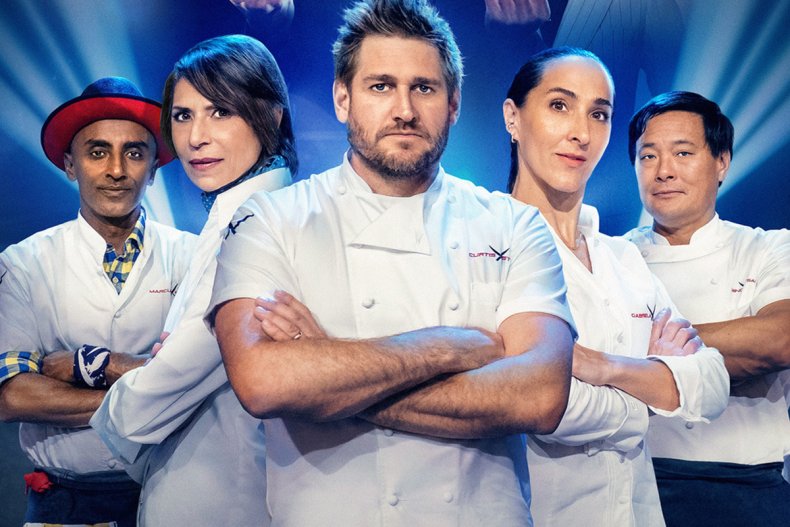 Curtis Stone
Australian chef Curtis Stone's Iron Chef journey began in 2010 when he lost to Bobby Flay in an episode of Iron Chef America. Food fans may know him from his other TV credits, which include Take Home Chef, Top Chef Masters, My Kitchen Rules and Crime Scene Kitchen. Reality TV watchers, meanwhile, may recognize him from The Biggest Loser and The Celebrity Apprentice.
Aside from his TV work, Stone also has two restaurants: Beverly Hills' Maude and Hollywood's Gwen.
Dominique Crenn
French chef Dominique Crenn was featured on Season 2 of Netflix's other cooking show Chef's Table. Fine dining fans may also know that she is the only woman in the U.S. to have three Michelin Stars. This rating was given to her San Francisco restaurant Atelier Crenn, while her wine bar Bar Crenn also has one star.
Crenn may also be known to NCIS obsessives as the real-life fiancée of actor Maria Bello, who played Jack Sloane in the TV series.
Marcus Samuelsson
Born in Ethiopia and raised in Sweden, Marcus Samuelsson was formerly a judge on both Iron Chef USA and Iron Chef America, as well as a regular Chopped guest judge. He also holds the unique accolade among the Iron Chef judges of playing himself in an Scooby-Doo film, Scooby-Doo! and the Gourmet Ghost.
His numerous restaurants include Marcus B & P, Ginny's, Red Rooster and Swedish Supper Club. He also served as the guest chef for President Barack Obama's first state dinner.
Ming Tsai
American chef Tsai previously missed out on a slot as an Iron Chef after coming third in The Next Iron Chef in 2010, five years after appearing on Iron Chef America. His other TV work includes Simply Ming and Cooking Under Fire on PBS, and a 2006 episode of Arthur.
Tsai ran the restaurant Blue Ginger in Wellesley, Massachusetts, for nearly 20 years, and now runs Blue Dragon in Boston.
Gabriela Cámara
Mexico's Gabriela Cámarais also a Netflix alum following her appearance in the documentary A Tale of Two Kitchens. Named one of Time's most influential people of 2020, Cámara's restaurants include San Francisco's Cala and Mexico City's Contramar. She teaches the world how to cook Mexican food on the Masterclass website, and acts as a cultural advisor to Mexican President Andrés Manuel López Obrador.