Iron Maiden Fan Prevails Over Parents Trying to Get Her Fired as High School Principal
A high school principal in Canada will retain her position after a group of parents started a petition to get her fired over her love of a heavy metal rock band.
The outcry began after Sharon Burns, principal of Eden High School in St. Catharines, Ontario, posted two photos to her Instagram account dedicated to her fandom of English heavy metal band Iron Maiden—which often uses dark imagery of skeletons, grim reapers and more.
"I'm surprised it blew up in the way it did," St. Catharines' city councillor Karrie Porter told The National Post. "It is funny, silly and frustrating all at the same time."
In one photo, Burns is showing Iron Maiden regalia with a personalized license plate that reads "IRNMADEN," while posing with the rock on sign. The second photo shows the band's skeletal mascot, Eddie, with a heart and the number "666" inside. The number is a reference to the band's song "The Number of the Beast" and is used in marketing, but the number is also associated with the Devil.
Some parents were angered because of the impact the photos could have on their "impressionable children."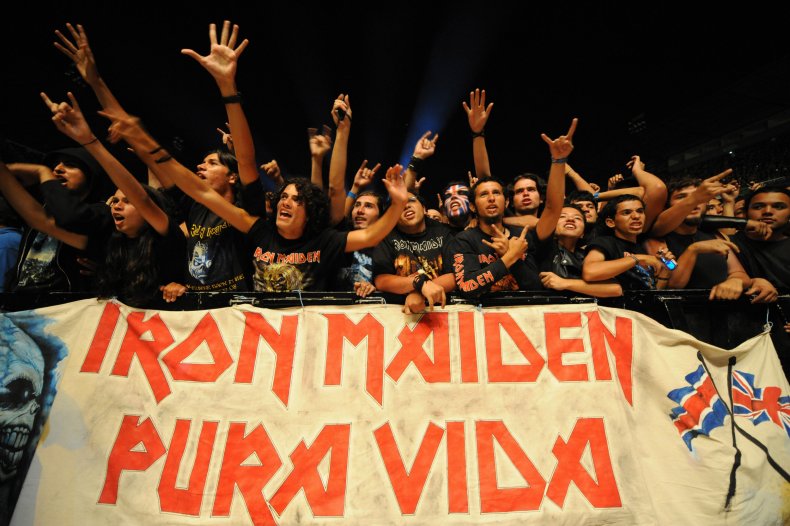 In response, they created an online petition calling for Burns to be transferred to another school.
"We are deeply disturbed that the principal assigned to the school blatantly showed Satanic symbols and her allegiance to Satanic practices on her public social media platforms where all the students can see them," it said.
Another group of parents created the "We Need Mrs. Burns" counter-petition.
"It is ridiculous that a couple of parents only judge her role as a principal only based on an instagram post," parents supporting the principal wrote. "She has made Eden a safe space for so many people. She spreads nothing but love and kindness."
There were 553 signatures on the petition calling for Burns to leave the school. Meanwhile, the petition favoring her surpassed more than 20,000 signatures after the principal's story was shared by students, music fans and advocates of free speech.
The creator of the original petition issued one statement before removing it: "Sharon knows full well what she did was simply inappropriate, unnecessary and not professional but has yet to publicly admit so and is willing to allow people to believe a completely different story, making very real concerns seem petty."
The District School Board of Niagara spoke with Burns and the concerned parents over the issue, which the board considers rectified. No disciplinary or changes in policy were necessary, according to Kim Sweeney, chief communications officer. She described the story's attention as a "unique experience."
"As you can imagine, Principal Burns, like all of us, is quite surprised by how her Instagram post led to two petitions and grew to be a topic of interest around the world," said Sweeney. "We know Ms. Burns as a passionate and dedicated educator who is happiest when she can focus on and connect with her students."
The two Instagram posts were removed although Sweeney said that the school believes music taste is subjective and they support everyone who enjoys a wide variety of genres.
Porter believes the issue may have been about more than the band's imagery. Unlike the majority of school administrators, Burns occasionally has colored hair that's styled in a fauxhawk. And, the school's history is rooted in the Christian movement.
Started by the Mennonite Brethren in the 1930s, Eden High School originally began as a Bible school before becoming a private Christian institution. It became a public school in 1988 but students were required to wear school uniforms and the district offers privately funded faith-based activities after school, according to the National Post.
"I think that's why this happened at this particular school," said Porter. "It's now publicly funded and probably still some lingering tensions around the fact that the community is changing, and the school is changing. This is probably feeding into this issue."
Although Burns removed the photos that brought controversy, her @EdenPrincipal Twitter bio still says "Fueled by metal & ska."
Newsweek reached out to Eden High School for comment.