Iron Maiden Singer, who Voted for Brexit, Complains About Resulting EU Travel Restrictions
The lead singer of the British heavy metal band Iron Maiden expressed frustration over U.K. travel restrictions in the aftermath of Brexit on Monday, despite voting for the measure in 2016.
Bruce Dickinson, who was previously an outspoken supporter of Britain leaving the European Union, told Sky News in a new interview that he is frustrated by travel difficulties that U.K. artists are subsequently facing in Europe.
"Don't get me started on the government's attitude to the entertainment industry. We are probably one of the U.K.'s major exports. I mean, come on! And yet we're sitting here, we can't do anything," he said.
"It's very well known that I voted Brexit, but the idea is that after you've done it, you then go in and be sensible about the relationships you have with people. So at the moment, all this guff about not being able to play in Europe and Europeans not being able to play over here, and work permits, and all the rest of the rubbish – Come on! Get your act together!," he added.
Since Brexit, visa-free travel in the EU is no longer a given for British musicians and performance support crews. Now, touring artists and staff members may need to obtain extra work permits or pay hefty fees in order play in some European countries, the BBC reported.
Dickinson's Monday comments came in stark contrast to a 2018 interview in which he said he did not believe Brexit would have a negative effect on the music and touring industry.
"Iron Maiden music is global music – we have fans everywhere," he said. "I don't see any problem with touring Australia – that's not part of the EU. There's no problem with touring in Japan – that's not part of the EU. I don't see any problem with touring America. Oh, let me see – that's not part of the EU. Do those musicians have problems coming to Europe? No," Dickinson said at the time, according to The London Economic.
"Brexit actually opens our borders, Brexit opens the United Kingdom to the whole of the world," he added.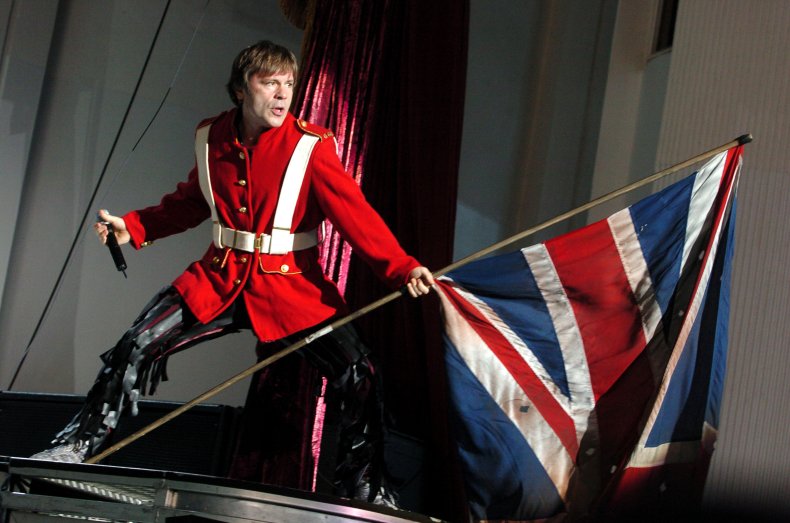 Other British musicians, including Elton John, have also spoken out against the traveling restrictions and called the U.K. government "philistines" for failing to provide support to the entertainment industry.
"I'm livid about what the government did when Brexit happened. They made no provision for the entertainment business, and not just for musicians, actors and film directors, but for the crews, the dancers, the people who earn a living by going to Europe," John said in a Sunday interview with the Observer New Review.
Last week, more than 200 artists including Wolf Alice, IDLES, and Radiohead also came together for a new #LetTheMusicMove campaign in an effort to call upon the U.K. government to take action on post-Brexit touring issues.