Great White Shark Much Bigger Than Ironbound Stalking North Carolina Coast
An enormous great white shark much larger than Ironbound, who made headlines earlier this week, has been lurking off the coast of North Carolina, tracking data shows.
On May 10, tracking data from ocean conservation group OCEARCH showed a 1,000lb great white shark known as Ironbound had been swimming off the coast of North Carolina and New Jersey. News reports said he is one of the biggest great whites living along the eastern coast of the U.S.
However, OCEARCH data also shows a much larger great white, measuring over 13 feet and weighing almost 1,500 pounds is also in the North Carolina area. It is thought males and females congregate in this area in spring to mate.
Ironbound is currently on his way back to Nova Scotia where he will spend the summer bulking up on food. Most recently, he was spotted near Cape Hatteras in North Carolina having reached New Jersey and then doubled back, possibly because the water was still too cold, Chris Fischer, OCEARCH's founder, told NBC News.
At the time Ironbound was tagged back in October 2019 in Nova Scotia, the shark was 12 feet, four inches long and weighed just under 1,000 pounds.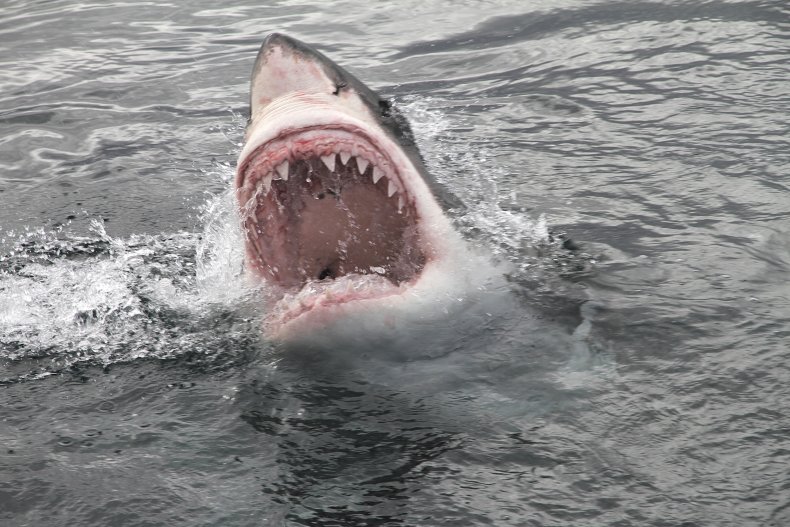 However, there are plenty more fish in the sea—or sharks in the ocean in this case.
OCEARCH data shows that another great white shark was spotted in almost exactly the same location as Ironbound on May 10, just off the Cape Hatteras National Seashore.
This shark, named Breton, was even larger than Ironbound when first tagged and much heavier. According to Ocearch, Breton measured 13 feet and three inches and weighed in at 1,437 pounds. Breton was first tagged in September, 2020, in Nova Scotia.
Breton was the first shark tagged during Ocearch's Nova Scotia expedition that year and "is named for all of the wonderful people of Cape Breton where he was tagged," the company says.
Great white sharks heading north for summer
Both Breton and Ironbound get around. The sharks' trail of pings over the years show that they have both travelled thousands of miles over, heading back and forth up and down the east coast of North America. Great white sharks in the Atlantic tend to spend summers in Canadian waters and return south around Florida for the winter.
Breton has traveled further north than Ironbound since both sharks were tracked, going as far as the Gulf of St. Lawrence, which sits north of Nova Scotia. Ironbound, however, has travelled further south, looping around Florida past the Bahamas and into the Gulf of Mexico at one point.
Ocearch is able to track sharks thanks to trackers it places on their bodies. Using the M/V Ocearch at-sea research lab, scientists use a hydraulic platform to lift marine animals out of the water. The animals are then given a continuous flow of seawater over their gills while the science team places tags on them and collects blood and tissue samples.
Ocearch has uploaded videos to its YouTube account documenting the process from start to finish, including when the shark is returned to the water and swims away.
While Breton and Ironbound are certainly large animals, they are dwarfed by some of the largest known great white sharks which have reached lengths of around 20 feet and weights of several tons according to the Oceana conservation group.