IRS Warns About Stimulus Check Scams After Receiving Record Number of Reports
The Internal Revenue Service (IRS) is warning Americans about stimulus check scams after receiving a record number of reports this summer.
The agency announced in a news release Monday that phishing reports about the checks, also known as Economic Impact Payments, skyrocketed in June and July.
Scammers try to mirror legitimate IRS communications in order to convince taxpayers to enter personal information or even submit a payment, according to the agency.
"Even though taxpayers have received multiple rounds of Economic Impact Payments, we saw phishing scams surge this summer," Jim Lee, the chief of the IRS Criminal Investigation Division, said in a statement.
Lee added, "The number of reported scam attempts reached levels we haven't seen in more than a decade. More than ever, it is important for taxpayers to continue to protect their personal information and not fall victim to these scams."
Victims have been sent text messages telling them they're eligible for a "stimulus payment" and asking them to complete an online form with the necessary information to claim it. Scammers have also reportedly sent out emails claiming the IRS has deemed them eligible for a direct payment.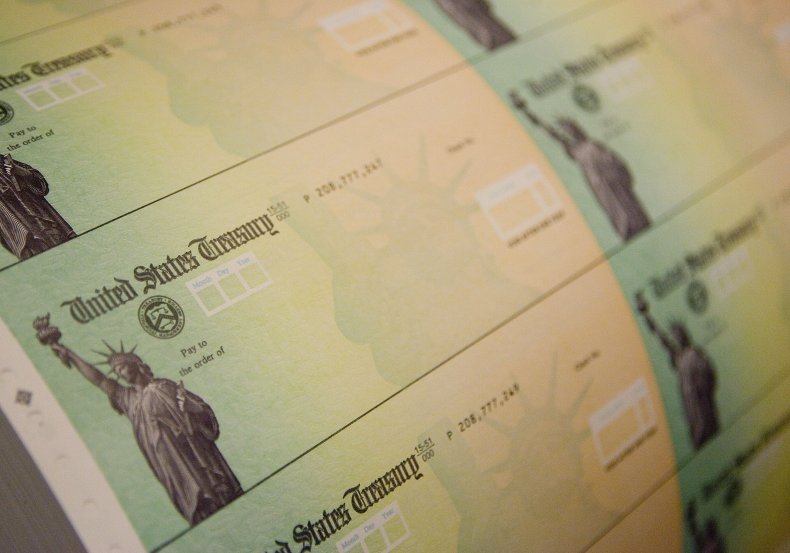 The IRS emphasized Monday that it does not send unsolicited texts or emails. It also doesn't threaten jail time or lawsuits, or demand tax payments on gift cards or via cryptocurrency.
Anyone who does receive unsolicited communication that appears to be from the IRS or a similar agency should forward the message to phishing@irs.gov. People can also report fraud or theft of their stimulus payments online at TIPS.TIGTA.GOV.
Examples of scammers impersonating the IRS through texts and emails have been posted to the agency's website.
Newsweek reached out to the IRS for additional information but did not receive a response before publication.
In response to the economic crisis caused by coronavirus pandemic, the federal government has sent out $3,200 to eligible adults.
Two checks were authorized by Congress in 2020 during Donald Trump's presidency, the first totaling $1,200 and the second for $600. This year, under President Joe Biden, eligible Americans received a $1,400 check.
In the third round of direct stimulus aid, more than 169 million checks were issued by the IRS. More than two million people in July received the $1,400 payment.
The two latest rounds of relief helped fuel a decline in food shortages, depression, and financial instability, according to a study published by the University of Michigan in June.
An online petition calling for monthly $2,000 checks is continuing to gain traction on Change.org. As of Tuesday, the page had received more than 2,849,700 signatures. Despite the petition's continued growth, there's been little movement on Capitol Hill for passing a fourth stimulus check.