Irving Oil Refinery Explosion: Fire Reported at New Brunswick Refinery
An explosion at an Irving Oil refinery in Canada prompted a response from police officers and put a nearby hospital on high alert.
Irving Oil confirmed on Twitter that a "major incident" occurred at the company's refinery in Saint John, New Brunswick, Canada, on Monday morning and that Saint John Police responded to the scene. Following the explosion, Horizon's Saint John Regional Hospital was put on "high alert" to prepare for the possible influx of patients.
The hospital tweeted that it was running as usual on Monday but that two patients were brought in with non-life- threatening injuries sustained during the explosion.
Saint John Police closed several streets, including Loch Lomond at Commerce; Lock Lomond at Macdonald; Grandview at Champlain; and Grandview at Bayside. Loch Lomond at both Commerce and Macdonald were later reopened.
"This is obviously a live event … when we know more, you'll know more," Saint John Mayor Don Darling tweeted. "Praying for the safety of all involved."
In an interview with Global News, Darling urged people to stay away from the site of the explosion and said government agencies and first responders were focusing on the "event itself." He didn't share many details about the explosion but said he'd been told it occurred in one particular unit, perhaps the diesel unit.
"It was isolated to that unit, so there was containment to keep it there," Darling explained. "A lot of the flame and smoke that we saw was burning off of material, which would be, as I understand it, a fairly common approach."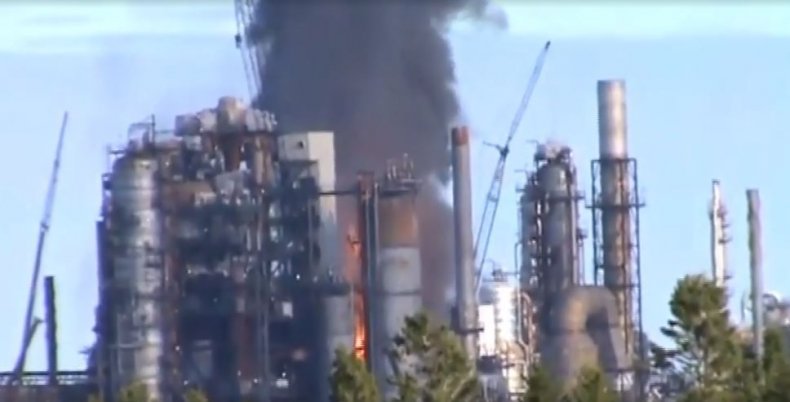 Irving Oil shared an update about the situation on Twitter about two hours after it occurred, explaining that it was the company's understanding that all employees and contractors who were on the site had been accounted for. Several contractors had sustained non-life-threatening injuries. The tweet concluded with a thank you from Irving Oil to all first responders who worked on the incident.
Residents living near the refinery felt the explosion; Litsa Daeres told CTV Atlantic that her "whole house shook," leading her to believe her furnace had exploded. When she looked outside and saw flames and smoke, she realized it was the refinery.
According to CTV Atlantic, the explosion occurred shortly before 10:00 a.m. AT, and at 1:45 p.m. AT four separate water sources were working to extinguish the fire, the flames still visible.
"I've lived in Saint John for 30 years, and this is the first time I've seen something like this happen here," resident Jocelyn Legassie told CBC News.
Following the explosion, Darling said the refinery was shut down and said people should feel confident that the situation was under control.
Irving Oil is the leading regional energy company in Eastern Canada and New England, according to the company's website. More than 320,000 barrels of finished energy products, including gasoline, diesel, jet fuel, propane and asphalt are produced at the Saint John refinery location each day. Half of those barrels are exported to the United States.