Tropical Storm Isaac, Hurricane Helene Updated Path, Forecast
While parts of the East Coast brace for Hurricane Florence, weather experts are keeping a close eye on the storm for any changes or developments, but a portion of their attention is also elsewhere. Two more storms have formed and are strengthening in the Atlantic basin.
Tropical Storm Isaac had maximum sustained winds of 70 miles per hour Tuesday morning, which made it a tropical storm instead of a Category 1 hurricane on the Saffir-Simpson scale. However, it was expected to be close to or at hurricane strength when it reaches the Lesser Antilles islands.
Isaac was expected to reach the islands Thursday. As of Tuesday, several islands in the area including Dominica, Martinique and Saint Lucia were all under a hurricane watch, the islands to the north like Antigua and St.John's were under a tropical storm watch.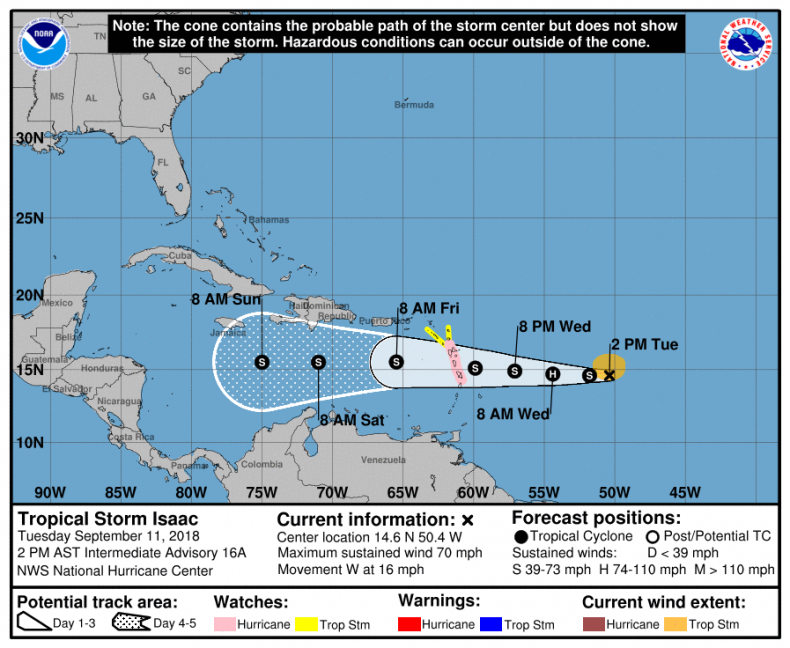 As Isaac approaches the islands those watches may progress to become warnings, which are issued when a threat is more imminent and there are conditions actually happening in the immediate area related to a hurricane or tropical storm.
Those in the Lesser Antilles should keep an eye on any advisory that comes from officials in the area or from their national weather service. The warnings from officials will be important to follow when Isaac reaches the islands.
Behind Isaac to the east in the Atlantic was Hurricane Helene that had sustained wind speeds of 110 mph as of Tuesday morning. Helene was not predicted to head in the direction of the islands or of the continental United States and was instead expected to head north through the Atlantic.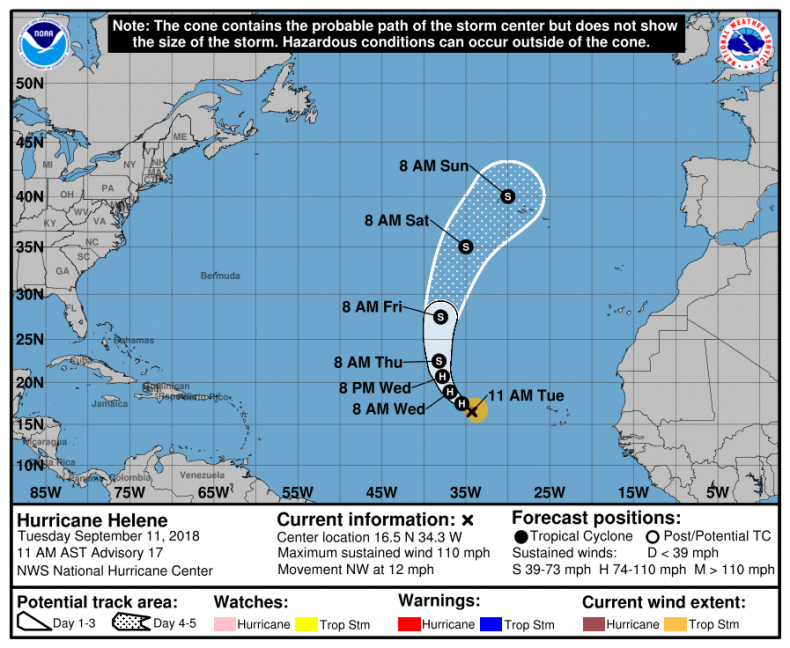 The storm was moving northwest on Tuesday but was expected to turn north and then possibly even east as it progressed. There were no hurricane warnings or watches issued for any landforms due to the storm because there was no land in its path.
Hurricane Florence was the most imminent threat coming from the Atlantic on Tuesday. The storm was expected to make landfall early Friday morning and was classified as a major hurricane on Tuesday. It was fluctuating between a Category 3 and Category 4 storm but was threatening to bring strong winds, heavy rains, dangerous storm surges and significant and possibly life-threatening flooding to the Carolinas.
Evacuations were ordered up and down the coastlines in North and South Carolina and in some areas of Virginia as well. Some airlines were helping those who were trying to evacuate by waiving change fees. Flights in and out of airports in and around Florence's path were delayed and canceled ahead of the storm and many people were evacuating by car.