What Happened to Isabella Pollok? Everything About Larry Ray's 'Lieutenant'
Stolen Youth: Inside the Cult at Sarah Lawrence examines the crimes of Larry Ray and the emotional, physical and sexual abuse he carried out on his daughter Talia's friends at the elite liberal arts college in New York from 2010.
The three-part series, premiering on February 9, gives Ray's victims a platform to speak out about Ray's decade of abuse. It also includes interviews with family members and others involved in the case.
One such person is Isabella Pollok, one of the students who encountered Ray and became his alleged "lieutenant" in a "cult" he made at Sarah Lawrence.
Here is everything that viewers need to know about Pollok and where she is now.
What Happened to Isabella Pollok? Everything to Know About Larry Ray's 'Lieutenant'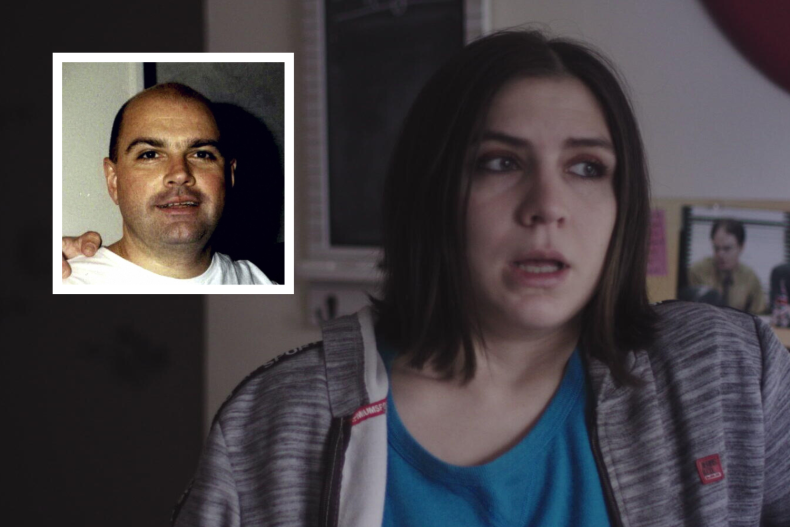 In 2010, Ray moved into his daughter Talia's student accommodation after being released from prison. At the time her seven housemates, including Pollok, didn't see the arrangement as an issue—but things took a dark turn.
The Cut first reported on Ray's actions in a 2019 story, in which it was detailed how Ray made himself appear to be a confidant and spiritual guide to Talia's friends. He began having "therapy" sessions with individuals in order to learn intimate details about them.
According to The Cut, Pollok "seemed to take comfort" in Ray's company when he moved in as she had recently had a breakup. She said: "I'm 19, I was having a lot of difficulty making sense of things, I wasn't in a good place.
"He started to help me kind of process and make sense of a lot of things I just couldn't make sense of."
Ray later began having "interrogation" sessions with the students, manipulating them into making false confessions such as trying to poison him.
In 2011, Ray moved into a one-bedroom apartment with Talia and several friends, including Pollok, where he continued to subject them to physical and emotional abuse. He was also said to have extorted money from their families and made some of them take part in forced labor and prostitution.
During this time Ray began a relationship with both Pollok and Felicia Rosario—the sister of two of Ray's victims, Santos and Yalitza Rosario. Ray referred to Felicia Rosario as his "wife," though they were never married.
Ray was arrested in February 2020 and in April 2022, following a four-week trial, he was convicted on several counts including sex trafficking, extortion and forced labor.
Court documents showed that one student, Claudia Drury, was forced by Ray into prostitution to "pay damages to [him] that she did not actually owe." It was also stated in the documents that Ray had "tied his victim to a chair, placed a plastic bag over her head, and nearly suffocated her."
In April 2022 he was found guilty on all counts, and on January 20, 2023 he was sentenced to 60 years in prison for racketeering conspiracy, violent crime in aid of racketeering, extortion, sex trafficking, forced labor, tax evasion and money laundering offenses.
Pollok is currently being investigated as Ray's co-defendant, and prosecutors previously described her as Ray's "trusted lieutenant," per the New York Times.
The publication reported she allegedly helped Ray sexually and psychologically manipulate her friends and roommates, with one student alleging that Pollok kept hold of video recordings that Ray had made to falsely incriminate them.
In March 2021, Pollok was charged with racketeering, extortion and sex trafficking conspiracies, to which she pleaded not guilty at the time. On September 7, 2022 she pleaded guilty to one count of money laundering conspiracy.
Pollok's lawyers wrote a letter to the case's judge where they said that she was also a victim of Ray's "cult." Pollok also wrote letters to the judge and prosecutors in her case.
Pollok wrote: "I trusted Lawrence more than I trusted myself and in doing so, I betrayed my own sense of right and wrong."
She later added: "I know I committed serious crimes and I fully accept responsibility for my actions. I am not the same person who met [Larry] Ray over 10 years ago.
"I know this request comes late. [Larry's] hold over me changed who I was and it continues to be a healing process. With the help and love of others I have freed myself from the past.
"I am still a work in progress but know to the extent that I can make amends for the harm I have caused I am willing. I'm now asking for a second chance."
Pollok faces a maximum of five years in prison and she will be sentenced on February 22.
Stolen Youth: Inside the Cult at Sarah Lawrence is out on Hulu now.