Whatever success Isaiah Thomas has on the court as a member of the Cavaliers, it seems he will always retain affection for Boston.
That, at least, is the impression given by the point guard in his latest video for The Players' Tribune, the publication set up by Derek Jeter that allows sportspeople to speak to the public in their own words.
As in each of the previous episodes, Book of Isaiah II: Chapter 4 gives off the impression of a pretty stand-up, down-to-earth athlete. (Yes, cynically, that's part of the point of the series but it would take an awful lot of effort for Thomas to act this nice). Filmed in the summer of 2017, before the trade that took him from Boston to Cleveland, we see Thomas playing with his sons and being wowed by Rob Gronkowski and Tom Brady as he visits a New England Patriots preseason practice. "Look how big Gronk is," Thomas tells one of his kids as the giant tight end wanders over toward him. It's cute. He gives interviews to the media at Gillette Stadium which are probably more interesting now, in retrospect. "I'm happy," Thomas says about his problematic hip injury. "It's a slow process right now, slow rehab. But it's getting better, getting stronger and I'm making progress."
The second half of the ten-minute video is mostly about Thomas's ProCamp, as he tries to pass on the values that turned the last pick of the 2011 NBA draft into an All-Star.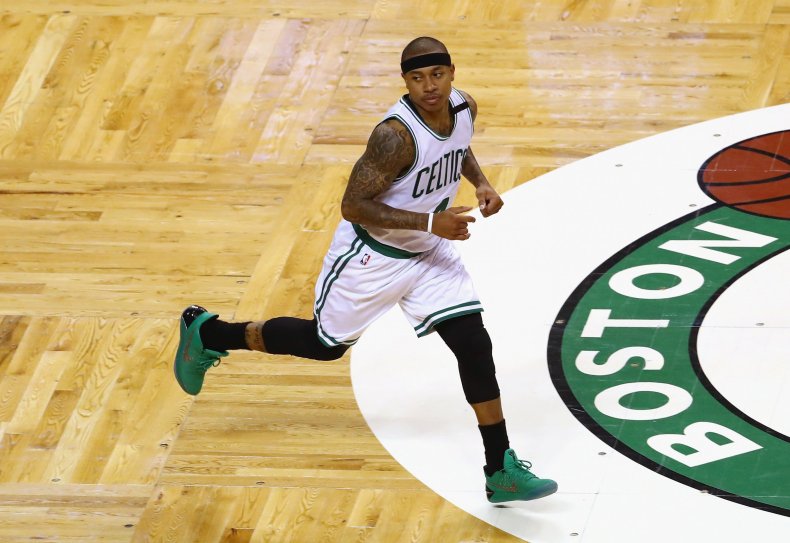 Mostly, though, what comes through is Thomas's lingering appreciation and love for Boston and its professional sports scene. "Everything you hear about Boston is true," Thomas says in the opening monologue. "The fans, the city. It's an amazing city, it's a sports town. Off the court, my family was growing to like Boston."
So far, the blockbuster trade from the summer of 2017 hasn't worked out too badly for either the Celtics or the Cavaliers. Kyrie Irving is playing like one of the leading candidates for M.V.P. while the Cavs have surged up the Eastern Conference standings following a slow start.
Thomas has only been able to cheer on from courtside—that hip problem probably isn't going to allow him to play before January at the earliest. Without him, LeBron James and Dwyane Wade have been lighting it up like it's South Beach and 2010 all over again, with 12 straight wins including on Monday night against the Chicago Bulls.
When Thomas does return, the Cavaliers are going to have a scary backcourt. Just don't expect him to love northeast Ohio quite as much as he does Beantown.
Uncommon Knowledge
Newsweek is committed to challenging conventional wisdom and finding connections in the search for common ground.
Newsweek is committed to challenging conventional wisdom and finding connections in the search for common ground.
About the writer
Sportswriter at Newsweek.