Jason Isbell and Amanda Shires Quit CMA Over John Prine, Billy Joe Shaver Snubs
The country music world lost some major figures this year, and the Country Music Association's Awards this week honored many of them during its broadcast Wednesday night, but there were some very notable exceptions. Namely, the CMA's made no mention of John Prine, Jerry Jeff Walker, and Billy Joe Shaver. Due to the absence of recognition for these icons, the married country stars Jason Isbell and Amanda Shires announced they were returning their CMA cards and thus renouncing their lifetime membership.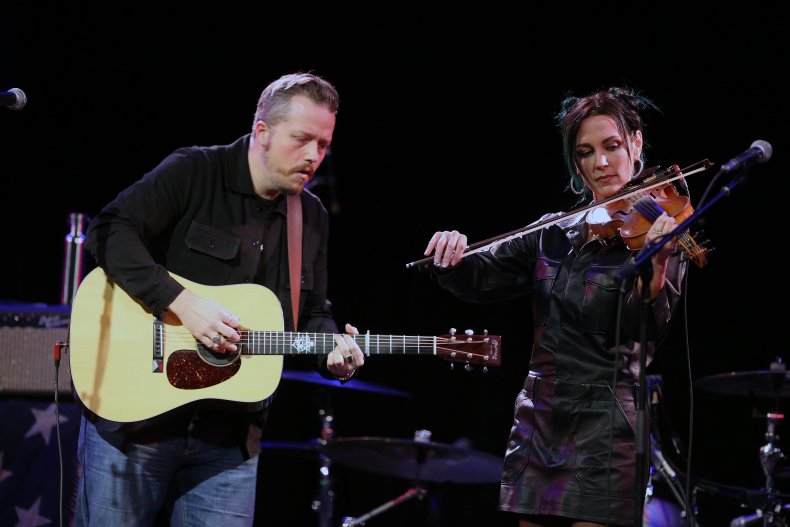 Isbell announced the move on Twitter Thursday night, writing: "I doubt anybody will care, but we cared a lot about our heroes."
The CMAs paid respects to Kenny Rogers and Mac Davis during the show, and the event began with a tribute to the late Charlie Daniels featuring Dierks Bentley, Jason Aldean, Ashley McBryde, and the Brothers Osborne. The lack of mentions for the other deceased stars wasn't due to their deaths being too recent to work into the show; Prine passed away in April, months before Daniels or Davis.
Prine's music contained elements of both country and folk, and his influence was vast. His label, Oh Boy Records, received notice that he wouldn't be a part of the night's festivities and tweeted a statement. It read: "Country music was both the inspiration and foundation for his songwriting and performing. While there may be a number of artists who have had more commercial success than John, there are very few who achieved more artistically."
Jerry Jeff Walker passed away on October 23. He wrote the much-covered classic "Mr. Bojangles" in 1968 before becoming associated with the outlaw country movement of the 1970s that also included Willie Nelson, Waylon Jennings, and the recently departed Billy Joe Shaver. Only five days after Walker's death, Shaver passed away. He enjoyed decades of hits with songs like "Old Five and Dimers Like Me," "Honky Tonk Heroes," and "Live Forever."
Fellow country star Sturgill Simpson also criticized the CMAs for not honoring Prine. He wrote on a since-deleted Instagram post that he wouldn't have attended the show even if his "chair had a morphine drip," but he watched "to see if they would say his name [Prine] but nope."
Isbell, Shires, and Simpson join singer Margo Price as prominent stars who have recently spoken out against the CMA Awards. On November 5, Price railed against the CMA's attempt to censor artists by pushing a "no drama" agenda in the press leading up to the awards. On Twitter, she wrote: "Once again, the CMA's are censoring/white washing their show but who's surprised? Anyone still participating is a socially unconscious pawn. Artists pander woke authenticity when it benefits them and then sit in silence as they collect their plastic trophies. Also the music sucks." In another tweet, Price wrote: "The lack of diversity in these organizations is appalling. there are so many artists not recognized simply because of their sex, skin color and age." (For her part, Maren Morris dedicated her win for Female Vocalist of the Year to Black women in country music.)
The show was not without other controversies. Carrie Underwood fans hoping she would win Entertainer of the Year after losing out to Garth Brooks last year--Brooks withdraw his name from consideration this year--were left disappointed again when she lost to Eric Church. However, the biggest black mark on the night was the Nashville-based show took place two days after Tennessee reported its highest peak of coronavirus cases, and five acts pulled out of the awards due to COVID-19 positive tests.