'ISIS 2.0': GOP Congressman, Former Green Beret, Blasts Trump's US Troop Withdrawal from Syria
Florida Republican congressman Michael Waltz said President Donald Trump's decision to withdraw U.S. troops from northern Syria will create "ISIS 2.0."
The former Green Beret-turned GOP lawmaker berated those in the president's ear complaining of "endless war" when he said the decision to leave the region near the Turkish border would "create war."
Speaking with Fox News on Monday, Waltz said U.S. Green Berets he spoke with after Turkey's invasion of Syria are "completely demoralized" by having to "abandon" the Kurdish partners they've been fighting alongside for five years.
"We've set the conditions for ISIS 2.0 ... and we're repeating the mistakes of the Obama administration, which pulled out of Iraq too soon and led to all of this in the first place, except we won't have any local allies to fight them again," Waltz told Fox News' America's Newsroom program. "So, I am incredibly concerned and disheartened."
Waltz asked "who is fighting ISIS?" if the Russians and Syrian President Bashar al-Assad's forces are pushing back against Turkey. He said the U.S. special forces in the region, as well as the Kurds, have been forced to retreat and thus allow ISIS leaders to regroup.
Waltz warned that the leader of ISIS, self-proclaimed caliph Abu Bakr al-Baghdadi, is still alive and instructing "sleeper cells" to attack prison camps where the Kurds had previously acted as their jailers. ISIS is also known as Daesh, the Islamic State of Iraq and Syria or the Islamic State of Iraq and the Levant, ISIL.
"For all of the 'endless war' kind of crowd and voices that are whispering in the president's ear, this is how you create war," Waltz continued. "Those few hundred American special operators—not tens of thousands, just a few hundred—had effectively kept a lid on this tinder box and now [Turkish President Recep Tayyip] Erdoğan has put a grenade in Pandora's box, and it's blowing wide open."
Waltz has repeatedly appeared on cable news channels to reiterate ISIS is "not defeated as a movement at all." Speaking with CNN in January after the death of four Americans in Syria, Waltz cautioned, "It is not defeated in Syria or Iraq...There is a fundamentally flawed premise that if we just leave things alone, locals can take care of it, and it won't follow us home."
Last week, Waltz tweeted his support for Wyoming congresswoman Liz Cheney's push to impose sanctions on Turkey and to "stand with our Kurdish allies."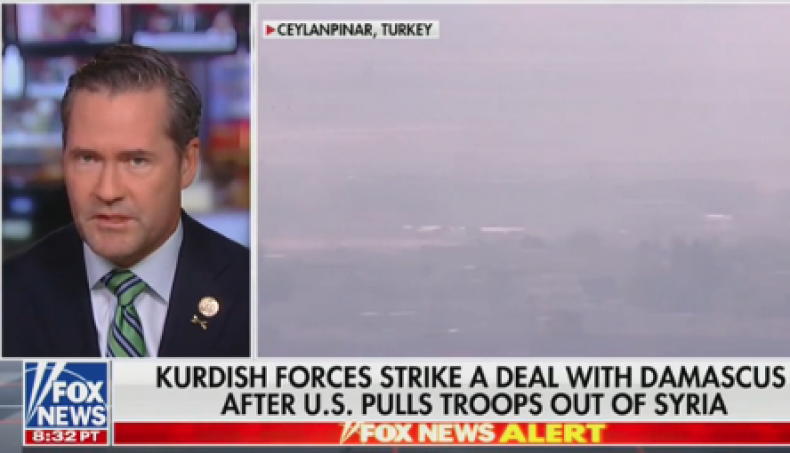 Waltz is a former White House and Pentagon policy adviser, graduate of the Virginia Military Institute and served for more than two decades in the U.S. Army.