ISIS Affiliate Turns on Egypt: 26 Killed, 26 Injured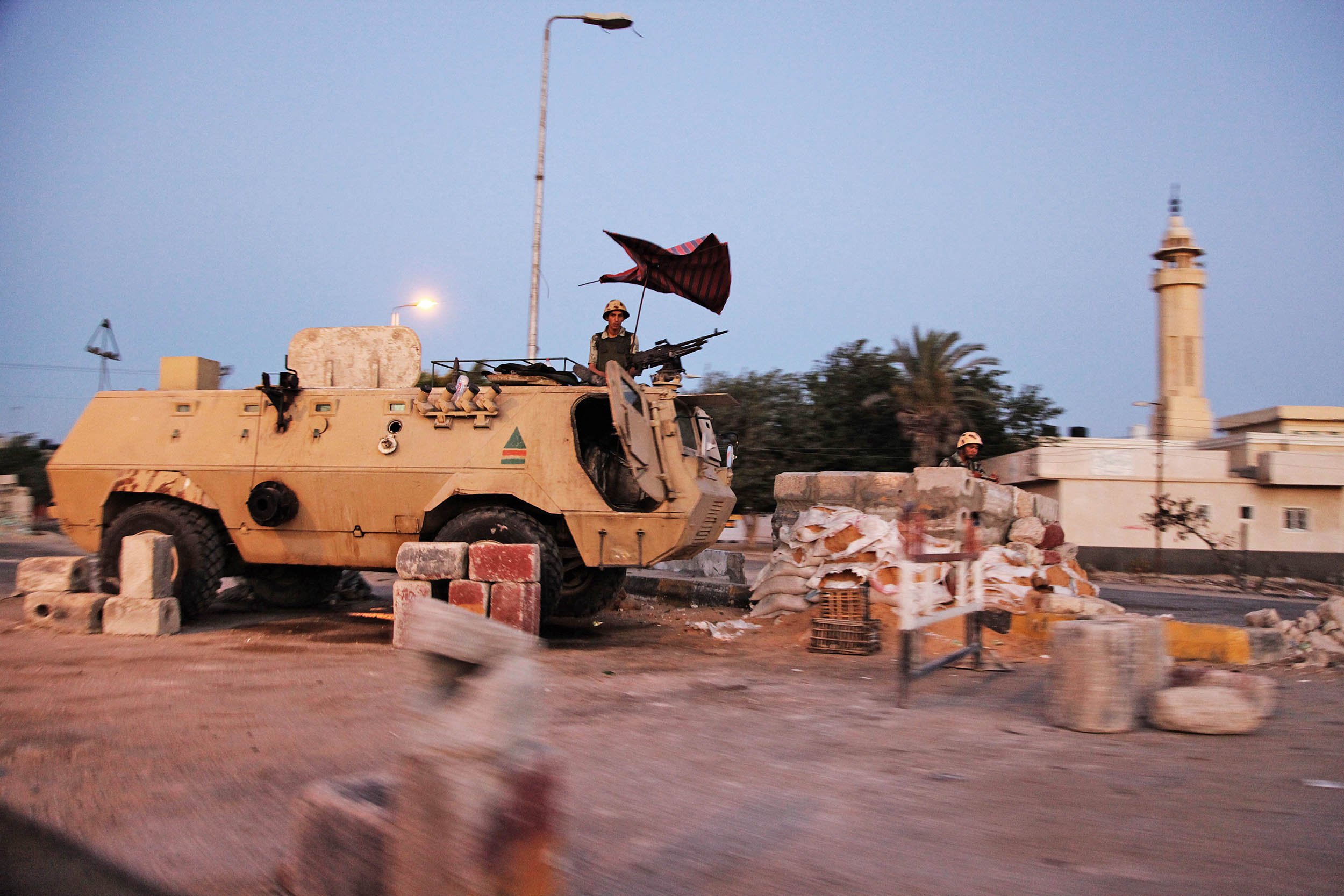 With the West focusing on ISIS's advances in the north, near Turkey, the Islamist terrorists are opening a new front, in the Sinai Peninsula. On Friday, 26 Egyptian troops were killed as a car bomb rammed a checkpoint in the northern Sinai town of Sheikh Zuwaid. As reports suggested 26 others were injured in the blast, Egypt's president, Abdel-Fattah el-Sissi, called an emergency meeting of his National Defense Council.
The attack against the Egyptians followed a seemingly unrelated fire exchange Wednesday on Israel's border with Egypt. That midafternoon gunfight was fairly short, ending in nonfatal injuries to a female commander of an elite Israeli Defense Forces (IDF) unit and one of her soldiers. On the other side of the border between Israel and Egypt, at least three of the heavily armed attackers were killed.
The attack on Israeli positions, followed by the deaths of so many Egyptian troops, is an indication of how the beautiful and once-dreamy Sinai Peninsula—its Red Sea resorts attract up-market Jeep-riding desert tourists and scuba divers—can quickly become a jihadi nightmare. The attack on Egyptian forces confirms that the Sinai is the latest front in ISIS's war to establish a caliphate throughout the Middle East.
As soon as Wednesday's exchange of fire on the Egyptian-Israeli border came to an end, an unnamed Cairo military source attributed the attack to Ansar Bayt al-Maqdas, known in intelligence circles by its acronym ABM. Although its Arabic name means "Disciples of Jerusalem," the Sinai-based Salafist group increasingly targets Egypt. It also has broader ambitions, as it has become indistinguishable from ISIS and shares that militant group's vision of a worldwide Islamist caliphate.
Due to its nonhierarchical structure, it is hard to pinpoint the number of ABM fighters, though estimates range in the low thousands. It consists of Gaza exiles, pushed out in 2010 by the strip's Hamas rulers; sheikhs preaching fiery Salafi sermons; disaffected Bedouins; and young men with no access to employment or education, as well as jihadi fighters who originated in Iraq or Jordan and Egyptians returning from the battlefields of Syria and Iraq. Some recruits have come from as far away as Afghanistan, where the current leader of Al-Qaeda, the Egyptian-born Ayman al-Zawahiri, believes the Islamist revolution should ideally start in the land of his birth.
Now several factions of that hodgepodge known as ABM have not only sworn allegiance to ISIS, the newest, most successful Islamist kid on the block, but also claim that ISIS fighters are training and teaching them how to hone their terrorist skills.
A few hours after Egypt declared ABM responsible for the October 22 Sinai border skirmish, Israel insisted it was nothing more than a bungled attempt at cross-border smuggling. "We're confident that this was a drug trafficking event," the IDF's spokesman, Peter Lerner, told me. The army has "no indication of any connection with ABM," he said.
But Sinai watchers, in Israel, Egypt and as far as Washington, say the distinction between the peninsula's drug smugglers and ABM fighters is often quite blurred. Like other groups of its kind, ABM is constantly on the lookout for sources of financing, and smuggling—of guns, missiles, luxury items and people—has long been a Sinai tradition.
Doctrinaire Salafists may adhere to a strict interpretation of edicts from the Quran, including a clear ban on the use of drugs, backed by heavy punishments. Nevertheless, militants adhering to the Saudi Arabia-originated Islamist sect have long considered the lucrative business of drug smuggling an appropriate revenue stream.
So Sinai watchers will not be surprised if it eventually turns out that the most recent firefight on the Sinai-Egyptian border was indeed caused by a drug deal gone awry, yet at the same time it emerges that the smugglers were somehow backed by one of the groups affiliated with ABM.
Either way, "when you have drug dealers using anti-tank missiles on our border, it's no small matter," said the IDF's Lerner. The border with Sinai, Israel's longest, is becoming "one of our core concerns in the region," he added.
But Israel is, so far, merely a sideshow for the Sinai-based jihadi group. With a stockpile of weapons that include long-range missiles, mostly smuggled in from neighboring Libya, which is fast becoming the jihadis' arms depot, ABM considers the Egyptian regime of el-Sissi its main target.
That fits the agenda of al-Zawahiri. Before joining Al-Qaeda, becoming Osama bin Laden's right-hand man and then his heir, al-Zawahiri was an Egyptian follower of the Muslim Brotherhood, dreaming of a worldwide caliphate based in Egypt. Now intelligence circles believe that ABM is one of his favorite jihadi franchises, a place to invest Al-Qaeda's resources.
Earlier this month, the Cairo government for the first time sentenced to death seven members of ABM on charges relating to three deadly attacks on Egyptian soldiers in downtown Cairo. Those well-planned attacks in mid-March were certainly brazen, even shocking, but it was not the only time ABM has struck far beyond its Sinai home base. In the past, the Nile Delta and even western Egypt, near the porous Libyan border, have been targets within the jihadis' reach.
"The upsurge in extremism and violence perpetrated in the name of religion that the region is currently witnessing is evidence of the true objectives of these groups that exploit the region," el-Sissi told the U.N. General Assembly back in September. He was directing his remarks at American ears, which, since the rapid rise of ISIS, are now highly tuned to jihadi threats.
In the summer of 2013, after el-Sissi had toppled the elected government in Cairo that was controlled by the Muslim Brotherhood, America suspended most of its arms exports to Egypt. Since then, el-Sissi has designated the Muslim Brotherhood a terrorist group. America and the rest of the world, except for Saudi Arabia and the United Arab Emirates, disagree. Nevertheless, el-Sissi's Egypt has once more become an important American partner in the war on the jihadists.
Earlier this month, while in Cairo to muster an anti-ISIS coalition, U.S. Secretary of State John Kerry confirmed that Washington would transfer to the Egyptian army 10 AH-64 Apache assault helicopters, the ideal aircraft for maneuvering in the Sinai desert, where ABM is based.
Earlier this decade, when the Muslim Brotherhood was fairly lax and ineffective in fighting ABM, most of ABM's deadly activity was conducted on the Sinai Peninsula. But since el-Sissi took over and started coming down hard on the militants, ABM has widened its activity.
"In the past year and a half, it has struck in the Egyptian mainland," said Oren Kessler, deputy director for research at the Washington-based Foundation for Defense of Democracies. ABM "sees itself as part of the worldwide Muslim revival," he added.
In early September, Reuters published an interview with an unnamed ABM commander who said not only has his group pledged allegiance to ISIS but ABM fighters were being trained by that group. Communicating through the Internet, "they teach us how to carry out operations," the commander said. ISIS does not "give us weapons or fighters," he added, "but they teach us how to create secret cells, consisting of five people. Only one person has contact with other cells."
The commander also said that ISIS is teaching tactics to ABM fighters, such as waiting for 12 hours after planting a bomb so the bomber can leave the targeted town and make his escape. As is evidenced from ABM's recent attacks, the Sinai-based organization has learned another favorite ISIS tactic: beheading Egyptian soldiers and suspected collaborators and posting videos of the executions on the Internet.
The American-dominated Multinational Force and Observers, stationed in the Sinai after the 1978 peace accord between Israel and Egypt was signed at Camp David, has also become a major target for the jihadists. But that is not America's main worry. The growth of ABM indicates that, far from retreating, global jihadists are now spreading across the Middle East as fast and as deadly as the Ebola virus.
Correction: An earlier headline mistakenly said the Egyptian troops were shot, they were killed by a car bomb.