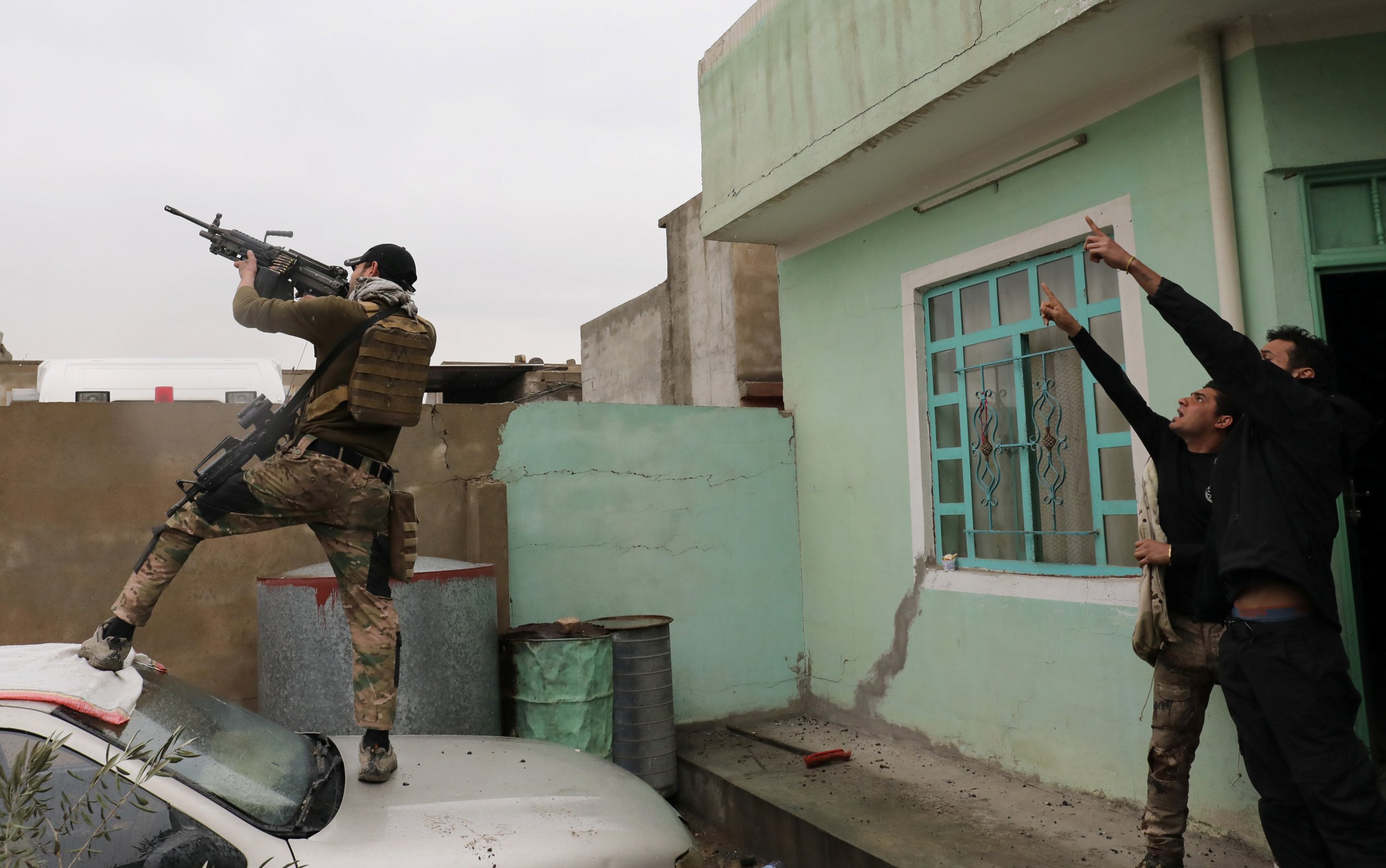 The Islamic State militant group (ISIS) released footage Sunday of what it claimed to be one of its drones dropping bombs on an Iraqi military training facility.
The pictures, which appeared on ISIS' Amaq News Agency and were shared by pro-Syrian government outlet Al Masdar News, purported to show a firsthand view of a weaponized drone operated by the militants who used it to remotely drop an explosive on a training site used by the Iraqi military in the area of Tel Zalat located west of Mosul, where Iraqi troops and their allies were battling to oust ISIS from its final stronghold in the nation. Throughout the fierce conflict, ISIS has used such armed drones on multiple occasions, providing the jihadists with a relatively low-tech, yet deadly method of waging attacks across enemy lines.
Related: Wars of the Future Could Be Fought with U.S. Drone Swarms
The devices may not have the precision or lethality of modern weaponized drones used by nations like the U.S., but they can certainly do damage. Drones used by ISIS were only capable of carrying and releasing small explosives like a rifle grenade or mortar round, but the tiny, cheap drones make a difficult target in the air and even these rudimentary bombs can maim or kill. The ANNA News Agency, a media outlet based in the Russia-backed Caucasian separatist Republic of Abkhazia, shared footage Monday of what appeared to show their journalists injured by an explosive dropped from a quadcopter drone near the eastern Syrian city of Deir el-Zour, where ISIS also was active. An Iraqi soldier was wounded in February by a similar attack that was documented in detail by The New York Times. ISIS also released graphic, high-definition footage in January showing alleged airborne bombings on a group of anti-ISIS coalition forces using unmanned aircraft.
These kind of attacks are not new and were noted by the Pentagon since the beginning of the current offensive on Mosul in October. They appear to occur with greater frequency and in new shapes and sizes as the militants lose more and more territory to the Iraqi military, which has been assisted by Kurdish forces, Iran-backed Shiite militias and a U.S.-led coalition. ISIS's control over Iraq fell from 40 percent of territory in 2014 to less than 7 percent at the end of last month, according to Brigadier General Yahya Rasool, who was cited by Agence France-Presse. The anti-ISIS coalition forces already managed to secure the eastern part of the city earlier this year and, as they moved deeper into the west, ISIS has resorted to creative methods to defend what's left of its self-proclaimed caliphate in Iraq.
To counter the deadly devices, the U.S. Army has developed a new electronic defense. Last week, the Army's Rapid Equipping Force purchased a tool known as the Block 3 "Dronebuster" capable of detecting and jamming the signals of drones, military affairs site Task & Purpose reported Monday. The handheld devices resembled speed guns and reportedly used ISM, UHF HAM and GPS bands to disrupt a drone's signals. Currently, Iraqi forces use the Taiwan-built Raysun MD1 Multicopter drone jammer to disable incoming drones.