ISIS Allegedly Beheads Second Captive American Journalist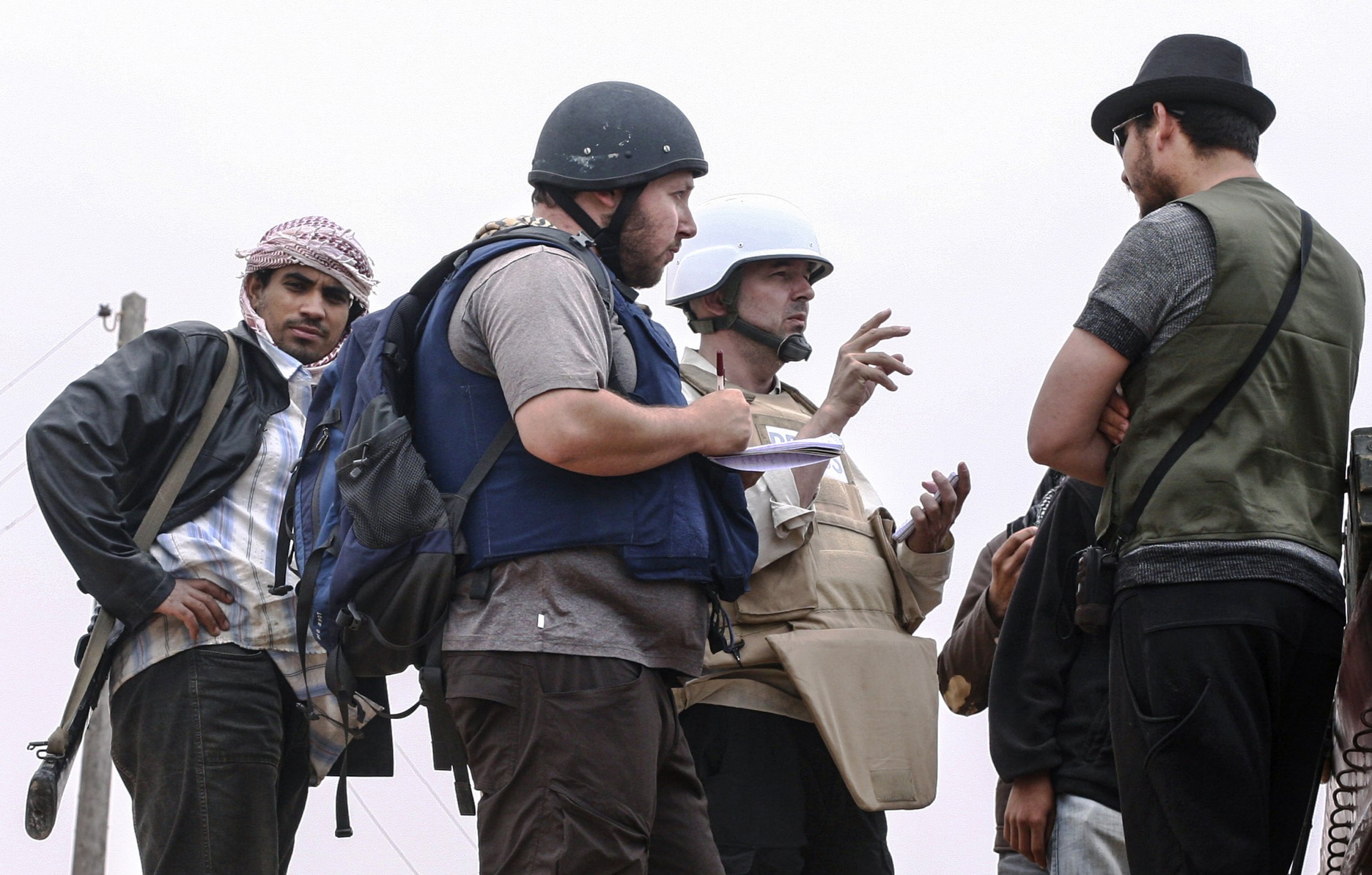 A new video allegedly depicts the beheading of captive American journalist Steven Sotloff, the Associated Press reported. If the video does indeed depict Sotloff's death, it would make him the second American journalist to be executed by agents of the Islamic State (IS), sometimes known as ISIS or ISIL.
Previously, ISIS released footage of a British jihadi ('Jihadi John') killing Jim Foley, an American journalist snatched while on freelance assignment in Syria. In that video, after executing Foley, the militant brings out a man identified as Sotloff and says his life "depends upon…[Obama's]...next decision." The man cites "aggression" against IS by the U.S. and says, "to deny Muslims their safety of living under the caliphate will result in the bloodshed of your people."
In response to the release of the Foley video, the U.S. ramped up its attacks against ISIS. President Obama asked for the help and support of the Iraqi and Syrian peoples and battling the group, which he said "has no place in the 21st century."
Sotloff has been missing in Syria since Aug. 4, 2013, when he was abducted after crossing into Syria from Turkey. Sotloff was a freelance journalist from Miami, Florida. He worked Time magazine, Foreign Policy magazine, and Christian Science Monitor, Al Jazeera reported. He was 31 years old at the time of his capture. Sotloff's college roomate said Steven kept going back to the region despite being warned it was dangerous.
His mother, Shirley Sotloff, pleaded directly with ISIS's leader for her son's safe return. "I am sending this message to you, Abu Bakr al-Baghdadi al-Quraishi al-Hussaini, the caliph of the Islamic State," she said in a video obtained by The New York Times. "I am Shirley Sotloff. My son Steven is in your hands. You, the caliph, can grant amnesty. I ask you please to release my child," she said. "I ask you to use your authority to spare his life."
The video of Sotloff's purported execution was uncovered by SITE Intelligence Group, which told Newsweek the video is authentic.
As in the Foley video, Sotloff is forced to read a prepared statement:
I am Steven Joel Sotloff. I'm sure you know exactly who I am by now and why I am appearing before you. And now this time for my message:

Obama, your foreign policy of intervention in Iraq was supposed to be for the preservation of American lives and interests, so why is it that I am paying the price of your interference with my life. Am I not an American citizen? You've spent billions of U.S. tax payers dollars and we've lost thousands of our troops in our previous fighting against the Islamic State, so where is the people's interest in reigniting this war?

From what little I know about foreign policy, I remember a time you could not win an election without promising to bring our troops back home from Iraq and Afghanistan and to close down Guantanamo. Here you are now, Obama, nearing the end of your term, and having achieving none of the above, and deceivingly marching us the American people in the blazing fire.
The White House said it could not confirm that the man in the video was Steven Sotloff.
Additional reporting by Lucy Westcott.