ISIS and Al-Qaeda Terrorists Increase Attacks on Western Targets in Africa, Report Reveals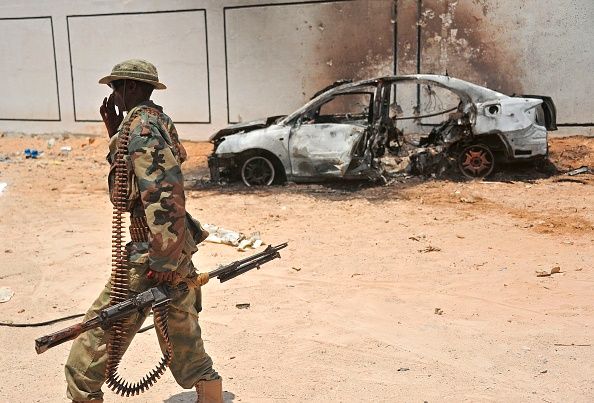 The threat to Western interests from jihadists groups and transnational terrorists operating in Africa has grown steadily over the past decade. The attacks are transforming the continent into one of the most important frontiers for the war on terror, according to a report published Monday by the non-partisan policy institute Foundation for Defense of Democracies.
Groups operating in North Africa, the Sahel, West Africa and the Horn of Africa have sharpened their abilities and increased the number of terrorist acts. Between 2007 and 2011, jihadists conducted 132 attacks against Western interests in Africa, according to the report. But this number tripled to 358 attacks between 2012 and 2017.
"While the 490 total attacks against Western interests in Africa recorded in this study have varied in target type and tactics, jihadist operations have generally become more sophisticated. In some cases, jihadist organizations developed new tactics for penetrating well-guarded facilities," the report read.
"For example, the Somali militant group al-Shabaab has increased its use of vehicle-borne improvised explosive devices, often supplementing such attacks with armed assaults," the document added.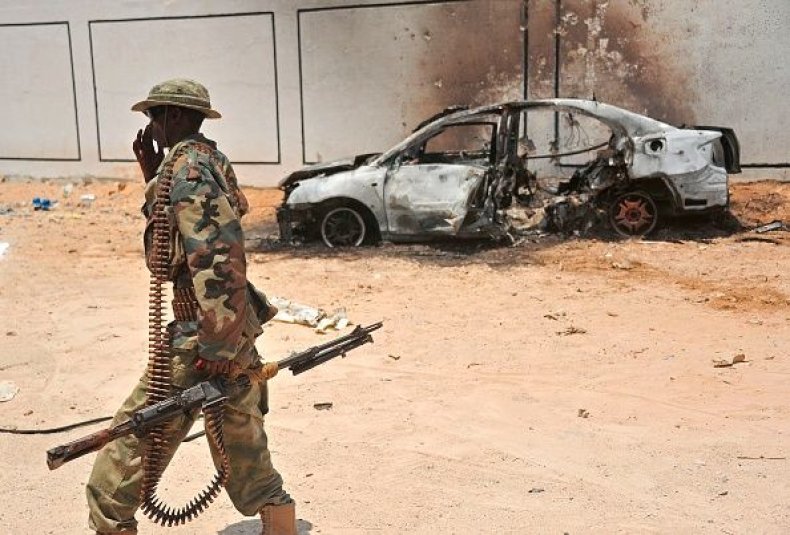 The report was issued just three days after the al-Shabab militant group launched an attack in Somalia's capital Mogadishu that followed this model. The group rammed two car bombs into government-affiliated buildings, and then it launched an armed attack on a building close to the presidential palace. The group claimed 80 casualties in the attack.
Jihadists in Africa have increased their attacks on infrastructure for the production of energy and mineral resources—particularly under-protected gas pipelines—and on buildings such as embassies, consulates and United Nations compounds. The targeted kidnappings of aid workers and tourists have also increased.
"The overall threat level there is much greater against other targets than Western targets," the report's lead author, Daveed Gartenstein-Ross, told Newsweek.
The report also claimed that the aviation industry in Africa is one of the most vulnerable because groups like al-Shabab are able to bribe staff members to obtain uniforms or identification cards and thwart security measures.
"Aviation will likely remain a target for African jihadist groups because the industry is difficult to protect," Gartenstein-Ross said. "The aviation industry represents a significant component of the international economy, and Africa can serve as a 'laboratory' for these groups' parent organizations."
The report's authors define jihadism as "militant Sunni groups that advocate the overthrow of local regimes, seeking to replace them with [a] government ruled by a strict form of sharia." Attacks by groups like al-Shabaab, Boko Haram, Jama'at Nusrat al-Islam wal Muslimeen and the Movement for Unity and Jihad in West Africa were all included in the report, among others.
Groups like al-Shabab and Boko Haram are loosely affiliated with al-Qaeda. But the Islamic State terrorist group, which emerged originally in Iraq and Syria, has been developing a strong presence in Africa in recent years as leaders from Boko Haram and al-Shabab shift allegiances, experts say.
"The West Africa region has seen an increasingly dangerous cocktail of jihadist movements. The region has seen rivalries manifest since Boko Haram leader Abu Bakr Shekau's March 2015 pledge to ISIS," Rita Katz, a terrorism analyst and founder of the SITE Intelligence Group, told Newsweek.
"ISIS eventually abandoned [Abubakar] Shekau to embrace former Boko Haram official Abu Musab al-Barnawi as its 'governor.' Meanwhile, Boko Haram relaunched its activity under Shekau's leadership, and ISIS West Africa continues with its activities as well, leading to a dangerous competition between the two," Katz continued, adding that competition between terrorist groups often spurs their growth.
In October, ISIS supporters shared online videos of fighters in the Congo and Central Africa, calling for Muslims to go "to the land of Jihad" in Africa.