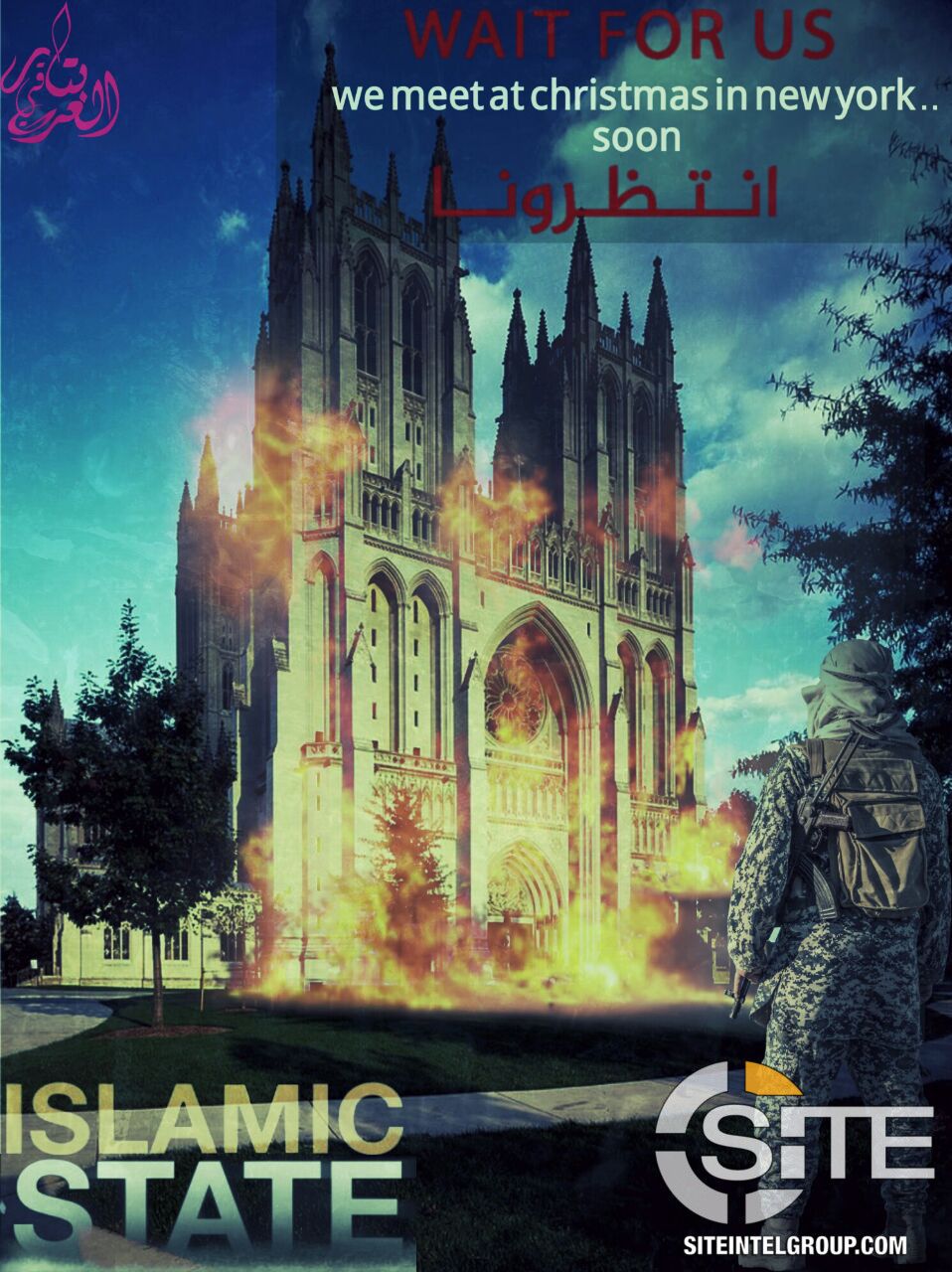 Supporters of the Islamic State terrorist group threatened a Christmas attack Washington's National Cathedral, spreading a propaganda poster on their social media channels on Thursday that shows the church erupting in flames.
But the poster's caption reads, "We meet at Christmas in New York soon," a mistake that put both cities on edge, thanks to its image of a jihadist carrying a gun in front of the burning Cathedral.
The poster was distributed in a pro-ISIS channel of the encrypted app Telegram, according to the SITE intelligence group, which monitors extremists online. Another poster spread in the same channel showed a terrorist taking aim at a crowd of concert goers. "See you soon on your holidays," the caption reads in English and Arabic.
Pro-ISIS groups have continued to issue threats against the West even as their so-called caliphate is defeated on the battlefield in Iraq and Syria. Many of the propaganda posters include crude, photo shopped images that invoke more ridicule than fear. But the threat of lone wolf attacks is serious, experts say, especially in places like the United States where ISIS doesn't have a strong base of support.
"ISIS is incentivized to make threats like this, which come at no cost to them. ISIS is not dispatching fighters around the world for complex coordinated terrorist attacks, but has largely relied upon individuals and citizens already living in Europe and the United States to commit unsophisticated attacks," Harrison Akins, a researcher at the Howard Baker Center, told Newsweek.
"These individuals' affiliations with ISIS are often tenuous and are perhaps better described as 'inspired by' rather than operationally directed. So perhaps somebody within the U.S. will take it upon themselves to commit an attack on Christmas, which falsely bolsters the perceived capabilities and reach of the group."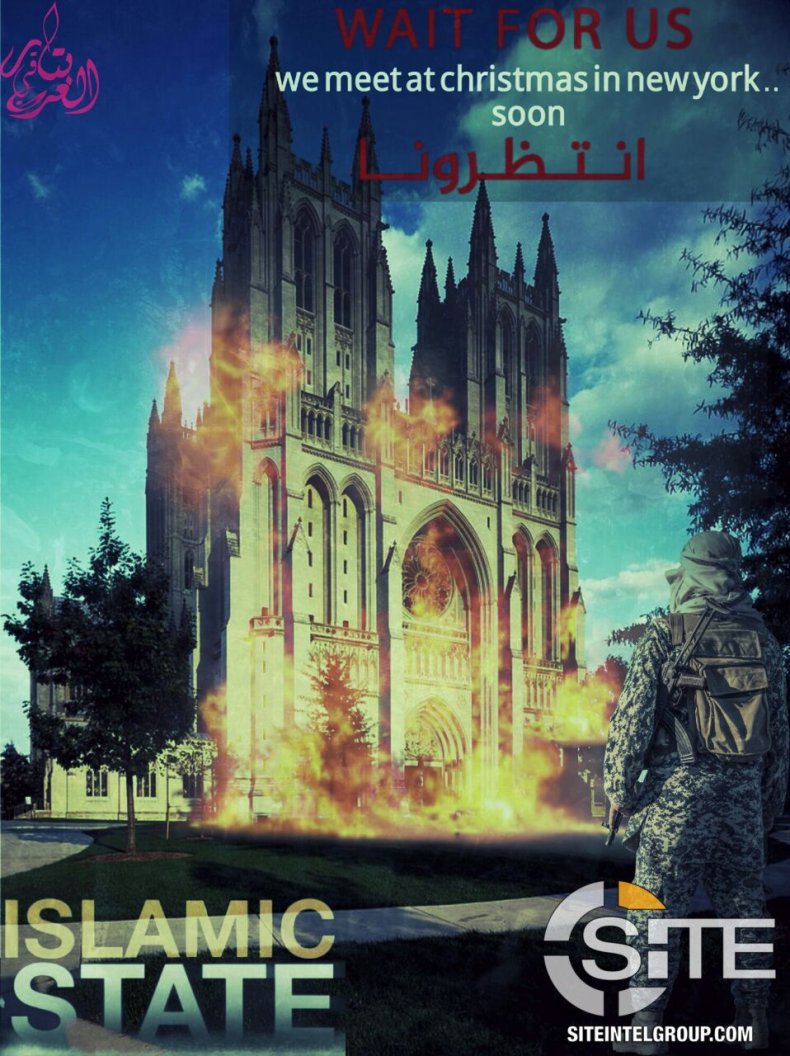 Two such attacks recently took place in New York. One was thwarted before anyone was seriously harmed. But a November attack by a jihadist in a rented truck killed eight people. This type of unsophisticated terror attack is now the norm for terrorists who are starved of resources, the government warns.
"Extremists may use conventional or non-conventional weapons to strike U.S. interests, but many are increasingly using less sophisticated methods of attack to more effectively target crowds, including the use of edged weapons, pistols, and vehicles," notes a warning from the State Department.
The message then goes on to warn that extremists are increasingly focusing on "soft targets," such as places of worship, shopping malls, public transportation system, and holiday events.
Thursday's message, however, shows just how unsophisticated ISIS propaganda can be.
"This shows the ineptitude of the group by referencing 'Christmas in New York' while showing a photo of the National Cathedral in Washington, DC," Akins noted.
Still, experts note that the group will never miss an opportunity to call for violence and draw attention to itself.
"For ISIS, Christmas is the gift that keeps on giving," Chris Meserole, a Middle East expert at the Brookings Institution, told Newsweek. "By calling for attacks against prominent places of worship, they're mainly trying to say something outrageous enough to generate a lot of public attention — which they then hope will inspire supporters to carry out holiday attacks wherever they happen to live.
"If a lone wolf attacks their local church rather than the National Cathedral, they'll still take that as a big win," Meserole added.