The elusive leader-at-large of the Islamic State militant group (ISIS) has appeared in a new clip released by the jihadi organization, appearing to disprove long-standing rumors about his death or failing health.
In a roughly 18-minute video released by the ISIS-affiliated Al-Furqan media outlet, Abu Bakr al-Baghdadi could be seen seated on a mattress in front of a plain, white background and beside a Kalashnikov-style assault rifle. Speaking to followers whose faces are obscured, Baghdadi proclaimed that "the battle of Islam and its people against the cross and its people is a long battle," but concedes his group's loss against a U.S.-led coalition and mostly Kurdish allies in a small town in Syria's far east.
"The battle of Baghouz is finished, but it demonstrated the barbarity and savagery of the crusader community towards the Muslim community," said Baghdadi.
He added that "at the same time" the battle proved the "courage" and "resilience" of his hard-line Islamist followers in the face of Christianity. "There will be more to come after this battle," Baghdadi said, vowing to "drain" his enemies "of all their capabilities—human, military, economic, logistic, in everything—today's battle is a battle of attrition."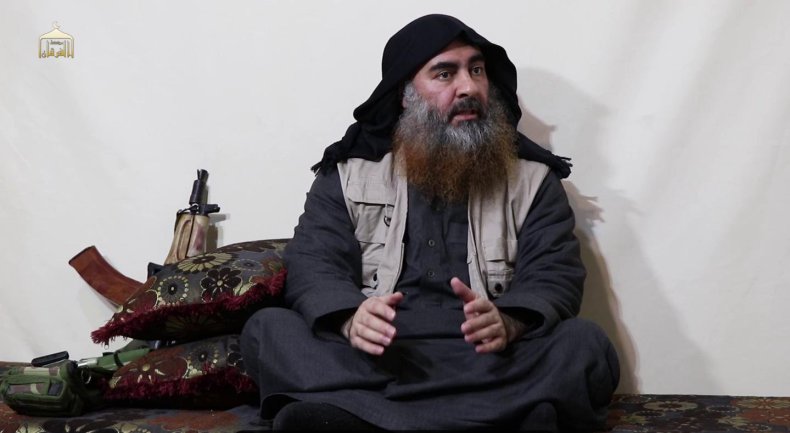 The tape, whose authenticity could not be confirmed, included text suggesting it was recorded this month. It was released on the sixth anniversary of ISIS' founding, in April 2013, and would be the first time Baghdadi had been seen since he announced he was expanding his jihadi outfit on a global scale during a sermon delivered at the Great Mosque of al-Nuri in Iraq's second city of Mosul in July 2014.
That same year, ISIS would become the target of a multinational coalition assembly by the U.S., which began bombing the group across large parts of Iraq and Syria under Baghdadi's command.
Iran also pursued its own campaigns in support of both countries' governments, and Russia launched an intervention backing Syria's President Bashar al-Assad, an ally of Iran and target of the U.S. In the years since, ISIS' so-called caliphate has been physically destroyed by various forces on separate, sometimes rival fronts.
As the U.S.-led coalition and its Kurdish-led Syrian Democratic Forces took the final town of Baghouz last month, Baghdadi's whereabouts—information now worth about $25 million to the State Department—remained a mystery. Numerous reports emerged suggesting he was killed by airstrikes or that his health had deteriorated to the point where he was no longer in control of his global jihadi network; the only evidence of his continued survival were several audio messages attributed to him.
A month before his August message, Baghdadi's son was reported to have died in a suicide operation in Syria.
Late last month, James Jeffrey, U.S. special envoy for Syria, admitted, "We don't know where he is, and finding the top leadership of ISIS or other terrorist groups is always a priority." As recently as Friday, Russia's military intelligence chief offered a similar response. Vice-Admiral Igor Kostyukov, head of the Russian general staff's Main Intelligence Department, told the state-run Tass news agency that Baghdadi's "whereabouts are unknown," but "he is definitely not in Idlib" and "on the eastern bank of the Euphrates river, only 'sleeper' IS cells remain."
Idlib, the last bastion of the 2011 Islamist-led insurgency in Syria that predated ISIS' formation, remained dominated by other jihadi groups ideologically closer to ISIS' parent group, Al-Qaeda. The northwestern province has seen low-level fighting between those groups and the Syrian military, but the latter was restrained from waging an all-out offensive by a September ceasefire agreement signed by Russia and Turkey, which continued to support the armed opposition against Assad.