ISIS Battles Syrian Rebels as Assad's Army Prepares for Battle of Aleppo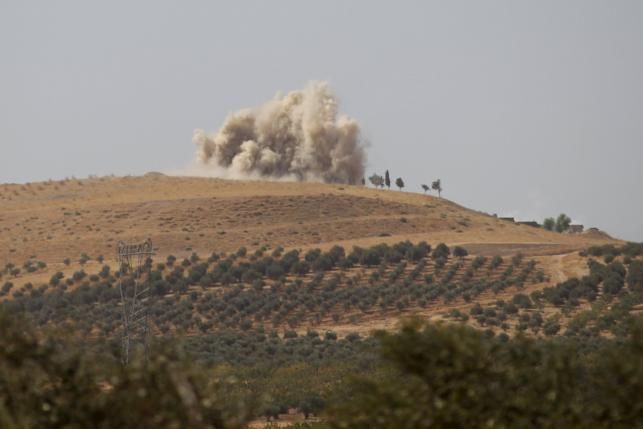 Islamic State militants battled rival insurgent groups on Wednesday north of the city of Aleppo, where officials say the Syrian army is preparing an offensive of its own backed by Iranian soldiers and Russian jets.
A rebel fighter and a group monitoring the war said Islamic State fighters took control of parts of the towns of Ahras and Tel Jabin, about 12 km (8 miles) north of Aleppo, before being pushed back.
Gains by Islamic State north of Aleppo would threaten the supply lines of rival rebels inside the city, which is divided between insurgents and government forces. The Syrian Observatory for Human Rights said the road used by Aleppo residents heading north to the Turkish border remained closed on Wednesday.
"Today there are fierce battles between us and Daesh in Ahras, Tel Jabin, and rural northern Aleppo," said Hassan Haj Ali, head of the Liwa Suqour al-Jabal rebel group, using another name for Islamic State.
His unit is one of several foreign-backed insurgent forces which find themselves fighting Islamic State on the ground, at the same time as they are bombed by Russian jets and are bracing for further ground attacks by the army and its foreign allies.
"There are mobilizations by the regime in most parts of Aleppo, particularly in Bashkoy," he said, referring to another town north of Aleppo, which before Syria's civil war began in 2011 was the country's biggest city and a major commercial and industrial center.
"There were advances (by Islamic State) at dawn but we were able to recover Ahras entirely. There are battles in Tel Jabin," said Ali, speaking to Reuters via an internet messaging system.
The Observatory reported fighting between Islamic State fighters and government forces trying to advance towards an air base besieged by the jihadist group in Aleppo province.
Any further escalation in the Aleppo area near the Turkish border will likely further anger NATO member Ankara which opposes President Bashar al-Assad, backs the insurgents, and has expressed deep concern at Russian air strikes.
Iran has sent thousands of additional troops into Syria in recent days to bolster one offensive that is underway in Hama province and in preparation for another in the Aleppo area, two senior regional officials told Reuters.
The army also launched a fresh assault against rebel-held areas east of Damascus on Wednesday, including Jobar and Harasta, controlled by non-Islamic State rebel groups including Jaish al-Islam.
REVOLUTIONARY GUARDS
Underlining Iran's central role in support of Assad, whose territorial control of Syria is currently estimated at a quarter or less, a team of Iranian lawmakers arrived in Damascus on Wednesday on an official visit.
Two senior Revolutionary Guards officers were killed fighting Islamic State in Syria on Monday, Iran's Tasnim news agency reported. Another senior Guards commander was killed last week, as was a top Hezbollah commander.
Supported by two weeks of air strikes, the Syrian army and its allies have been fighting insurgents in northern Hama province, and neighboring Idlib and Latakia provinces, trying to reverse rebel gains over the summer which had threatened the coastal heartlands of Assad's Alawite minority.
The offensive has resulted in the captured a number of towns in Hama and Latakia, but progress has not been fast. The rebels say they are using plentiful supplies of U.S.-made anti-tank missiles to repel the attacking forces.
That is a sign of increased foreign support for the rebels in response to the Russian-Iranian intervention.
Two rebel commanders said on Tuesday they have stationed a dozen TOW anti-tank missile platforms supplied from abroad along a 30 km (20 miles) defensive line in Hama province in an effort to contain the army advance.
The missiles have been widely seen as important to rebel advances earlier this year that had put Assad under pressure.
Russia has stepped up its air strikes in recent days, announcing on Tuesday it had carried out 88 missions in the previous 24 hours, one of the heaviest days of bombardment of its campaign so far.
Moscow's intervention means Russian and U.S. jets are flying combat missions over the same country for the first time since World War Two, raising fears of accidental confrontation.
Russia says it has asked Washington to discuss coordination of military efforts, but Foreign Minister Sergei Lavrov said the United States had declined to send a military delegation to Moscow for discussions.
In the fighting near Damascus, government forces fired hundreds of rockets at towns in the Eastern Ghouta, according to the Civil Defense for Rural Damascus, a rescue service operating in rebel-held areas.
Warplanes launched at least 10 air strikes on Jobar, the Syrian Observatory for Human Rights reported. Rami Abdulrahman, director of the Observatory, said insurgents had also fired rockets at government-held Damascus.