ISIS Blows Up Iraqi Sports Stadium Near Ramadi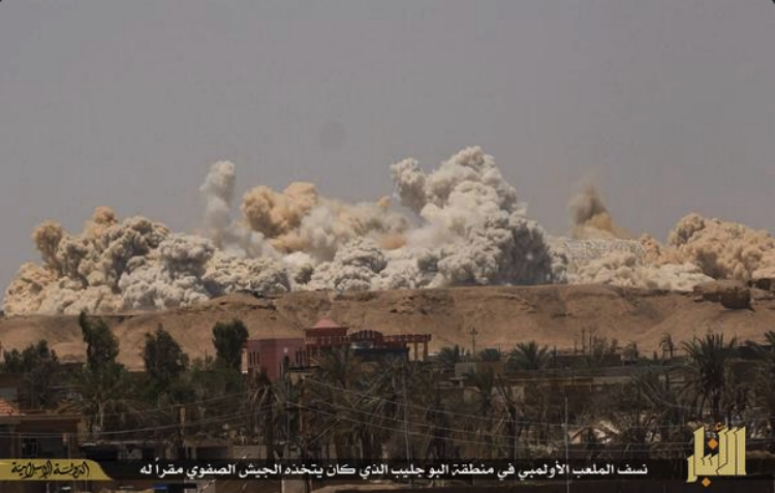 Islamic State (ISIS) militants demolished a sports stadium in Iraq's biggest region on Sunday, placing explosives around the facility before remotely detonating the devices, Iraqi officials told The Associated Press.
The 30,000-capacity stadium, which was built with Turkish money and only partially complete, was being used as a military base by Iraqi forces in Anbar Province, near the city of Ramadi. The jihadist group captured the city in May with the aid of sleeper cells and double agents embedded within the provincial capital.
Military and security officials in Anbar, speaking on condition of anonymity to The Associated Press, said that a number of fighters from the Shiite-majority Popular Mobilization Forces (PMU), a coalition of Iraqi militiamen, may have been inside the stadium at the time of its destruction, but did not offer casualty figures. Photos circulated on social media showed the stadium's destruction.
The stadium, one of the country's major constructions projects since the 2003 occupation by Western coalition forces, is located just 18km (11 miles) west of Ramadi. Iraqi officials told the news agency that the complex had been used for Iraqi security forces and militia groups supporting Baghdad's anti-ISIS operations.
The destruction of the sporting complex contradicts the Iraqi defense ministry's claim last week that its security forces were able to "cleanse" the stadium of radical militants.
Jordan Perry, principal Middle East and North Africa analyst at global risk analytics consultancy Verisk Maplecroft, says that the demolition sent a message to the Iraqi government that ISIS is there to stay in Anbar.
"For ISIS, given their strict interpretation of Islam, there are certain things that are considered haram and against Sharia law," he says. "I think it is very symbolic of the values that the Islamic State [ISIS] espouses. It is the rejection of international, westernised and organised sports, which to them are a distraction from submission to God."
"It seems that it is a very organised, sophisticated destruction of a large structure, which indicates that Islamic State [ISIS] has the wealth and wherewithal to make these rather dramatic public actions," adds Perry.
Following ISIS's defeat of Iraqi forces in Saddam Hussein's hometown of Tikrit, the jihadist group's capture of Ramadi—located just 105km (65 miles) from the Iraqi capital, Baghdad—has demonstrated that the group remains capable of taking and holding on to government territory.
Defeat in Ramadi has almost certainly delayed a planned joint spring offensive—between Iraqi forces, Iranian-backed Shiite militiamen and U.S.-led coalition aircraft—to retake the country's second largest city of Mosul, which the group overran as it swept across northern Iraq last summer, until at least 2016.
Last week, the Iraqi military announced on state television that its troops, supported by Iranian-backed Shiite militias, had launched a military operation to recapture Anbar from the radical Islamists. The military is to make a bid to recapture the city of Fallujah, located 50km (30 miles) from Baghdad, first before moving on to Ramadi.