Shooting Range Defends Using Picture of ISIS Bride for Target Practice: 'Bringing out the Inner Child in All'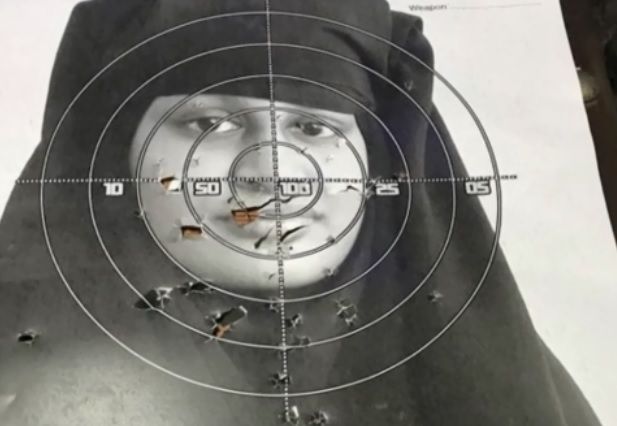 A shooting range is defending its decision to use an image of a teenage girl who fled the U.K to join up with the Islamic State militant group (ISIS) and is now pleading to be allowed to return to the country.
The Ultimate Airsoft Range in Wallasey, North West England, said it has received a "record number" of requests from customers wanting to use a picture of 19-year-old Shamima Begum, the so-called ISIS bride who is attempting to regain entry to the U.K with her recently born third child after her previous two died.
Begum was 15 when she and two of her teenage friends left the country to travel to Syria with the intention of joining ISIS. The British government has since ordered that Begum have her British citizenship revoked in order to stop her coming back.
According to the BBC's Victoria Derbyshire program, the shooting range, where children as young as six are allowed to attend if accompanied by an adult, has previously used images of a number of high-profile names as target practice, including Donald Trump, Adolf Hitler, Osama Bin Laden and Justin Bieber.
Labour politician Angela Eagle, who represents the Wallasey area, criticized the use of real people as target practice because it could be "misinterpreted."
"They shouldn't be using living people as targets—especially as 6-year-olds might be playing," Eagle told the BBC.
In a statement to the Daily Mail, the Ultimate Airsoft Range dismissed the criticism. "The targets provide some fantastic reactions and conversations and allow people to have some lighthearted fun and bring out the inner child in us all," a spokesperson said.
"The targets don't always reflect personal opinions and we don't want to condone terrorism. But after watching the footage of Shemema Begum [sic] being interviewed, there was a lack of empathy that she had shown and we decided to listen to our customers and use them as targets."
A since deleted tweet from the Ultimate Airsoft Range's Twitter account also showed a video of the Begum target poster being repeatedly printed out with the caption "hot off the press." The tweet contained the hashtags #traitors, #madeyourchoice and #noremorse.
Speaking to The Times while she was still 9-months pregnant, Begum explained that she is no longer the "silly little 15-year-old schoolgirl" who ran away from her home in East London while expressing her desire to return.
Describing escaping from the ISIS enclave in Baghuz, Syria, she added: "I could not endure the suffering and hardship that staying on the battlefield involved. But I was also frightened that the child I am about to give birth to would die like my other children if I stayed on. So I fled the caliphate. Now all I want to do is come home to Britain."