ISIS Captive John Cantlie Appears in New Propaganda Video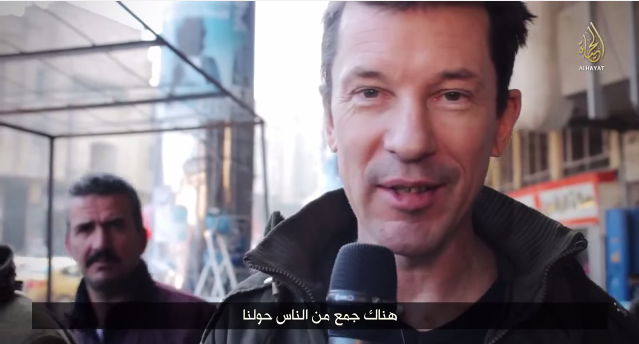 John Cantlie, a British photojournalist and a captive of the Islamic State (ISIS), appeared in yet another propaganda video for the jihadi group on Monday. Only this time, instead of wearing an orange jumpsuit, he was dressed in his street clothes.
"Cantlie is no longer presented as a hostage or prisoner anymore, but as a 'reporter'—a free man who is touring ISIS territory," said Rita Katz, director of the SITE Intelligence Group, a Bethesda, Maryland–based organization that monitors threats from jihadists.
The apparent change in his role, Katz said, stems in part from his popularity. Since he first appeared in an ISIS propaganda video in September, the Western media has written extensively about Cantlie and many jihadists have taken to social media to praise his scripted messages.
"ISIS didn't anticipate that Cantlie would be as successful as he has become, to the degree that pro-[Islamic State] jihadists posted about their 'love' to him," Katz said. "[He] got 'upgraded' to becoming a popular news anchor, claiming achievements of the Islamic State."
In the latest video, Cantlie tours the city of Mosul, Iraq, which is located more than 300 miles from Kobani, Syria, where the U.K.-native last appeared in a video in November. He drives through the city, walks through a market and visits a children's hospital.
The video appears to show that Cantlie has a fair amount of freedom and depicts ISIS-controlled territory as a calm, seemingly normal place to live, despite reports of the group's harsh brand of Islamic justice, which include mass killings and torture.
In addition to the video series, entitled "Lend Me Your Ears," Cantlie's byline has also appeared in Dabiq, ISIS's English-language magazine.