ISIS' Chemical Weapons Capability Collapses In Syria After Battlefield Losses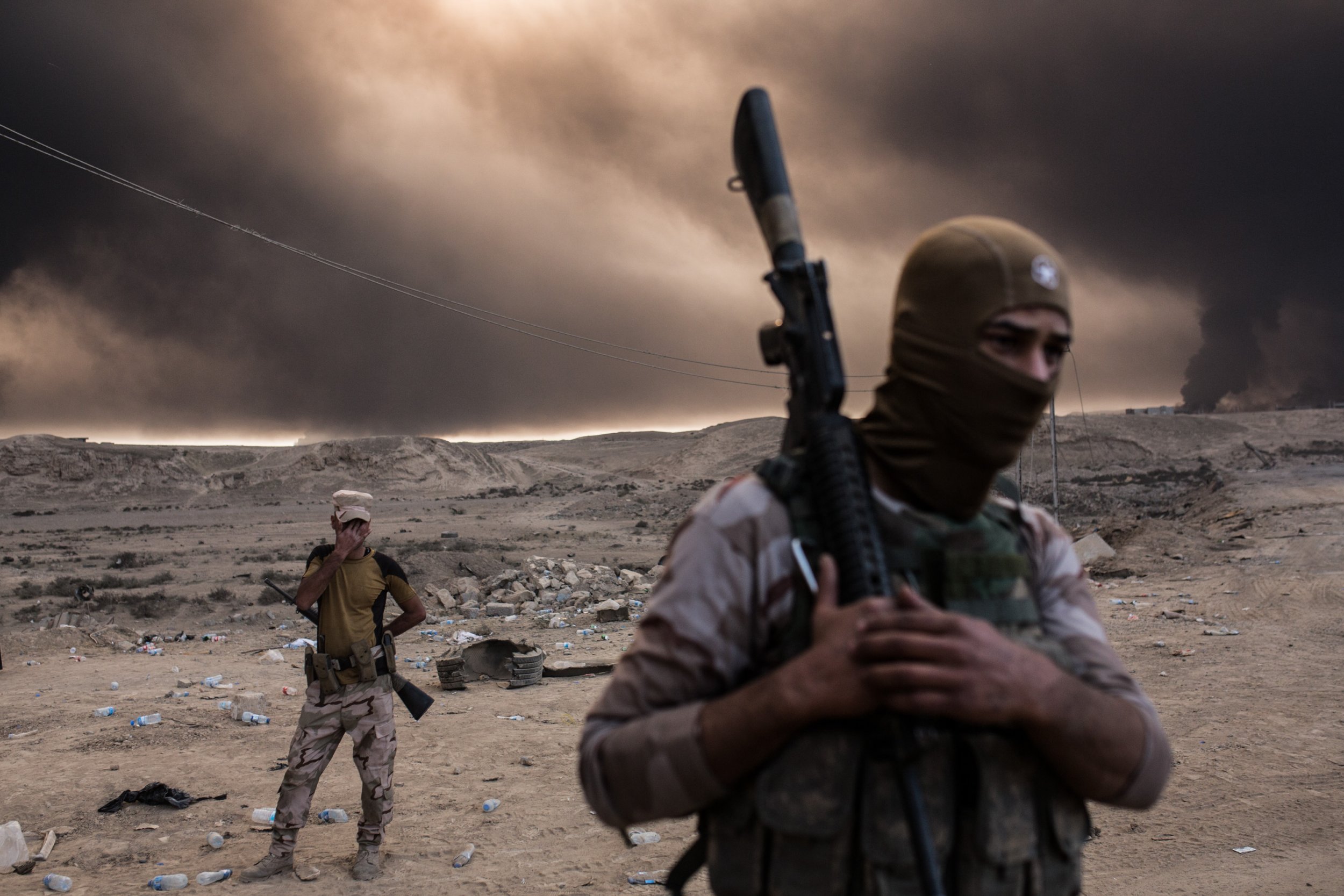 As the Islamic State militant group (ISIS) continues to lose territory in Iraq and Syria, its chemical weapons capabilities this year have been severely reduced, according to new analysis.
Since July 2014, ISIS has been accused of using chemical weapons at least 71 times—30 in Syria and 41 in Iraq, mostly chlorine and mustard gas. But this year, there has only been one reported ISIS chemical attack in Syria, in January near Aleppo, compared with 13 attacks in the same area six months prior, according to London-based defense consultancy IHS Markit.
Much of the group's chemical attacks have centered on areas in or around the northern Iraqi city of Mosul, which the group is close to losing to Iraqi and Kurdish forces. There have been nine chemical incidents since the beginning of the year, IHS says.
The decline of chemical weapons attacks in Syria is a combination of a loss of territory and a continued degradation of the group's weapons arsenal and chemical weapons experts, analysts say.
"The operation to isolate and recapture the Iraqi city of Mosul coincides with a massive reduction in Islamic State chemical weapons use in Syria," said Columb Strack, senior Middle East analyst at IHS Markit.
"This suggests that the group has not established any further Chemical Weapons production sites outside Mosul, although it is likely that some specialists were evacuated to Syria and retain the expertise."
IHS notes, however, that ISIS likely retains the capacity to produce small batches of low-quality chlorine and sulphur mustard agents outside of Mosul.
Read more: ISIS used chemical weapons at least 52 times in Iraq and Syria
The chief of the U.S.-led coalition's ground forces in Iraq, General Joseph Martin, told Newsweek last month that the encirclement of the city and advances by Iraqi forces has hampered the group's chemical weapons capabilities.
The group has used them more than a dozen times in and around Mosul, but he says if they were to use them now, it would "affect themselves" as well as Iraqi forces.
The U.S.-led coalition, in its airstrikes on ISIS-held territory in Iraq and Syria, has not only made efforts to disrupt the radical Islamist group's financial operations but also its chemical weapons-making capabilities.
In September, the Pentagon said it had destroyed a complex of buildings in northern Iraq that housed an ISIS chemical weapons factory, saying the elimination of the compound removed a "significant chemical threat" to civilians.
The figures come after U.S. officials reported that ISIS was bringing together its top chemical weapons experts in the Syrian countryside, near the Iraqi-Syrian border area where it still controls a large swathe of land.
A coalition of Kurdish and Arab fighters backed by U.S. coalition airport is waging a ground offensive against ISIS in Raqqa, the largest Syrian city the group still controls. An Iraqi coalition is close to liberating Mosul, the city where ISIS leader Abu Bakr al-Baghdadi declared the creation of a caliphate in July 2014.
The campaigns have forced a large ISIS cohort into the Euphrates River Valley in the Syrian countryside near the Iraqi border. U.S. officials consider some of the group's most important assets to be in the area, and potentially where Baghdadi is hiding. Iraqi officials say he fled Mosul before the offensive began in October 2016, moving between Mayadin in Syria, and the town of al Qaim, an Iraqi border town.