Is ISIS Chief Abu Bakr al-Baghdadi Dead? Russia and Observers Offer Conflicting Reports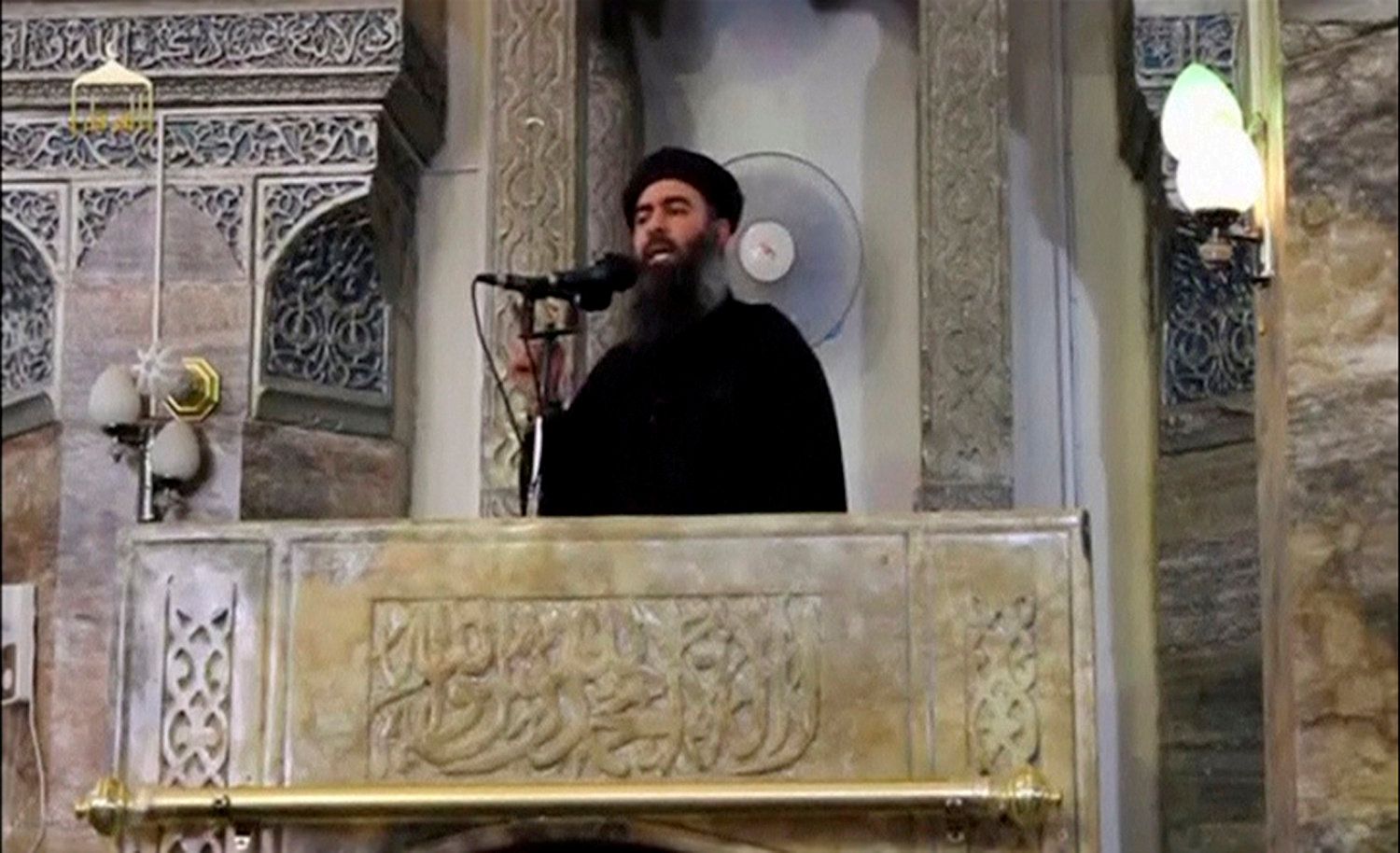 Russia's Ministry of Defense said on Friday it was investigating whether one of its strikes killed the most wanted man in the world, Abu Bakr al-Baghdadi, the leader of the Islamic State militant group (ISIS), near the eastern Syrian city of Raqqa. But an Iraqi adviser on the jihadi movement and a Syrian monitoring group tell Newsweek he has not been assassinated.
Russian military officials told the Interfax news agency that a large gathering of around 300 fighters and around 30 commanders died in a May 28 airstrike by Su-35 and Su-34 jets near Raqqa, the largest city under the group's control in Syria. The strike lasted from 12.35 a.m. to 12.45 a.m., Interfax said.
"According to information being checked across several channels, even ISIS leader Abu Bakr al-Baghdadi was present at the meeting, being destroyed as a result," the statement from the ministry to Interfax said. A separate note from the ministry to state news agency RIA Novosti confirmed that they were investigating in order to verify their suspicions.
A U.S.-led coalition spokesman told Newsweek in an email: "We cannot confirm these reports at this time."
Russian Foreign Minister Sergey Lavrov, speaking to Interfax after the reports spread, said he was aware of the information but was still without "100 percent confirmation" that the ISIS leader had perished.
Asked if Russian President Vladimir Putin has been informed of the strike, the Kremlin spokesman said "of course, as commander in chief he regularly receives necessary updates from our defense ministry," state news agency Itar-Tass reported. Peskov refused to assess the success of the strike. However, outside Moscow observers were skeptical about whether Russia had killed Baghdadi.
Hisham al-Hashemi, an adviser to the Iraqi government on ISIS, told Newsweek that Moscow may have got the wrong man. He says it may be mistaking Baghdadi for Lavdrim Muhaxheri, a top Kosovan ISIS militant and the self-declared "commander of Albanians in Syria and Iraq."
"The information inside of Raqqa doesn't confirm killing of al-Baghdadi on the 28th of May," he says. "I think the Russians think they killed Abu Abdullah Al Kosovi but they think he is Baghdadi."
Muhaxheri's family and Kosovan authorities confirmed last week that he had died in the Middle East, but did not provide specific information as to how.
Rami Abdelrahman, director of the Syrian Observatory for Human Rights, a U.K.-based monitoring group with an extensive network of sources on the ground in Syria, tells Newsweek that Baghdadi and other senior ISIS leaders would not have been present in Raqqa or in the surrounding province at the time of the Russian strike.
He said the Russian reports were "100 percent" untrue.
"Our information is that no leader of ISIS, or first line of leader, are in Raqqa or around Raqqa," he says, speaking to Newsweek by phone. "All leaders, they are sitting in the area between [the eastern Syrian province of] Deir Ezzor and Iraq."
U.S.-backed Kurdish and Arab coalition ground forces are besieging Raqqa in a bid to overthrow ISIS, which has controlled the city since January 2014.
Reports of ISIS leader Baghdadi's death in the past have proven false and Russian forces in Syria have spent large stretches of their bombing campaign fighting opponents of the Syrian regime, away from ISIS-held land. Russia and the U.S. are currently leading separate bombing efforts on Raqqa, once ISIS's capital in its self-proclaimed caliphate in Syria.
Read more: How Russia became a Middle East power broker
Since the official start of Russia's military effort in Syria in 2015, it has sought to have its fight viewed in the same regard as the U.S.-led coalition: a battle against extremist groups.
A major sticking point remains the fact that a priority for the Russian government is to defend the brutal regime of its ally, Syrian President Bashar al-Assad, while the U.S. backs anti-Assad forces. Russia had said it is fighting "terrorists," which includes ISIS, but it also considers anti-government rebel groups as targets too, some of whom the U.S. has backed at the start of the conflict.
Russia's Ministry of Defense may have leaked the statement to the media without absolute certainty to boost morale, says Nikolay Kozhanov, former Russian Ministry of Foreign Affairs official, now part of the Russia program at think tank Chatham House.
"Six months have passed since the fall of Aleppo. Assad's success in Aleppo was presented by the Russian propaganda as a turning point in the Syrian war and the beginning of the Damascus regime's total victory," Kozhanov says. However, Russia's attempts on key non-regime areas such as Deir ez-Zor and Idlib province have not been successful.
"Moscow urgently needs to present both to the Russian people and international community another milestone of its presence in Syria…[and] that it is in the lead of the struggle against ISIS—something that it has never done properly. Consequently, it reports about killing the ISIS head," he says.
Moscow sees the situation as win-win he says. "If al-Baghdadi is dead—that's good; if not, Russia still demonstrated that it is fighting against the ISIL and trying to make progress," Kozhanov adds, using another acronym for ISIS.
Similar state announcements, shared around an increasingly-state dominated media sector are sometimes deliberately made public without strong certainty they are true. During Russia's wars against separatist insurgents in the region of Chechnya, reports about the unconfirmed death of the same enemy commander were repeatedly churned out, Sergey Aleksashenko, Russian domestic affairs expert at the Brookings Institution says.
"It is usual propaganda—in the current information flow public will forget about this story in a week and two months later you may kill him once again," he says.
ISIS has lost much of the territory it previously held in its self-styled demi-state that straddles the Iraqi-Syrian border. Its forces are under pressure in both countries from ground forces backed by U.S.-led coalition airpower.
In response, ISIS has moved key assets from Raqqa to the Euphrates River Valley region, including its top chemical weapons experts, according to U.S. intelligence. An Iraqi official told Newsweek in March that Baghdadi was moving between Mayadin in Syria, and the town of al Qaim, an Iraqi border town, after fleeing the northern Iraqi city of Mosul before a coalition offensive began in October 2016. Mosul is where he delivered his July 2014 sermon announcing the creation of the so-called caliphate.