ISIS Claim Responsibility for Yemen Attacks Which Killed 137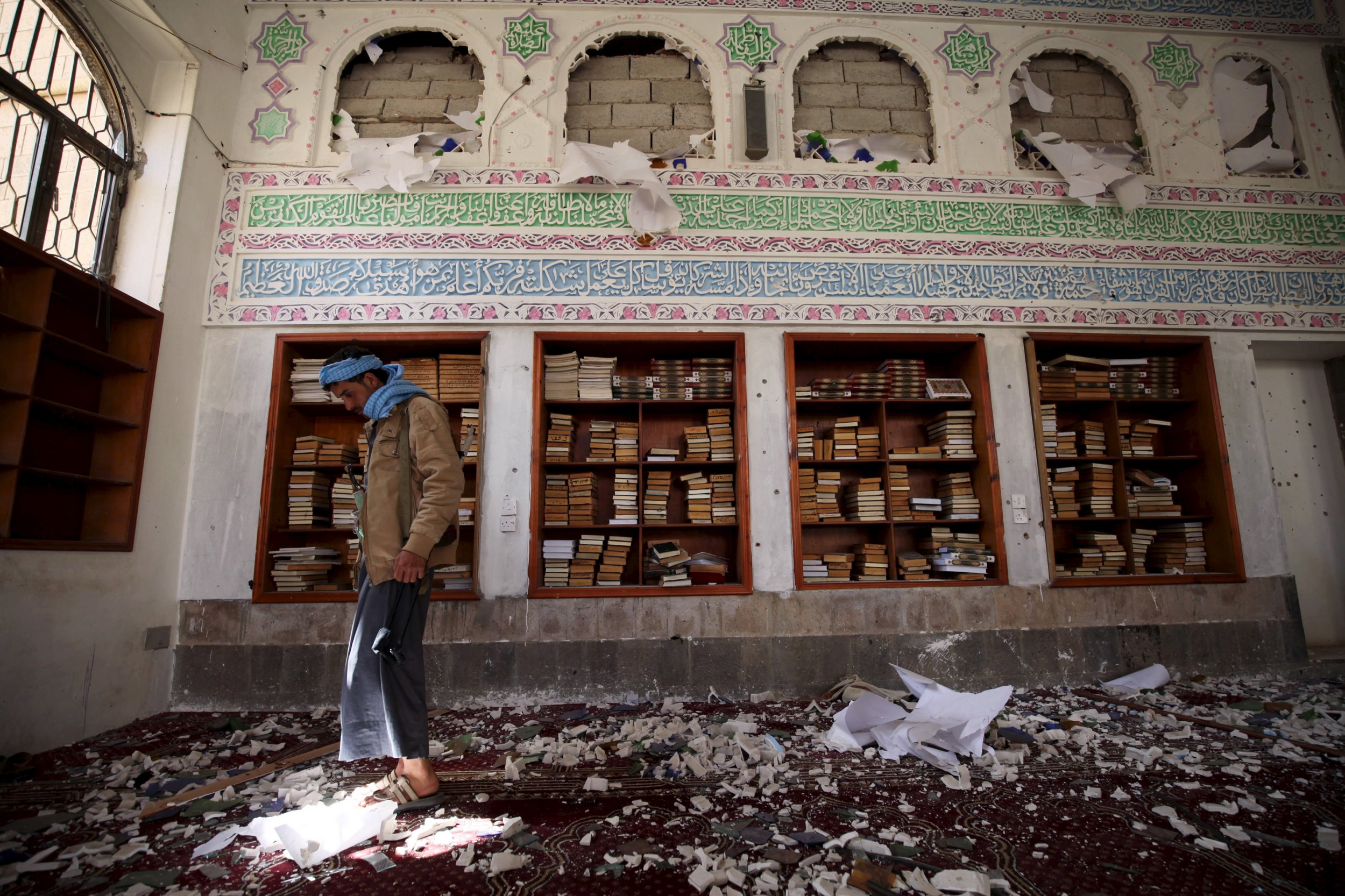 The Islamic State (ISIS) have claimed responsibility for today's suicide bombings in the Yemeni capital of Sanaa which killed at least 137 people and injured hundreds more.
The terrorist group released an official statement saying they were behind the attacks which were carried out at two Shiite mosques, both of which are frequently attended by Houthi rebels, who in September seized control of the capital, and their supporters.
AQAP, the al-Qaeda franchise that operate in Yemen and Saudi Arabia and who are the prominent jihadi group in the country have distanced themselves from the attacks online.
Charlie Winter, researcher on jihadism in Syria and Iraq at the anti-radicalisation organisation, the Quilliam foundation says that while ISIS's presence in Yemen may be relatively small, today's attacks are a way of attracting attention and establishing themselves in the country.
"Carrying out a high-profile attack like this, especially on the back of Tunisia, will really make their influence appear bigger than it is", he says.
Winter points out that ISIS would not need a huge presence to carry out an attack like today. "It's all part of their media strategy which ensures they're always front of the media and it's also about looking like the most relevant actor wherever they are."
"They're trying to stoke tensions as much as possible," Winter concludes. "IS is trying to put itself on the map in Yemen."
Peter Salisbury, a journalist and analyst focused on Yemen who recently published a report on the Saudi-Iranian 'cold war' in Yemen with the UK thinktank Chatham House, says that it's the level of violence seen today which is most concerning: "Although the focus of most reporting on these attacks will be on the possibility that IS is gaining ground in Yemen, the real worry here is the escalation of sectarian violence and the shift towards attacks on civilians."
"Yemen has had a large number of Islamist extremists within its borders and there have always been a number of different factions. One group labeling itself as IS as opposed to AQAP isn't half as significant as the willingness of militants to kill unarmed civilians. IS is more important in that it has changed the rules of engagement. This threatens to get very nasty in a way that we haven't seen before in Yemen."
Some commentators doubt that the Islamic State had anything to do with the attacks. Nadwa Al-Dawsari, a Yemeni researcher who specialises in the country's tribes doesn't believe the group are operating in Yemen. "You need a lot more chaos for ISIS to exist let alone operate."
"Yemen doesn't have the conditions that gave rise to ISIS in other countries or not yet at least. The country is still under control in cities by Houthis and in rural areas by tribes."
Since last summer, the country has been embroiled in an ongoing power struggle after Houthi rebels took control of the capital city in September last year before seizing control of the presidential palace in February, causing deposed president Abd-Rabbu Mansour Hadi to flee to the port city of Aden, pronouncing it the "temporary capital of Yemen until Sanaa is liberated".
The suicide bombings come on the same day that warplanes bombed areas in Aden close to the presidential palace, as supporters and opponents of Hadi clashed in the streets, and a day after ISIS claimed responsibility for the attack in Tunis which saw gunmen kill 24 people, including 21 tourists.