ISIS Statement Claims Deadly Manchester Attack on Ariana Grande Concert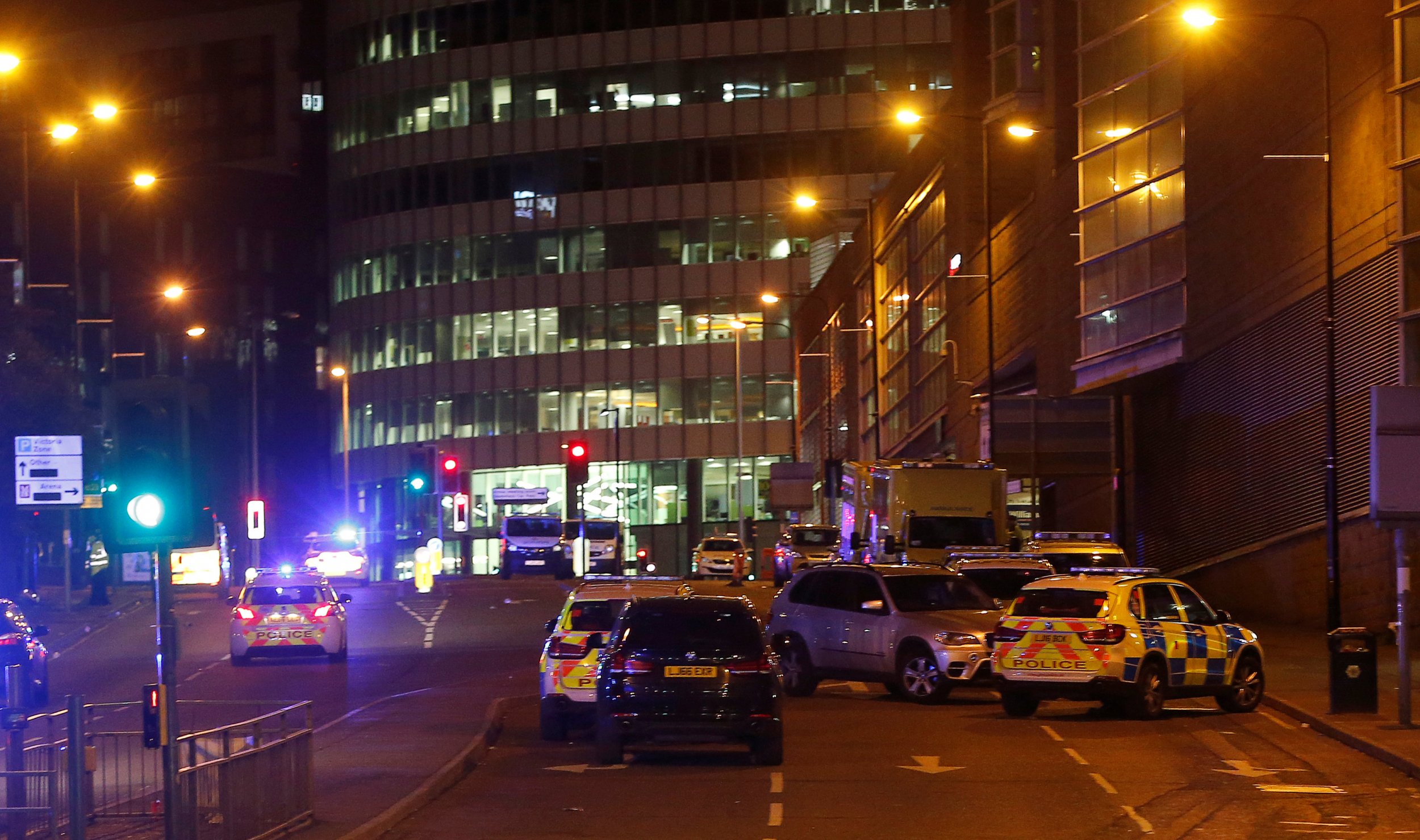 The Islamic State militant group (ISIS) has claimed responsibility for the suicide bomb attack that killed 22 people at an Ariana Grande concert in Manchester Monday night.
Jihadist monitoring group SITE intelligence posted the claim on Twitter. The statement, circulated on Telegram, said the attack was carried out by a member of ISIS with an explosive device planted at the concert.
"One of the soldiers of the Caliphate was able to place an explosive device within a gathering of the Crusaders in the city of Manchester," the statement said. ISIS refers to those who commit attacks in its name, inspired or directed by the group, as "soldiers." It gave a higher death toll—30 dead—than British officials have confirmed.
It remains unclear if the group directed the attacker, as it did with the assailants who killed 130 people across Paris in a series of attacks in November 2015.
The claim did not mention that the incident was a suicide bomb attack, the method that British officials are investigating. Police have confirmed that the assailant used an "improvised device" and died in the attack.
British officials say a lone male attacker detonated the device as concertgoers left the Manchester Arena at around 10.30 p.m. local time, shortly after American singer Grande had finished performing. The blast injured at least 59 people, some seriously. The venue has a capacity of 21,000, the largest indoor venue in the U.K.
Police announced the arrest of a 23-year-old man in south Manchester on Tuesday in connection with the attack. Authorities evacuated a shopping center in the northern English city on Tuesday, making one arrest, but police said it was not connected to Monday's attack.
British Prime Minister Theresa May convened the COBRA security committee Tuesday to decide on a response to what police described as a terrorist attack. She said security services knew the identity of the attacker but were not releasing his name.
The attacker detonated the bomb just outside the entertainment venue, in a targeting of civilians in a public area that security officials say is increasingly impossible to prevent. "You can't [stop them] can you," Richard Barrett, former head of global counter-terror at Britain's MI6 security service, told Newsweek by phone earlier on Tuesday. Security services can "intercept them before they do something" but to "protect every single public area is a task beyond the capability of any society" that values freedom of assembly, he added.
Speaking from Bethlehem, U.S. President Donald Trump called those behind the attack "evil losers" and said the United States stood in solidarity with the British people. On his Middle East tour, his first trip abroad as president, he has called on Arab states to come together to combat extremist groups.
In March, ISIS claimed responsibility for a car-ramming and knife attack in London that killed five. It was the first attack the jihadist group, which controls territory in Iraq and Syria, had claimed on British soil. Its claim for the Manchester attack represents the first bombing in the group's name in Britain.
The country's terror threat remains at "severe," the second-highest level, meaning that a terror attack remains highly likely. The country's security services are concerned by the potential return of dozens of foreign fighters who traveled to the Middle East to fight for ISIS. Their estimates are that 750 British nationals have headed to Syria and Iraq to fight for radical Islamist groups in recent years.
Earlier this month, Neil Basu, senior national coordinator for counterterrorism policing in Britain, said security services are dealing with security threats to the British public every day. "Activity continues around the clock to identify and stop these threats and we are making arrests on a near daily basis," he said.
Within the last month, British security services have stopped three active plots: a man arrested in possession of three knives in London's Westminster in April; four men arrested in connection with a terror plot in East London last week; and three women arrested on terrorism charges also in April.