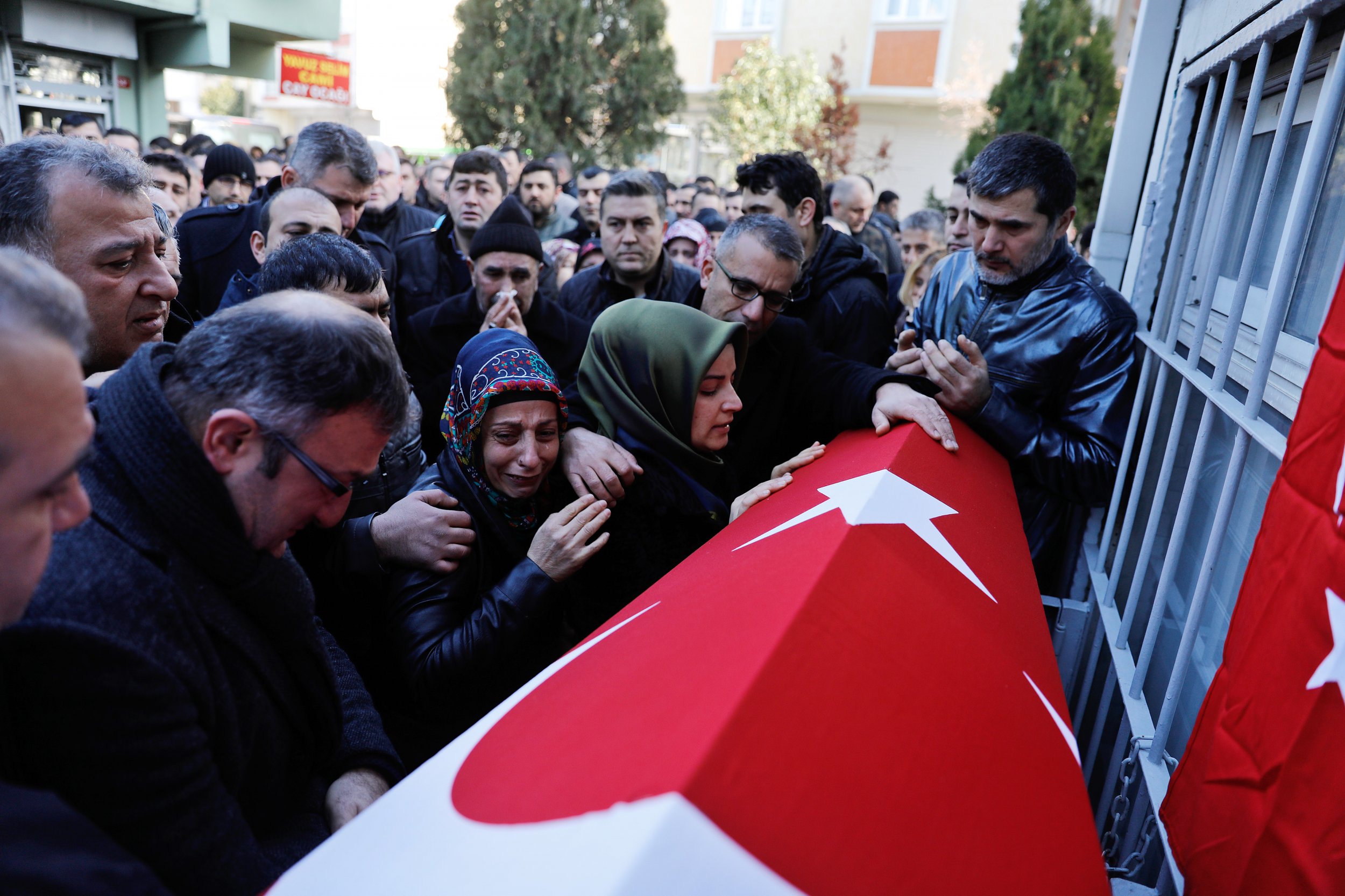 Updated | Turkish authorities are close to fully identifying the gunman responsible for an attack on an Istanbul nightclub which killed 39 people on New Year's Day and have detained eight other people, the government's spokesman said on Monday.
"Information about the fingerprints and basic appearance of the terrorist have been found. In the process after this, work to identify him swiftly will be carried out," Deputy Prime Minister Numan Kurtulmus told a news conference.
He said it was clear that Turkey's military incursion into Syria, launched in August, had annoyed terror groups and those behind them, but said the offensive would continue until all threats to Turkey were removed.
Turkey sent tanks and special forces into Syria just over four months ago to push back Islamic State militants from its border and prevent Kurdish militia fighters from taking ground in their wake.
Kurtulmus also said Sunday's attack bore significant differences to previous attacks in Turkey and that it had been carried out to create divisions within Turkish society.
Islamic State claimed responsibility for the mass shooting in the packed nightclub that killed 39 people, an attack carried out by a lone gunman who remains at large.
It described the Reina nightclub, where many foreigners as well as Turks were killed, as a gathering point for Christians celebrating their "apostate holiday." The attack, it said, was revenge for Turkish military involvement in Syria.
"The apostate Turkish government should know that the blood of Muslims shed with airplanes and artillery fire will, with God's permission, ignite a fire in their own land," the Islamic State declaration said.
There was no immediate comment from Turkish officials.
The jihadist group has been blamed for at least half a dozen attacks on civilian targets in Turkey over the past 18 months but, other than targeted assassinations, this is the first time it has directly claimed any of them. It made the statement on one of its Telegram channels, a method used after attacks elsewhere.
NATO member Turkey is part of the U.S.-led coalition against Islamic State and launched an incursion into neighboring Syria in August to drive the radical Sunni militants from its borders, sending in tanks and special forces backed by fighter jets.
Nationals of Saudi Arabia, Morocco, Lebanon, Libya, Israel, India, a Turkish-Belgian dual citizen and a Franco-Tunisian woman were among those killed at the exclusive nightclub on the shores of the Bosphorus waterway. Twenty-five of the dead were foreigners, according to the state-run Anadolu news agency.
Police distributed a hazy black-and-white photo of the alleged gunman taken from security footage. State broadcaster TRT Haber said eight people had been detained in Istanbul.
The authorities believe the attacker may be from a Central Asian nation and suspect he had links to Islamic State, the Hurriyet newspaper said. It said he may be from the same cell responsible for a gun-and-bomb attack on Istanbul's main airport in June, in which 45 people were killed and hundreds wounded.
The attack at Reina, popular with Turkish celebrities and wealthy visitors, shook Turkey as it tries to recover from a failed July coup and a series of deadly bombings in Istanbul and elsewhere, some blamed on Islamic State, others claimed by Kurdish militants.
Around 600 people were thought to be inside when the gunman shot dead a policeman and civilian at the door, forcing his way in then opening fire with an automatic assault rifle. Witnesses said he shouted "Allahu Akbar" (God is Greatest).
Some at the club jumped into the Bosphorus after the attacker began shooting at random just over an hour into the new year. Witnesses described diving under tables as he walked around spraying bullets.
Kalashnikov in Suitcase
The attacker was believed to have taken a taxi from the southern Zeytinburnu district of Istanbul and, because of the busy traffic, got out and walked the last four minutes to the entrance of the nightclub, newspaper Haberturk said.
He pulled his Kalashnikov rifle from a suitcase at the side of the road, opened fire on those at the door, then threw two hand grenades after entering, Haberturk said, without citing its sources. It said six empty magazines were found at the scene and that he was estimated to have fired at least 180 bullets.
Security services had been on alert across Europe for new year celebrations following an attack on a Christmas market in Berlin that killed 12 people. Only days ago, an online message from a pro-Islamic State group called for attacks by "lone wolves" on "celebrations, gatherings and clubs."
In a statement hours after the shooting, President Tayyip Erdogan said such attacks aimed to create chaos and destabilize the country.
Four months into its operation in Syria, the Turkish army and the rebels it backs are besieging the Islamic State-held town of al-Bab. Erdogan has said he wants them to continue to Raqqa, the jihadists' Syrian stronghold.
Turkey has also been cracking down on Islamic State networks at home. In counter-terrorism operations between Dec 26-Jan 2, Turkish police detained 147 people over links to the group and formally arrested 25 of them, the interior ministry said.
The New Year's Day attack came five months after a failed military coup, in which more than 240 people were killed, many of them in Istanbul, as rogue soldiers commandeered tanks and fighter jets in a bid to seize power.
More than 100,000 people, including soldiers and police officers, have been sacked or suspended in a subsequent crackdown ordered by Erdogan, raising concern both about civic rights and the effectiveness of Turkey's security apparatus.
The government says the purges will make the military, police and other institutions more disciplined and effective.
Turkey has seen repeated attacks in recent weeks. On Dec. 10, two bombs claimed by Kurdish militants exploded outside a soccer stadium in Istanbul, killing 44 people. A security guard who survived that attack was killed at Reina.
A car bomb killed at least 13 soldiers and wounded 56 when it ripped through a bus carrying off-duty military personnel in the central city of Kayseri a week later, an attack Erdogan also blamed on Kurdish militants.
Islamic State's Amaq website said the group was behind a car bomb attack that killed 11 people and wounded 100 in the city of Diyarbakir in November, but Turkish authorities denied this and said Kurdish militants carried out the attack.
The Russian ambassador to Turkey was shot dead as he gave a speech in Ankara on Dec. 19 by an off-duty police officer who shouted "Don't forget Aleppo" and "Allahu Akbar."
Update: This article has been updated to include that the gunman's fingerprints have been found.