ISIS Claims Las Vegas Shooting, Says Stephen Paddock Converted to Islam
Updated | The Islamic State militant group (ISIS) claimed responsibility on Monday for the shooting on the Las Vegas Strip that killed at least 58 people and injured 518 more, claiming that shooter Stephen Paddock had converted to Islam months ago. But his family, the FBI and U.S. officials have all cast doubt that there was any religious motive in the attack.
The jihadi group released the claim on its self-styled news agency Amaq, on the encrypted messaging app Telegram. It typically uses this platform for official claims of responsibility.
The statement, in Arabic, read, "Attacker of the #Las_Vegas shooting is a soldier of the Islamic State and carried out the operation in response to targeting coalition countries," Jihadoscope, a cybermonitoring company that monitors jihadi activity, confirmed in a translation sent to Newsweek.
"Attacker of Las Vegas converted several months ago," the text accompanying the claim in a second post read, in what experts say is an unusual move by the group. It usually posts a single message when it claims responsibility for an attack.
Attackers inspired by ISIS have previously sent videos pledging allegiance to leader Abu Bakr al-Baghdadi before their assaults. No such video has yet emerged from Paddock.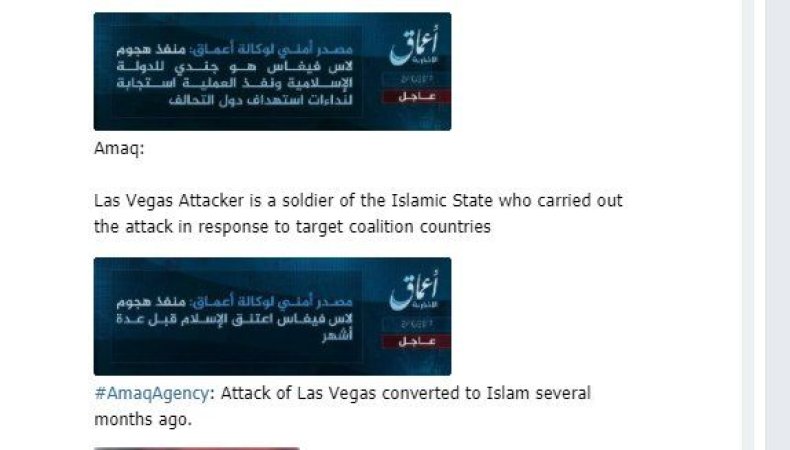 Michael S. Smith II, co-founder of terror analysis company Kronos Advisory, who regularly tracks ISIS activity, also confirmed to Newsweek the claim of responsibility and the claim about Paddock's conversion.
However, a U.S. official, unauthorized to speak publicly and speaking on condition of anonymity, tells Newsweek, "There is no indication that there is any link whatsoever. They claim a lot of things."
The FBI said that "no connection" between Paddock and radical Islamist extremism had been found.
"As this event unfolds we have determined to this point no connection with an international terrorist group," Aaron Rouse, the special agent in charge of the Las Vegas office of the FBI, said in an announcement, AFP news agency reported.
His family also said there was no indication that there was a religious motive behind the attack.
"We have no idea how this happened," brother Eric Paddock, 55, of Orlando, Florida, told the Las Vegas Review Journal. "It's like an asteroid just fell on top of our family."
He continued: "There is no reason we can imagine why Stephen would do something like this. All we can do is send our condolences to the people who died. Just no reason, no warning." There is no other evidence to suggest that Paddock had converted to Islam or was a Muslim prior to the attack.
Las Vegas Mayor Carolyn Goodman said that Paddock was a "crazed lunatic full of hate."
ISIS regularly takes responsibility for attacks in the West even if it has not directed them, instead suggesting that it played a role in inspiring them.
But it has declined to claim several attacks in which they are suspected of playing a role of inspiration, such as the Stockholm attack in April when a man drove a van into pedestrians in the center of Sweden's capital, killing five people.
It also rarely claim attacks in Turkey, where jihadists have carried out suicide bombings on Ataturk Airport in Istanbul and a peace rally in Ankara. It has been disciplined in its claims, which had made experts even more perplexed by Monday's claim for the Las Vegas attack.
But some false claims have crept past its strict guidelines, signaling that the group is becoming more willing to claim attacks with no radical Islamist motivation at all. In June, the group claimed credit for a gambling addict carrying out a shooting at a casino in Manila. Authorities said the man had a heavy debt, and no radical Islamist leanings, indicating that ISIS had completely falsified the claim.
The radical Islamist group has continued to suffer a series of battlefield defeats in Iraq and Syria to ground forces supported by the U.S.-led coalition. It has been at pains to re-amplify its message as a result. Last week, it released a new audio message from its leader Abu Bakr al-Baghdadi that reiterated the group's call for attacks despite the loss of territory.
Authorities have yet to release a motive for the attack, which the shooter launched from a 32nd-floor room in the Mandalay Bay casino, across the street from the Route 91 Festival, where thousands had gathered to watch country acts. It was the deadliest shooting in modern U.S. history.
Paddock used automatic weapons to shoot down on the concertgoers, causing panic and chaos on the street below. Police found 10 automatic weapons in his room, where he shot himself dead before the SWAT team arrived at the scene.
An eyewitness, Quinn Mell-Cobb, a 24-year-old Sales Representative for Warrior Hockey from Vancouver, told Newsweek how gunshots sounded like they were coming from "everywhere" and initially sounded like "firecrackers." The slow realization that they were gunshots resulted in mass panic and shrieks from the crowd as the gunfire continued.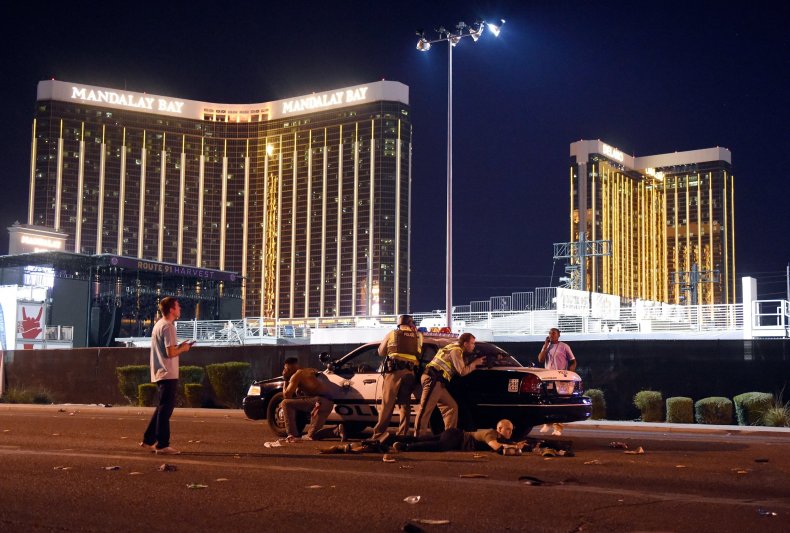 Las Vegas authorities were already on high alert before the attack. In May, ISIS released a video showing the famous Strip as a potential target. The 44-minute-long video showed footage of the strip from 2015 and called on its supporters to conduct attacks with knives and vehicles, everyday weapons that its supporters have used many times in the West over the past several years. The footage also showed New York City and Washington, D.C., as targets.
ISIS has regularly called for attacks on U.S. soil, and several who associated with its cause have acted upon the call. In June 2016, Omar Mateen launched a shooting attack on a LGBT nightclub in Orlando, Florida, killing 49 people. In December 2015, a couple killed 14 people in a shooting attack in San Bernardino, California. ISIS claimed responsibility for both attacks.
Las Vegas is a globally popular tourist spot, filled with entertainment and casinos. Its numerous attractions are the antithesis of ISIS's anti-Western beliefs.
This story has been updated to place higher the doubts surrounding the claim and that any religious motive played a role in the attack.