ISIS Defeat Ends With 'Women's Revolution' and Syrians Destroying Conservative Muslim Dress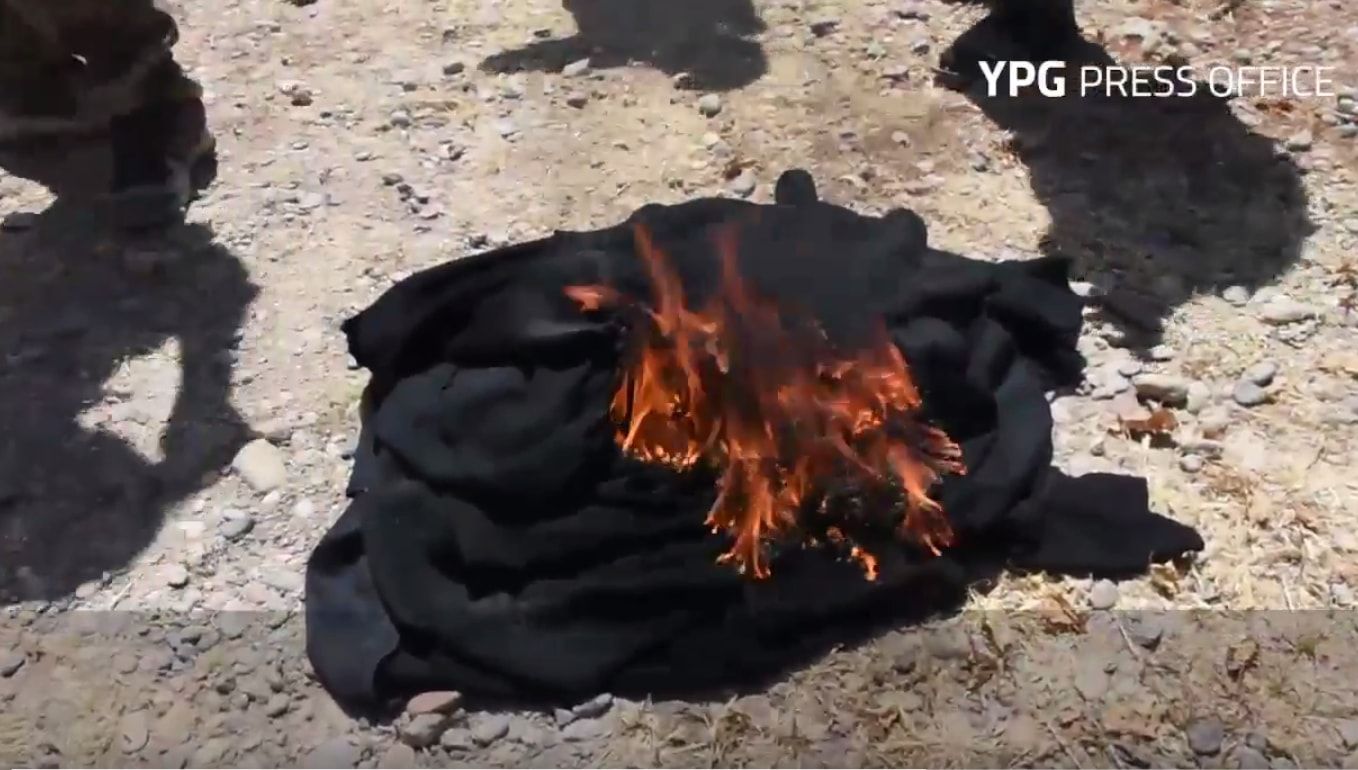 Syrians are destroying items of traditional Islamic clothing as local forces supported by the U.S. dislodge the Islamic State militant group (ISIS) and lift the ultraconservative dress code imposed on the population.
In a video posted Friday to the official Twitter account of the Kurdish nationalist People's Protection Units (YPG), civilians of ISIS' embattled de facto capital of Raqqa could be seen celebrating the jihadists' defeat by emotionally condemning what they had inflicted on the town. While some reacted to ISIS' downfall with exclamations of joy, others mourned for their loved ones who they said ISIS had slaughtered as it expanded its so-called caliphate and enforced their ultraconservative brand of Sunni Islam on locals. The footage, which was dated Thursday, showed men shaving their beards "just to spite" ISIS and women setting fire to pieces of clothing such as burqas that they said ISIS forced them to wear.
Related: First LGBT unit created to fight ISIS in Syria. Its name? The Queer Insurrection
"Give me a lighter, I'm going to burn this. May these clothes they forced us to wear be damned," one woman screamed.
"Burn these! May God burn them (ISIS). They burned my father! They burned my father!" another young woman yelled. "I wish he was with us too in this happy time. They burned my father! May God put fire to their hearts."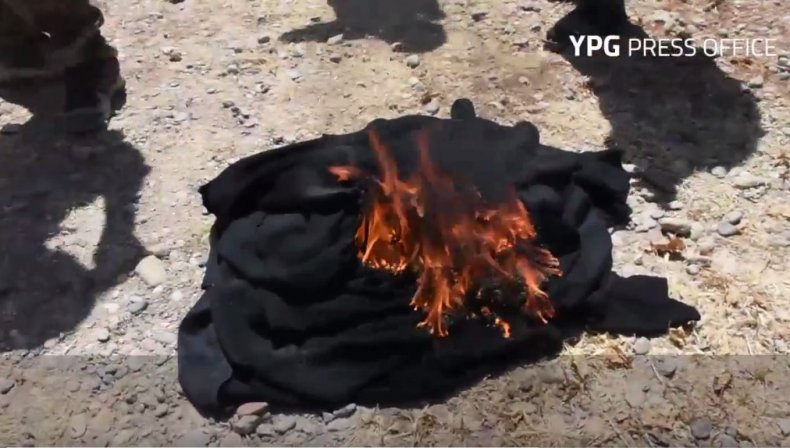 ISIS first took control of Raqqa in 2014, wresting it from the hands of other insurgent groups that rebelled against Syrian President Bashar al-Assad in 2011. The city ultimately became the head of operations for a self-styled state that stretched across nearly half of Iraq and Syria later that year. ISIS's hardline interpretation of Islamic law produced grisly scenes of torture and execution that were widely proliferated thanks to the group's savvy social media skills. Those that survived have come forward with stories of further horrors of imprisonment and enslavement in a strict society that banned everything from cigarettes to music.
In the years since, however, ISIS has experienced a severe reverse of fortune. It has been all but defeated in Iraq, where it initially spawned from Al-Qaeda's local franchise and has been largely put down by an alliance of the Iraqi military, Kurdish forces, majority-Shiite Muslim militias backed by Iran and a U.S.-led coalition. In Syria, the Russia and Iran-backed military, as well as the U.S.-backed Syrian Democratic Forces, have made also major gains against the jihadists. Other Syrian rebel groups have also clashed with ISIS, but the Syrian Democratic Forces and the Syrian military remain the primary opponents of the jihadists, especially in Raqqa, where both factions are conducting separate, nearby campaigns.
The Syrian Democratic Forces have been battling towards Raqqa since November and, last month, entered the main city. Last week the U.S. Central Command - Combined Joint Task Force - Operation Inherent Resolve told Newsweek that its partnered forces had cleared over 21 square miles of ISIS territory in and around Raqqa. The scenes shared by pro-Kurd media carry a drastically different tone than those coming from ISIS-affiliated outlets. The YPG, along with its all-female Women's Protection Units (YPJ) have proclaimed a feminist "women's revolution" in their self-proclaimed state of Rojava and have even invited all-queer brigades of foreign fighters.
Meanwhile, the Syrian military and its allies, including pro-government militias, have stormed the countryside of Raqqa from both the southwest and southeast in recent weeks and have recaptured lucrative oil wells lost by the government to rebels and jihadists earlier in the war.
The Syrian Democratic Forces and the Syrian government differ over the political future of Syria once ISIS is defeated. The Kurd-dominated Syrian Democratic Forces would like to see greater autonomy or even independence for northern Syria, which has a large ethnic Kurdish community. The Syrian government, however, has argued that the territorial integrity of Syria must be maintained and reject the U.S.'s military presence in the country as illegitimate.