War on ISIS Could Push Islamic State Fighters Out of Iraq for Good in May, Iraqi Commander Says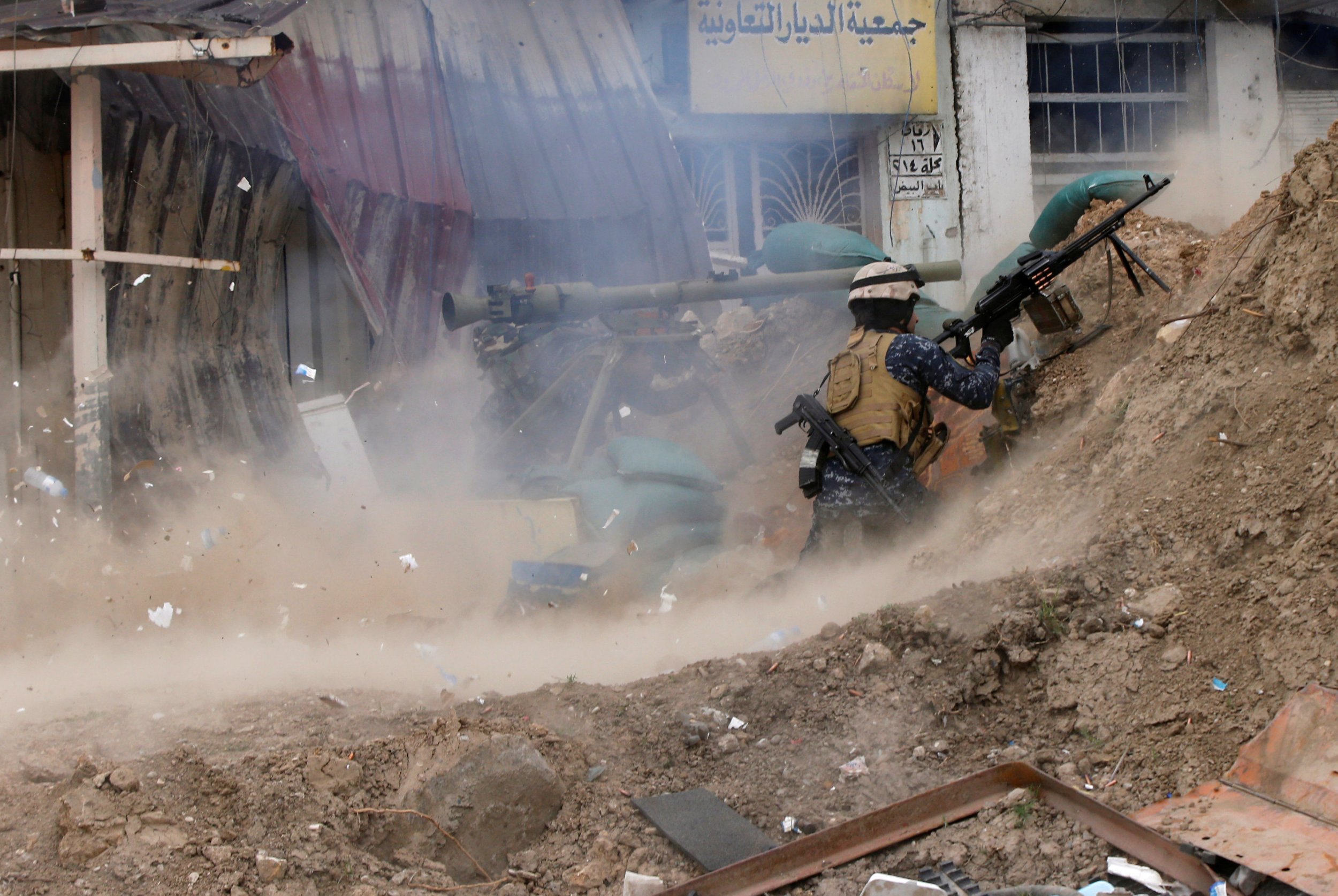 The Iraqi military could soon drive the Islamic State group (ISIS) from its final major bastion of Iraqi territory in Mosul, according to the Iraqi army's chief of staff.
In a press statement cited Sunday by local state-run media, Iraqi Army Chief of Staff Lieutenant General Othman al-Ghanmi said his forces would retake Iraq's second-largest city from militants loyal to the ultraconservative Sunni Muslim group within three weeks, Reuters reported. The military leader said that ISIS' territory, which was estimated to comprise 45 percent of the nation at its height in 2014 before falling down to less than seven percent last month, had been further diminished to about 3.8 percent. The Iraqi military and its allies, including Iran-backed Shiite Muslim militias, Kurdish forces and a U.S.-led coalition, secured Mosul's eastern half at the beginning of the year and have advanced, despite fierce resistance from ISIS in the western part of the city.
Related: War in Iraq: ISIS Dressed as Civilians to Slaughter Civilians and Troops
"Our armed forces control more than 40 percent of the Old Mosul area," Ghanmi said, according to Iraq's official al-Sabah newspaper, "And the percentage of what remains under ISIS occupation, up to this moment, is about 35 percent of the right side of Mosul."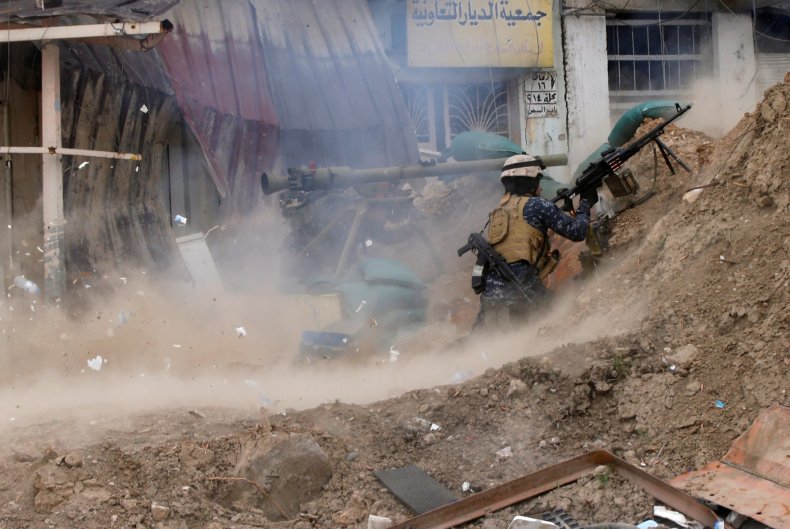 Ghanmi also said intelligence indicated that ISIS chief Abu Bakr al-Baghdadi, who announced the group's global caliphate from Mosul's Al-Nuri mosque in 2014, had been detected moving "on an ongoing basis" along the border of Iraq and Syria, where ISIS also claims territory. Ghanmi credited the Russia-Syria-Iran-Iraq coalition, established in 2015 to counter ISIS' spread in the Middle East, saying it "provides very useful information to locate terrorists and the objectives are addressed through joint quadripartite coordination."
The U.S. also backs Iraq politically and militarily in its battle against ISIS, but Ghanmi stressed that "Iraqi forces are fighting alone on the ground." Washington has cautiously accepted the role of the Iran-backed Popular Mobilization Forces (PMF), also known as al-Hashd al-Shaabi, in the fight against ISIS, but has publicly criticized Tehran's intervention in the region. In neighboring Syria, the U.S. backs the Syrian Democratic Forces (SDF), a majority-Kurd coalition of Arabs and ethnic minorities currently battling toward ISIS' de facto capital of Raqqa in northern Syria. Russia and Iran support Syrian President Bashar al-Assad who has retaken virtually every population center from both ISIS and the various insurgent groups that have attempted to overthrow his government since 2011.
ISIS's origins can be traced back to Al-Qaeda's affiliate in Iraq. The militant organization launched a campaign of attacks against U.S. troops and Iraq's Shiite Muslim community in an effort to destabilize the country after the U.S. invaded and overthrew President Saddam Hussein in 2003. The group became the Islamic State of Iraq after merging with other jihadist groups in 2006 and, in 2010, rebranded itself once again as ISIS under Baghdadi. The group took large swaths of territory in Iraq and Syria in the following years before being beaten back by various local and international forces.
In 2016 alone, ISIS lost nearly a quarter of its territory, according to leading security and terrorism analysis group, IHS Jane's Conflict Monitor.