ISIS Defeats Could Trip Global Terror Campaign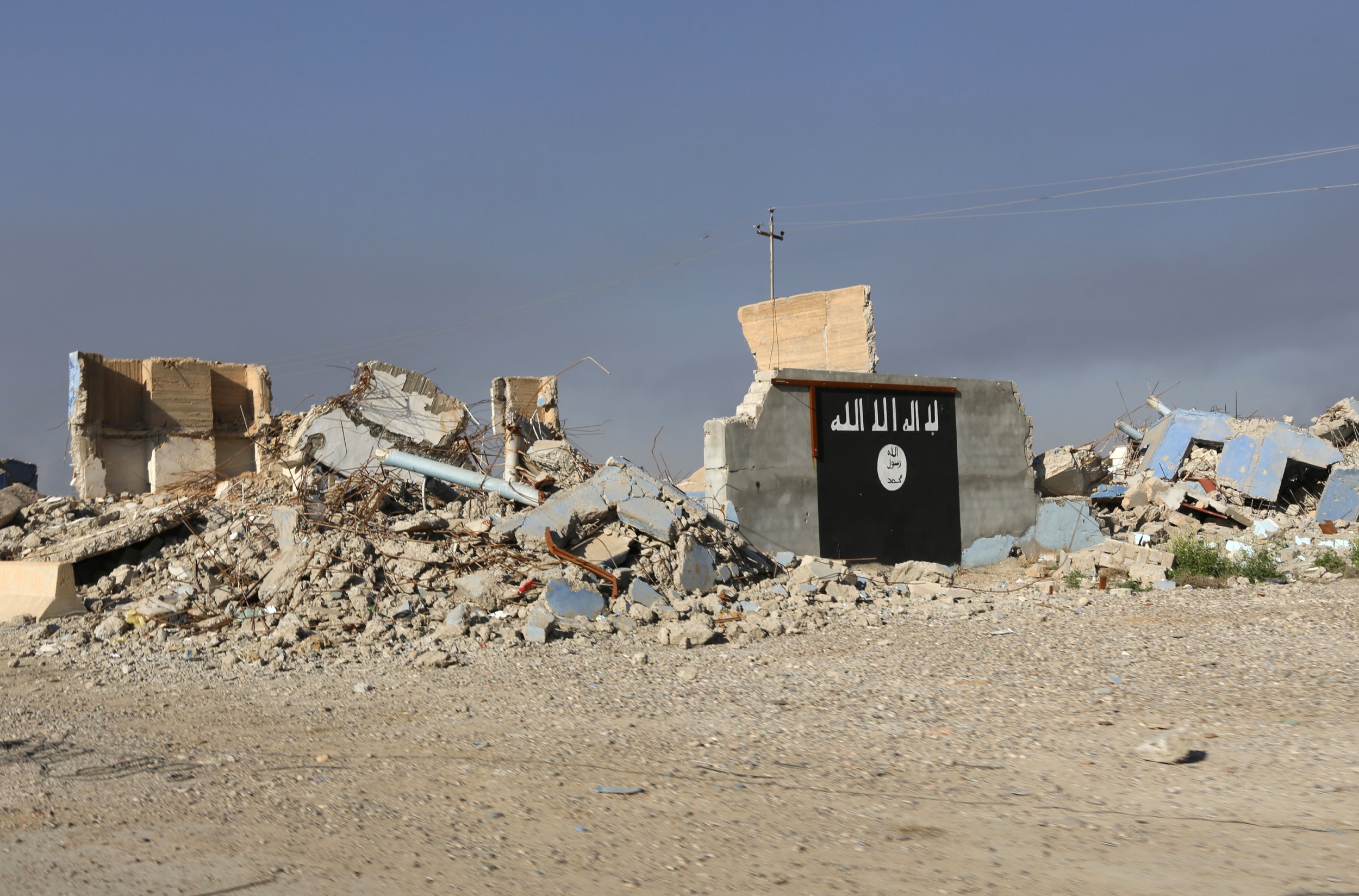 The Islamic State (ISIS) upped the ante last month, conducting a series of attacks in a number of Arab countries. While the operations in Syria, Libya, Tunisia and Yemen pursue the organization's goal of destabilizing the region, the ISIS escalation also means to display its strength for its supporters.
It aims to demonstrate that despite the losses in Iraq, its caliphate is still capable of expanding. These attacks suggest that the organization's priorities remain focused on the Middle East.
The creation of a caliphate in Syria and Iraq has given the terror organization unequaled leverage, allowing it to recruit internationally and build strong credibility within its supporters' rank and file. Continual expansion of this caliphate is an essential part of the ISIS narrative.
However, in recent months the organization has seen several losses. More than 1,000 of its fighters were killed in its offensive on Kobani, Syria, launched in September last year. Brett McGurk, deputy special presidential envoy for the Global Coalition to Counter ISIL, speaking at this month's Sulaimani Forum organized by the American University in Iraq, noted that ISIS (sometimes called ISIL) lost an estimated 25 percent of its territory in Iraq and Syria.
In Mosul, Iraq, interviewed Iraqi activists say that support for the organization—while still strong—has nonetheless waned. Kurdish peshmerga forces repelled the ISIS offensive in Kirkuk and advanced in disputed areas, taking control of Qadisia, Yarmook and Shahid, along with 10 other villages. Coalition strikes totaling 2,320 in March have also hindered the ISIS expansion.
Ari Harsin, a Kurdish member of parliament engaged in the war against ISIS, acknowledged in an interview that the organization's military capability appears "to have diminished," citing militant casualties and defections among some of its cadres as contributing factors.
The erosion of ISIS's military capability has tarnished the organization's victorious narrative. To offset its losses, ISIS militants have launched a two-pronged offensive in western Syria in the rural areas east of Homs and Hama.
ISIS has also bolstered its presence in regions that it considers its natural sphere of influence, including other countries across the Middle East and North Africa. As a result, ISIS forces in Libya have increasingly clashed with the Libya Dawn force: ISIS rocket attacks recently killed five militiamen in Sirte, and the organization claimed responsibility for a double-suicide car bombing that killed at least seven soldiers in Benghazi. ISIS also conducted two suicide bombings targeting Houthi mosques in Yemen and claimed responsibility for the Bardo Museum terrorist attack in Tunisia.
The expansion of ISIS in Libya has been defended by prominent ISIS supporter Abu Arhim al-Libim, who uploaded a short essay, translated by the Quilliam Foundation, titled "Libya: The Strategic Gateway for the Islamic State." It states that the organization sees an opportunity in a country fragmented by the ongoing power struggle. In recent months, media reports indicate the establishment of a training camp situated just 27.9 miles from the Tunisian border and an increase of 5,000 fighters into Libya.
ISIS's philosophy has so far centered on the management of savagery, stated in an eponymous book by Abu Bakr Naji, which recommends extending terrorist organizations' control in areas where chaos prevails by providing good governance in order to achieve tamekeen (consolidation).
Similar to its approach in Syria and Iraq, ISIS hopes to establish another "fortified house" (diyar al-tamkeen) in Libya, a fortress from which it can expand its activities into other countries. This preoccupation has been underlined by al-Libim, who mentions the "strategic geographic" location of Libya. He adds, "Libya, by the will of God, is the key to Egypt, the key to Tunisia, Sudan, Mali, Algeria and Niger too. It is the anchor from which Africa and the Islamic Maghreb can be reached."
However, ISIS's strategy in Tunisia and Yemen has been more like that of Al-Qaeda's classical jihad al-nikaya, which relies on the use of local cells conducting terrorist operations across the country to undermine stability. Tunisia holds the largest foreign ISIS contingent, with about 3,000 militants fighting alongside the organization in Iraq and Syria, of which 500 are believed to have returned home.
In Yemen, the organization seems to have adhered to Abu Musab al-Zarqawi's strategy of sectarian-centered bombings, aimed at polarizing a country that has witnessed rising religious and regional tensions between Shia Houthis and the central government of Abed Rabbo Mansour Hadi.
Besides increased activity in Arab countries, ISIS's remarks directed at the West have also escalated. In February, an ISIS video threatened "the nation signed with the blood of the cross" (Italy) and warned that the group, in Libya, was just "south of Rome." This proximity of the organization to the West was also noted in al-Libim's document; he remarked that Libya's coastline "looks upon the southern Crusader states, which can be reached with ease by even a rudimentary boat."
This comes four months after the ISIS propaganda magazine Dabiq ran a cover photo of the militant group's flag flying above the obelisk in St. Peter's Square in the Vatican with the headline "The failed crusade." In March, the organization called on its "brothers in America" to murder U.S. military personnel.
While the possibility of lone wolf operations by ISIS in Western countries certainly poses a growing threat, the organization does not seem interested in or capable of conducting operations there. Amedy Coulibaly, a perpetrator of the Charlie Hebdo attack in Paris, had no formal ties with ISIS, as was apparent in the interview with his wife, Hayat Boumeddiene, that appeared in an ISIS publication.
Other attacks, such as the ones conducted by Michael Zehaf Bibeau in Ottawa and the hostage taking of Haron Monis in Australia, have also been lone wolf operations. In the absence of established networks in Western countries, the primary mission of ISIS in the so-called "far abroad" regions will remain for now the work of "munassirin [supporters] who do not formally adhere to the organization," says Jordanian Salafi jihadist leader Abu Sayyaf.
ISIS remains highly dynamic, constantly shifting to adapt to highly fluid realities across the Middle East, but still somewhat limited—whether by chance or design—to the volatile region. So long as ISIS can grow and gain momentum, it will focus its resources on countries where it can consolidate power and territory—namely, Syria, Iraq and possibly Libya.
However, the more pressure is placed on the organization's Levant home base, the more it will revert to cell-based terrorist operations in Arab countries. ISIS might attempt a global terrorist campaign if the U.S.-led anti-ISIS coalition drives the organization's leadership and its foreign fighters out of Iraq and Syria.
Mona Alami is a nonresident fellow with the Atlantic Council's Rafik Hariri Center. A French-Lebanese journalist, she is based in Beirut. This article is based on research recently conducted in Iraq and Jordan. It first appeared on the Atlantic Council website.