'Brutal' ISIS 'Crime Against Iraq': Historic Grand al-Nuri Mosque Destroyed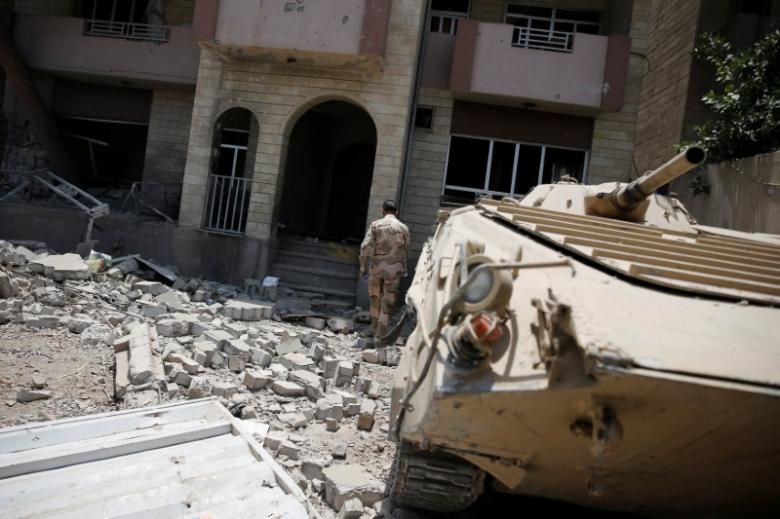 The Islamic State militant group (ISIS) has destroyed the historic Grand al-Nuri Mosque in Mosul, where the militant group's leader Abu Bakr al-Baghdadi declared himself caliph in 2014.
The destruction of the revered mosque, which appears on the Iraqi 10,000 dinar note, was announced by the Iraqi military on Wednesday and comes as the Iraqi Counter Terrorism Service (CTS) was within several hundred meters of the building.
"As our Iraqi Security Force partners closed in on the al-Nuri mosque, ISIS destroyed one of Mosul and Iraq's great treasures," said Major General Joseph Martin, commanding general of Combined Joint Forces Land Component Command-Operation Inherent Resolve, in a statement.
"This is a crime against the people of Mosul and all of Iraq, and is an example of why this brutal organization must be annihilated," Martin added. "The responsibility of this devastation is laid firmly at the doorstep of ISIS, and we continue to support our Iraqi partners as they bring these terrorists to justice. However, the battle for the liberation of Mosul is not yet complete, and we remain focused on supporting the ISF with that objective in mind."
The holy building had stood in Mosul for more than eight centuries, and Iraqi officials had hoped to capture the building by Eid al-Fitr, which will fall at the end of June, The Independent reported.
However, ISIS had been holding its ground in the southern part of the Old City. According to the Iraqi army, ISIS has only an estimated 300 fighters in the area, with al-Baghdadi not believed to be among that number.
Just three days ago, Iraqi forces announced they had begun storming the ISIS-held Old City, a day after the U.S.-backed Iraqi offensive to capture Mosul entered its ninth month.
"This is the last chapter" in the offensive to take Mosul, said Lieutenant General Abdul Ghani al-Asadi, the commander of the CTS elite units told Reuters at the time.
The fall of Mosul would effectively mark the end of the Iraqi half of the "caliphate" that al-Baghdadi declared in the historic mosque that was destroyed by the group.