The Islamic State militant group (ISIS) has released graphic photos that show the jihadis dropping an explosive-wrapped man off of a building in the group's final, besieged pocket of territory south of the Syrian capital of Damascus.
The footage was released by ISIS' Damascus branch "Wilayat Dimashq" and spread on pro-ISIS social media accounts. Through a series of images presented over a jihadi chant and clearly edited sounds of violence and screams, the jihadis detail the last moments of a man who is presumably a member of the pro-Syrian government forces.
The fighter is bound with some sort of improvised explosive device and a detonator on his helmet. He is then thrown off a building, landing head-first in an alley and exploding upon impact. The last photo shows the headless, charred and bloody remains of the victim.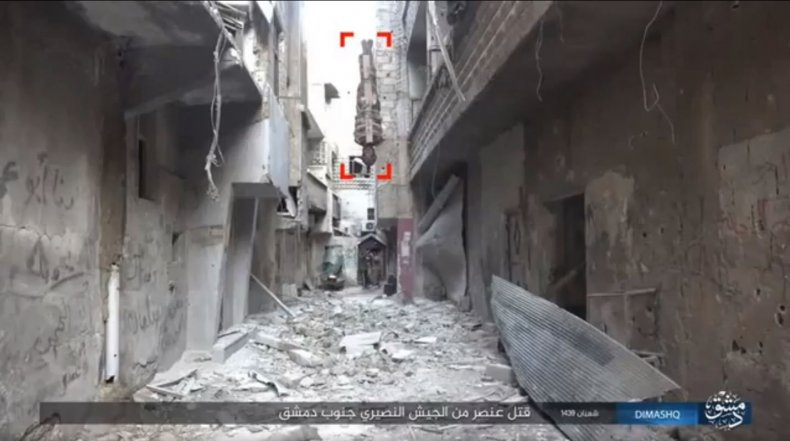 The clip was captioned "The death of an element of the nasiri army south of Damascus." The term nasiri is used by ultraconservative Sunni Muslims such as ISIS to describe the Alawites, a religious minority often identified as a sect of Shiite Muslims. Syrian President Bashar al-Assad is a member of the Alawite community and this has often been the subject of propaganda published by ISIS, Al-Qaeda and other jihadi groups who gained traction in Syria after a 2011 uprising sponsored by the West, Turkey and Gulf Arab countries. These countries have accused Assad of war crimes and other human rights abuses.
ISIS originated from a union of jihadi groups, including Al-Qaeda in Iraq, that began a violent insurgency after the U.S. ousting of Iraqi President Saddam Hussein in 2003. ISIS, which took this name in 2013, spread to Syria and has since been mostly defeated by a U.S.-led coalition as well as a pro-Syrian government campaign backed by Russia and Iran. The jihadis only retain territory in the eastern Euphrates River Valley, near Iraq, and in a grouping of neighbors south of Damascus, where the footage was purported to have been set.
Related: Who's Bombing Syria? Video Shows New Strikes and Massive Explosion as World Powers Clash
After clearing the outskirts of eastern Ghouta from rebel control last month, the Syrian military and its allies—which include pro-government National Defense Forces and various Palestinian militias—set their focus on the ISIS-held neighborhoods of the Yarmouk Palestinian refugee camp, Al-Qadam, Al-Hajar Al-Aswad and Al-Tadamon.
The U.K.-based, pro-opposition Syrian Observatory for Human Rights first reported last month that ISIS fighters agreed to give up, but violence continued as the two sides attempted to reach a date to implement a ceasefire. The Syrian military maintained that ISIS show "total seriousness in committing to the agreement," which would be mediated by Russian personnel. The monitor reported ongoing clashes south of Damascus as of Tuesday as the Syrian military launched artillery and conducted airstrikes, gaining ground on ISIS militants.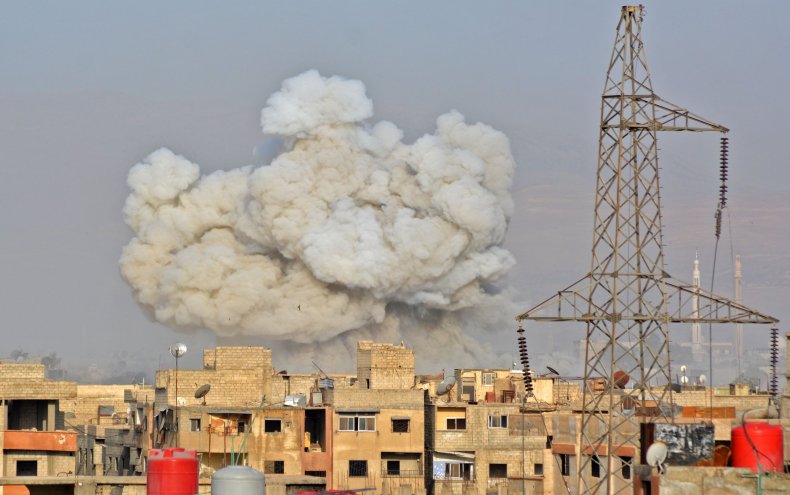 Fighters from Hayat Tahrir al-Sham, a jihadi coalition that included former Al-Qaeda affiliate Nusra Front, were also present and have agreed to leave in exchange for the evacuation of the pro-government, majority-Shiite Muslim villages of Al-Foua and Kefraya in the northwestern rebel-held province of Idlib, according to the Syrian Observatory for Human Rights. Buses have reportedly entered Yarmouk Camp to escort the militants and their families toward Idlib.
Residents of Al-Foua and Kefraya could be seen crying and hugging pro-Syrian government forces as they were exchanged at Aleppo's Al-Eis crossing for the jihadis and their families, who themselves embraced upon arriving on the rebel-held side of the checkpoint.
The Yarmouk Camp, once home to Syria's largest community of Palestinians displaced during the creation of Israel and the Arab-Israeli wars that ensued, became entrenched early on in Syria's now-seven-year-old civil war and was partially taken over by ISIS and other jihadis in 2015.