Isis in Egypt Claims Monastery Attack Days Ahead of Pope Francis' Visit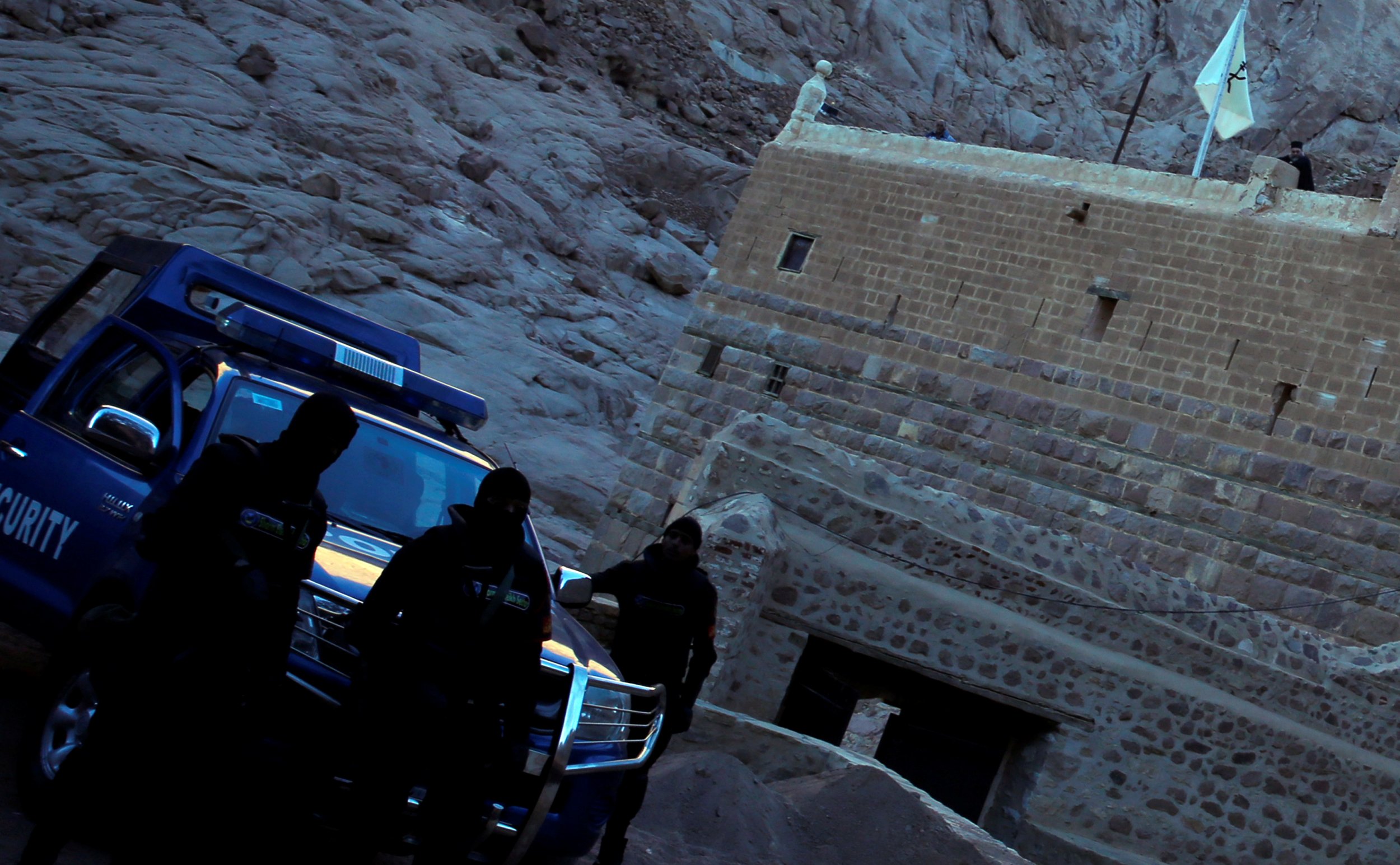 The Islamic State affiliate in Egypt has claimed responsibility for the latest attack on a Christian target.
ISIS-affiliated gunmen opened fire at a checkpoint near the famed St Catherine's monastery on April 18, in the southern part of the Sinai peninsula in Egypt. One policeman died in the attack and four other people were injured, the Associated Press reported.
According to the Egyptian Interior Ministry, the militants attacked from an elevated hilltop overlooking the police checkpoint just outside the monastery, fleeing the scene after the shootout.
The ISIS-affiliated news channel Amaq claimed the attack later that day, says SITE Intelligence Group, which monitors online jihadist activity. It's the first time in Egypt that ISIS has struck a monastery, although the terrorist group has carried out several attacks against the country's religious minorities.
These included December's deadly bomb attacks at a chapel adjoining Cairo's St Mark's Cathedral, the seat of Egypt's Christian Coptic papacy, and on churches in the Nile Delta city of Tanta and the coastal city of Alexandria, on Palm Sunday, April 8.
The insurgent group has been active in Egypt's Sinai Province since 2011 but pledged affiliation to ISIS in 2014. The terrorists vowed to carry out more attacks against Christian minorities in Egypt, who make up more than 10 percent of the country's population in a video message released in February.
Read more: What does ISIS want in Egypt?
The monastery attack comes shortly before a planned visit by Pope Francis, where he will speak at the International Peace Conference in Cairo on April 28-29. After the Palm Sunday attacks, President Abdel Fattah Al-Sisi declared a three-month state of emergency and deployed armed forces to support police patrolling sensitive areas, including churches across the country. Pope Francis has refused to cancel his trip.
"The Pope does not stop in front of what unfortunately happened, but he has firmly decided to go to Egypt to confirm and support the dialogue and the communion of Christian life," said Father Marco Tasca, general minister of the Order of Friars Minor Conventual, speaking on Vatican Radio.
Bartolomeo I, Ecumenical Patriarch of Constantinople, head of the Eastern Orthodox Church will also participate in the conference at the invitation of Ahmed el-Tayeb, the Great Imam of Al-Azhar Mosque, the Italian newspaper La Stampa reported on April 18.
The Christian religious leaders will join the Pope of the Egyptian Coptic Church Tawadros II in a visit to Al-Azhar University, Sunni Islam's most prestigious university, in a display of unity among religions. "I can assure there won't be any issues with security. The Pope is going to be greatly welcomed in the country" said an advisor to the Great Imam, ambassador Kadri Abdelmottaleb, quoted in the Italian newspaper Corriere della Sera.