Report: ISIS Executes Jordanian Pilot Muadh al-Kasasbeh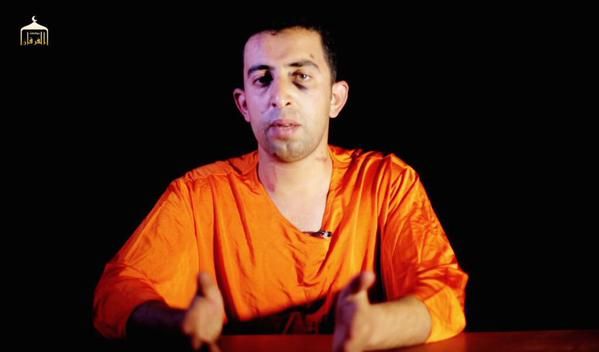 Updated | The Islamic State militant group (ISIS) has executed another prisoner, Jordanian pilot Muadh al-Kasasbeh, unverified media circulating on social media Tuesday appeared to indicate.
Photographs circulating Tuesday appeared to be still images from a video showing al-Kasasbeh being burned to death. The pictures and video has not yet been authenticated, and their validity could not be independently confirmed by Newsweek.
The Jordanian government did not directly confirm the video's authenticity Tuesday, but vowed a "earth-shaking" response.
"The revenge will be as big as the calamity that has hit Jordan," army spokesman Colonel Mamdouh al Ameri said in a televised statement confirming al-Kasasbeh's death.
State minister Mohammad al-Momani also said Tuesday that "whoever doubted the barbarity of the terrorist group ISIS, this is the proof. And whoever thought that they represent forgiving Islam, this is the proof."
SITE Intel Group, an organization that monitors jihadist threats, said Tuesday the images of al-Kasasbah's death came from a longer video titled "Healing of the Believers' Chests," released by the al-Furqan Media Foundation on Tuesday morning. Al-Furqan is an ISIS-controlled media organization, it has previously released videos of western hostages being beheading and terrorist propaganda material.
Al-Kasasbeh was taken hostage in December when his F-16 jet crashed in ISIS territory, he was a First Lieutenant from a well known family in Jordan participating in targeted air strikes against the Islamic State led by the United States.
Previously, the terrorist organization had indicated they wanted to swap al-Kasasbeh for Jordanian prisoner Sajida al-Rishawi, who confessed to her role in a 2005 suicide bombing that killed dozens. Initially, Jordan agreed to al-Rishawi's release in a statement in exchange for al-Kasasbeh and asked for proof that the pilot was alive. The terrorist organization failed to deliver any indication the pilot was still living to the officials.
The terrorist group demanded al-Rishawi's release in two videos, saying that two of their hostages would be killed if she wasn't released. The other hostage, Japan's Kenji Goto, was executed last week.
A correspondent for Kuwait's Al Rai newspaper recently cited sources within the Jordanian government saying that Islamist prisoners held by Jordan would be executed if al-Kasasbeh was killed.
Jordanian State Television speculated Tuesday that the video is not recent and that al-Kasasbeh may have been killed on January 3rd. On January 8th, social media users who follow jihadist activity in Syria discussed reports from an ISIS leader that a prisoner had been burned. If these reports are accurate, ISIS would have attempted to secure the release of al-Rishawi by promising Jordanian officials an impossible prisoner trade, as their prisoner was already dead at the time of the swap offer.
Speaking at an unrelated briefing, Obama told members of the press Tuesday that he had just gotten word of the video's release. While saying that he wasn't aware of the specifics of the video, Obama said it was an indication "of the viciousness and barbarity" of the Islamic State. "I think it will redouble the vigilance and determination on the part of the global coalition to make sure that they are degraded and ultimately defeated," he said.