ISIS Fighters From China's Uighur Minority Vow to 'Shed Blood' at Home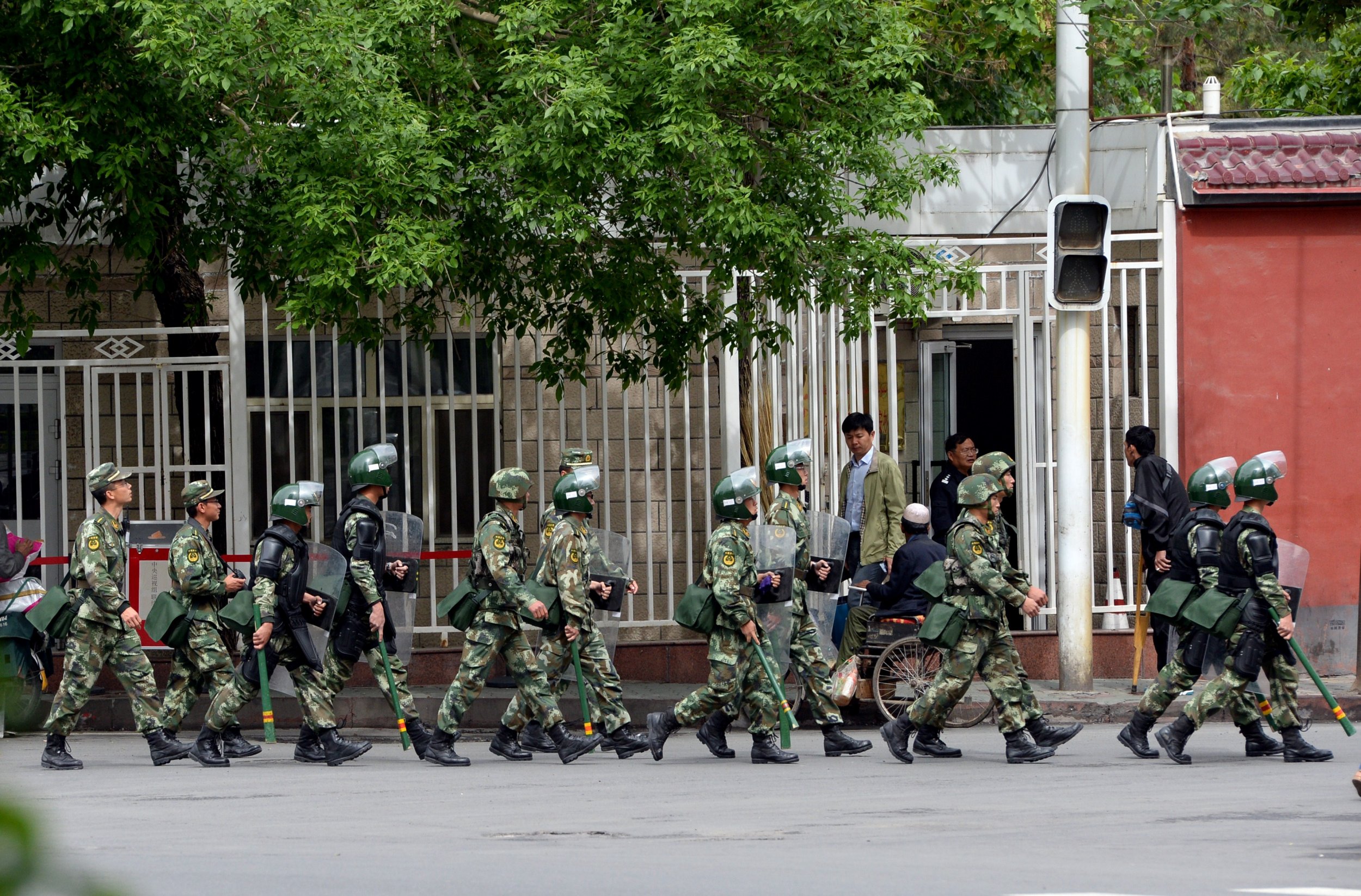 Ethnic Uighur fighters have pledged to return to China and "shed blood like rivers" in a video released by the Islamic State militant group (ISIS), in what is the first direct threat toward Chinese targets.
The jihadist group released a 30-minute video Monday showing Uighur members of its ranks training in Iraq. The Uighurs are a Muslim separatist group in China that Beijing views as a significant threat to national security.
"In retaliation for the tears that flow from the eyes of the oppressed we will make your blood flow in rivers, by the will of God," an Uighur militant said in the video, as translated by U.S.-based jihadi monitoring group SITE Intelligence. Another fighter condemned the "evil Chinese Communist infidel lackeys." The video shows Uighur fighters praying and giving speeches.
ISIS has not previously directed a specific threat at the Chinese homeland and Uighurs have not previously pledged allegiance to ISIS. However, in November 2015, the group claimed it executed 50-year-old Chinese national Fan Jinghui, a claim the Chinese Foreign Ministry later confirmed. The Washington D.C.-based think tank New America reported in July that at least 114 Uighurs are suspected of traveling to join ISIS in Iraq and Syria.
In terms of recruitment, the group reached out to disaffected Chinese Muslims in December 2015, posting a digital recording that featured a nasheed, or chant, in Mandarin, The New York Times reported. It told them to "wake up" and "take up weapons to fight."
Read more: Chinese persecution of the Muslim Uighurs could drive them to ISIS
Many Uighurs, who refer to the western Chinese region of Xinjiang as East Turkestan, complain of Chinese persecution, restrictions on their religious freedom and discrimination in employment, education and housing. Such examples of perceived persecution include restrictions against long beards, Islamic headwear and fasting in the holy Islamic month of Ramadan.
Uighurs have committed acts of violence against Chinese targets in what they say is a response to their mistreatment. Hundreds of people have died in unrest in Xinjiang in recent years.
The Chinese government blames the East Turkestan Islamic Movement (ETIM) for much of the violence. The group has claimed responsibility for several attacks in the country, such as the truck-ramming attack in Tiananmen Square in October 2013, which killed five people.
At a press briefing Wednesday, Chinese Foreign Ministry spokesman Geng Shuang said Chinese authorities oppose "any form of terrorism and proactively participate in international cooperation to crack down on terrorism," Reuters reported.
"We have long said that East Turkestan forces are a serious threat to China's security and we are willing to work with the international community to jointly crack down on East Turkestan separatist and terrorist forces," he said.