More Than 150 ISIS Fighters Surrender to Afghan Government Forces After an Onslaught by the Taliban
U.S. troops and Afghan officials fighting the Islamic State militant group received some unexpected help on Wednesday.
Over 150 Islamic State militants (ISIS) surrendered to Afghan government forces after an onslaught by the Taliban in the country's northern Jawzjan province.
"These people were surrounded by the Taliban for several days, but last night they managed to break free and surrender to government forces, Jawzjan Police Chief Mohammad Jawzjani told U.S. military newspaper Stars and Stripes. "This was Daesh's last center in the north of Afghanistan. Now we can say that Daesh is cleared from the north," Jawzjani said, using an Arabic term for ISIS.
Another official said the surrender was important because of the number of fighters who gave up their arms.
Newsweek subscription offers >
"Their fighters have surrendered in the past, but this time it is more important because the Daesh leader and deputy surrendered with more than 150 fighters all at once," Mohammad Hanif Rezaee, an army spokesman, told news outlet Agence France-Presse (AFP).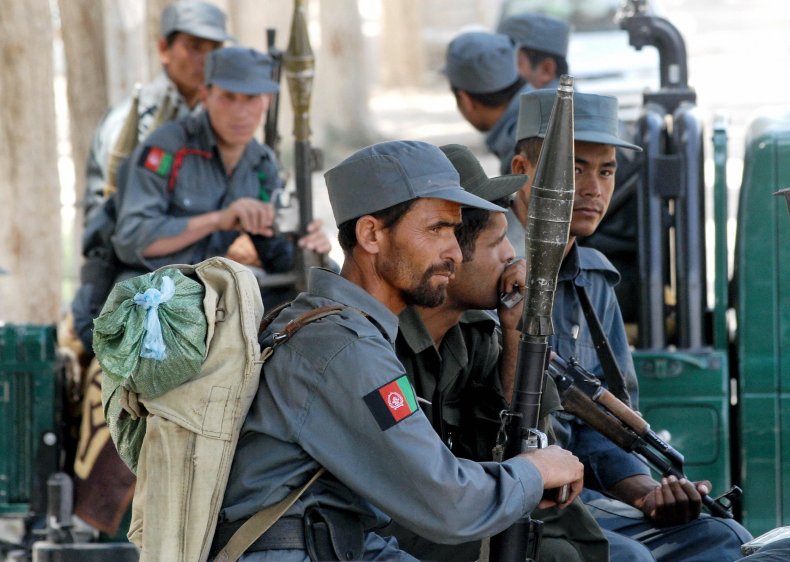 The Islamic State group has recently ramped up its attacks in Afghanistan, as the country's 17-year-long war drags on. The group, which gained a foothold in Afghanistan in 2014, has fought against both U.S. troops and the Taliban since its rise in the country. The exact number of ISIS fighters in the country is unknown, but AFP reported that as many as 2,000 militants are in Afghanistan.
The spokesman for the governor of Nangarhar Province, Attaullah Khogyani, attributed an attack on a government refugee office in the eastern city of Jalalabad on Tuesday to the Islamic State. Tuesday's attack, which killed 15 people, began with two explosions outside the Department of Refugee Affairs. Multiple attackers then rushed into the compound.
Newsweek subscription offers >
"The terrorists' lethal escalation including Tuesday's assault has also coincided, probably deliberately, with signs of progress in renewed efforts to halt the 17-year-old, US-orchestrated war between the Afghan government and the Taliban, the country's principal Islamist insurgent group," The Guardian reported.
Last year, the U.S. announced it would send 3,000 additional troops into Afghanistan in an attempt to suppress the various militant groups, including the Islamic State and the Taliban, operating in the country. The move brought the total number of U.S. forces in Afghanistan to at least 14,000.
U.S. officials have been concerned that ISIS fighters fleeing Iraq and Syria, where the militant group lost two of its strongholds last year, would travel to Afghanistan to continue fighting.
"We also note that the Taliban is fighting ISIS, and we encourage that because ISIS needs to be destroyed," the top U.S. commander in Afghanistan, General John Nicholson, said last week.
More Than 150 ISIS Fighters Surrender to Afghan Government Forces After an Onslaught by the Taliban | World