ISIS in France: Suspect Redouane Lakdim Is Latest Islamic State 'Soldier' to Kill in Europe
France has identified the suspect behind the latest deadly attack to be claimed by the Islamic State militant group (ISIS) in Europe.
French Interior Minister Gérard Collomb said Friday that 26-year-old Redouane Lakdim killed a driver and stole a car in the southern French city of Carcassonne before opening fire on and attempting to ram six police officers, injuring one with his vehicle, France 24 reported. After driving to the nearby town of Trèbes, he entered a Super U supermarket and took those inside as hostages. He shot two dead, one customer and one employee.
Related: France attack: Everything we know about ISIS supporter's supermarket siege
Lakdim, a citizen of Morocco, reportedly demanded the release of Salah Abdeslam, the only surviving suspect behind the ISIS shooting and bombing attacks that killed up to 130 people in Paris in November 2015. Police then stormed the building and killed Lakdim.
Shortly after, official ISIS outlet Amaq News Agency officially took responsibility.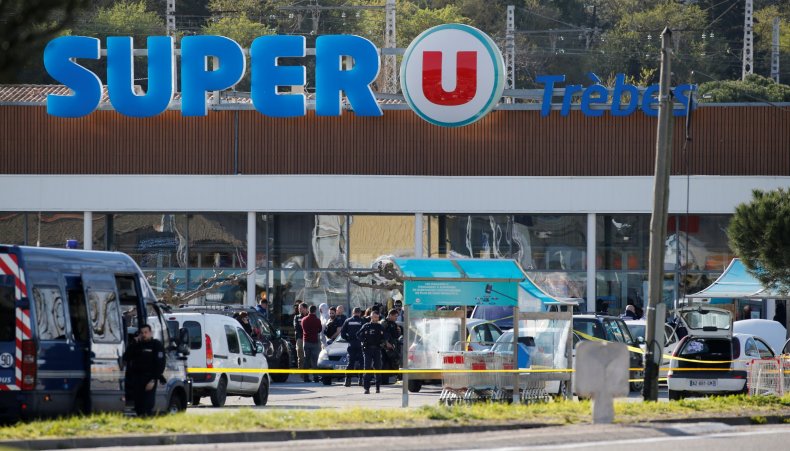 "The perpetrator of the Trèbes attack in southern France is a soldier of the Islamic State and executed the operation as a response to calls for targeting the coalition countries," the outlet wrote, referring to the U.S.-led coalition of mostly Western nations bombing the jihadis in Iraq and Syria, in a message sent to Newsweek by counterterrorism expert Michael S. Smith II.
Lakdim was described by authorities as a petty criminal who was radicalized by ISIS propaganda. ISIS, which once claimed nearly half of Iraq and Syria at its height in 2014, has been mostly defeated in recent years by local troops, militias of various allegiances and international forces, including Russia and the U.S.-led coalition.
Though the militants have lost nearly all of their territory, they have maintained an extensive and powerful online media machine capable of distributing daily information to followers around the world. Since at least 2014, calls to target the so-called "crusader" states in the West have been heeded, with France being the most frequent target.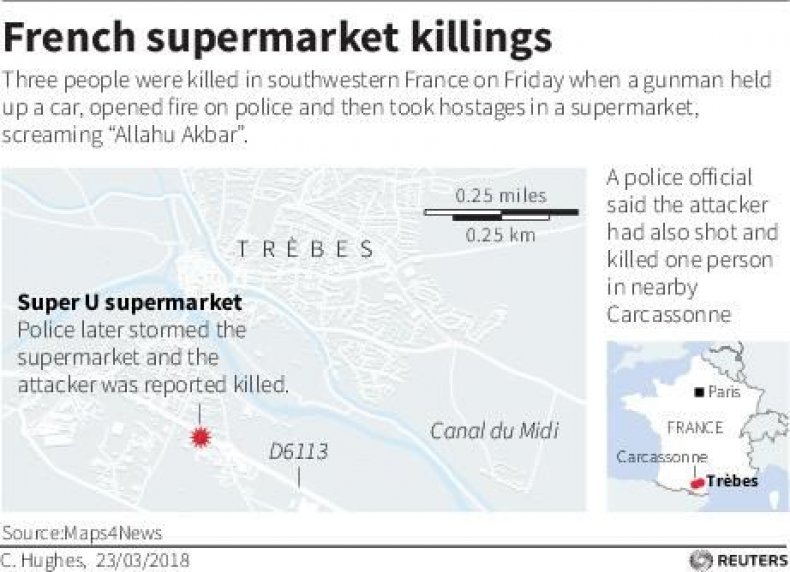 Months after two Al-Qaeda–supporting brothers reacted to satirical weekly newspaper Charlie Hebdo's publication of a cartoon featuring the Islamic Prophet Muhammad by storming the paper's offices and killing 12 in January 2015, the November ISIS rampage in Paris became the deadliest attack in the European Union since the 2004 Madrid attacks, also perpetrated by Al-Qaeda supporters. In France, they were the deadliest attacks since World War II.
Not one year later, ISIS claimed responsibility for a truck ramming that killed 86 people celebrating Bastille Day in Nice. The jihadis have also claimed responsibility for several other shootings and stabbings in France, some of which have targeted police officers.